Posted by Tamara Pursley on Apr 24th, 2017
Self-Advocates Speak Up to Protect Medicaid
While the House of Representatives did not vote on the American Health Care Act (AHCA) as expected on March 24, due to a lack of enough votes for passage, negotiations continue regarding a modified bill with even more concerning proposals. The April 10th NDSC action alert outlines our serious concerns, especially for people with disabilities who use Medicaid for employment, home, and community supports. The alert tells you how to contact your Members of Congress and suggests what to say. NDSC policy staff continue to meet with Members and staff in coalition with other national organizations. However, the most effective advocacy comes from you – the constituents — about how this bill will affect you and your family. Please continue your calls and visits!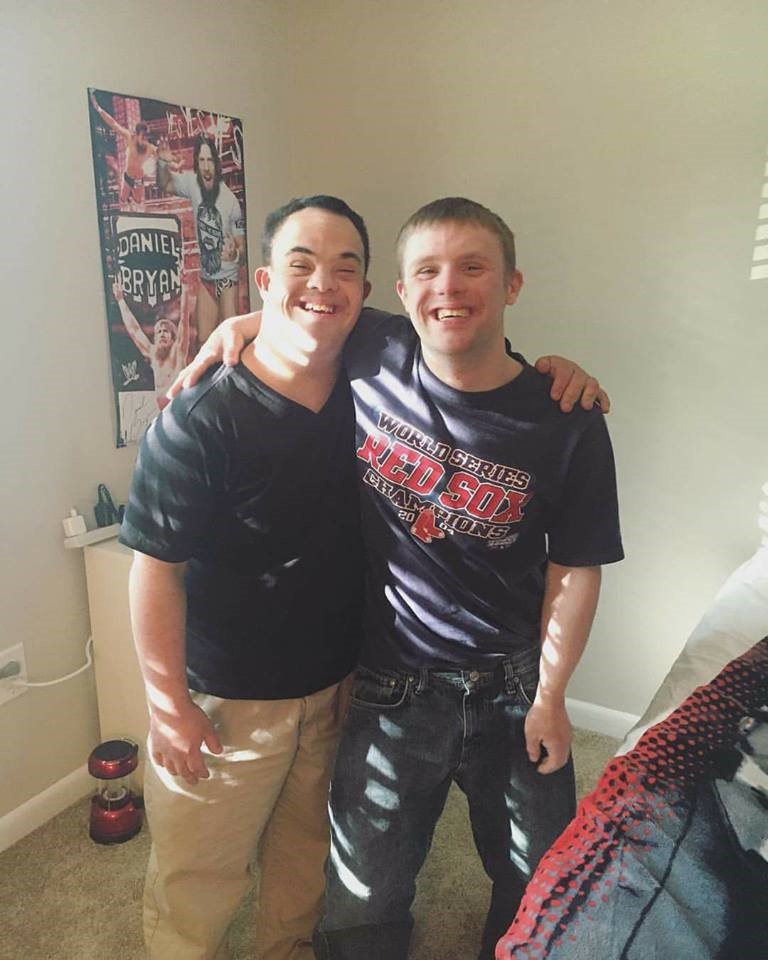 Several self-advocates have shared with us what they are saying to their Members of Congress to save the Medicaid supports that would be jeopardized by the AHCA. Jamie Veerhoff states, "I want independence and I need Medicaid money for counselors so I can live like everyone else."  Eli Lewis talks about his job and says, "Without my Medicaid waiver services, I won't grow in my job and become more independent." Eli's roommate, Steve Sabia, tells Members, "Without my Medicaid waiver services, I may not be able to get a paid job, keep a job and become more independent in my apartment" (Eli and Steve pictured right).
Visit our page on the NDSC website and click on "Self-Advocates in Action" to read their full statements.  If you are a self-advocate and are thinking about what to say, these statements will give you some good ideas.
New ABLE Act Bills Introduced
On April 5th, three bills were introduced to enhance the benefits of the Stephen Beck Jr. Achieving a Better Life Experience Act (ABLE).  The co-sponsors of these bipartisan bills are Senators Bob Casey (D-PA), Richard Burr (R-NC), Jerry Moran (R-KA), and Chris Van Hollen (D-MD) and Representatives Pete Sessions (R-Texas), Cathy McMorris Rodgers (R-Wash.), Tony Cardenas (D–Calif.) and Mike Doyle (D-Pa.).  This package of bills include:
Beneficiaries would still be subject to the caps related to earned income and substantial gainful employment (SGA) under Social Security rules for Social Security Disability Insurance (SSDI) and Supplemental Security Income (SSI). For more information, visit the ABLE National Resource Center. NDSC supports all three new ABLE bills.
Telling YOUR personal story, connected to a policy objective, is the best way to help Members of Congress understand the impact of policy on their constituents. Brad Pitzele shared this note to a Member of Congress with us (the Pitzele family, pictured left):
"This December, we opened Brianna her own ABLE account and we are contributing to it monthly, just like we do for Tyler and Abigail's 529 plans.  Brianna has some money in a 529 plan that I mistakenly invested when she was born.  I wanted to make a statement to the world that she would be going to college.  Unfortunately, I did not realize at the time I might be punishing her by causing her to lose future benefits.  I am looking forward to the passage of the ABLE Financial Planning bill (H.R. 1897) to allow us to roll that over."
Advances in UDL Implementation
State Department of Education personnel and other state education leaders met in late March at the National UDL Implementation and Research Network (UDL-IRN) Summit to learn more about the implementation of Universal Design for Learning (UDL). NDSC's Ricki Sabia was a speaker in a four-hour presentation on the intersection of UDL and the Every Student Succeeds Act (ESSA). States were encouraged by the speakers to include UDL in their ESSA state plans to help provide all children, including students with disabilities, with a significant opportunity for a fair, equitable and high-quality education, which is the purpose of the law.
NDSC is also helping the UDL-IRN and CAST (www.udlcenter.org) in an exciting new project to develop UDL credentials and certifications to ensure that UDL is being implemented properly. Credentialing and certification will recognize best practices in education program design, product development, and classroom instruction. For more information on this project, and to sign up for the listserv, go to http://www.udlcci.org/.
What's New in Inclusive Higher Education?
NDSC advocates to expand inclusive higher education opportunities for students with intellectual disabilities (ID). One of the most important priories in this area is funding to develop programs and to support individual students.
Madison's Advocacy Story: Madison Essig was the first student with Down syndrome to graduate from the Washington DC public schools with a full diploma. She is now a student at George Mason University in Fairfax, Virginia and participates in the Mason LIFE program for students with ID. Madison and her mother, Kimberly Templeton (pictured together, right), have made a real difference for other students in Washington DC through their successful advocacy to allow DC Tuition Assistance Grants (DCTAG) to be used for higher education programs for students with ID.
DCTAG is intended to defray the cost of college for Washington DC residents, who don't have access to a strong in-state university system. Available to all DC students from families who have household incomes below $1 million a year, it provides as much as $50,000 over the course of college for students to attend eligible higher education institutions: public universities outside the city, private schools in the DC region, and historically Black colleges.
Madison's application was initially approved for a DCTAG annual grant of $10,000. However, when DCTAG learned that Madison was enrolled in the Mason LIFE program, her award was rescinded. Madison and Kimberly successfully appealed that decision. After several months of advocacy, Madison was "deemed an eligible student attending an eligible program for DCTAG purposes." This decision now paves the way for other Washington DC students with ID!
Ruby's Rainbow application deadline nears: Ruby's Rainbow provides scholarships of up to $4,000 to individuals with Down syndrome seeking higher education or post-secondary enrichment classes.  Don't miss out – the application deadline is April 28, 2017.  Visit their website for information on how to apply and to learn about the scholarship recipients.
New Accreditation Workgroup kicks off: The National Coordinating Center Accreditation Workgroup, chaired by NDSC's Stephanie Smith Lee, recently published the Report on Model Accreditation Standards for Higher Education Programs for Students with Intellectual Disability: A Path to Education, Employment, and Community Living.  Click here for a copy of the report. NDSC self-advocates, families and professionals provided input into the model accreditation standards for higher education programs at NDSC conventions and through surveys.  A new Workgroup held their first in-person meeting and has started work on a five-year project to field-test the model standards, research areas such as student learning outcomes and credentialing, and update as needed.  NDSC is once again involved in providing input to this work.