Posted by NDSC on Jul 14th, 2016
Growing Up NDSC
We've continued to add to our Growing Up NDSC blog this month, with three more awesome stories. You can see why we proudly continue to host the largest convention in the world for people with Down syndrome and their families, every single year.
The Guess Family: "The family's first NDSC Convention was in 2007. They drove from Indianapolis, Indiana to Kansas City, Missouri. 'I think our family was astonished to see so many families, educators, and healthcare professionals in one place.' One of the biggest surprises for Carole was seeing the large number of families of color in attendance."
The Faith Family: "The 1985 Anaheim, California Convention was the first time the entire family went together. They had an unforgettable time. 'Each year afterwards, the kids would ask, 'Where is the NDSC Convention?' We looked forward to a family vacation and seeing our friends from across the country,' they said."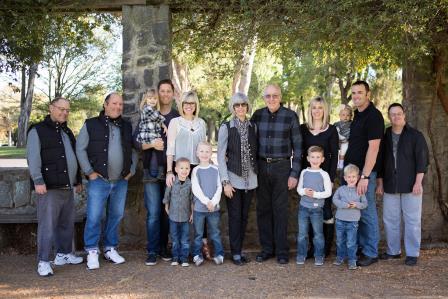 The Kaser Family: 
"Since the year Kelly was born, the Kasers have attended almost 30 NDSC Conventions. Early on in their journey with Down syndrome, Larry and Karen admit to being overwhelmed, in a positive way, by the amount of valuable information shared at the convention and the wonderful parents they met. Over the years, though, those acquaintances have become like family for the Kasers."
A big shout out to one of our convention sponsors, ds-connex, for conducting interviews with our families and writing these blogs for us! See all of them right here.
If you are coming to Orlando next week, we look forward to seeing you! If you can't make it this year, we hope to see you next year…or the one after that! Digital recordings from more than 70 workshop will be available to purchase a couple of week after the convention. Check our website for details at this link, then scroll down to Conference Workshop Recordings.
Make sure you follow our social media pages to see what's happening in Orlando – it's almost like being there, right? #NDSC2016 
ESSA State Plan Advocacy Guide
Your advocacy at the state level is critically important as states develop their ESSA plans. (ESSA is the Every Student Succeeds Act, which replaces No Child Left Behind.) Detailed information about the decisions that states will make as they develop their ESSA plans, as well as recommendations you can provide for stronger accountability, are in the NDSC State Plan Advocacy Guide on our website.
Stay tuned for an Action Alert in the next two weeks about submitting comments to the proposed regulations.
Participate in a Research Project
Input is needed for a survey designed to help medical professionals learn more about how to best help families. Tavanna Porter, a genetic counseling graduate student at the University of Oklahoma Health Sciences Center, is working on her graduate thesis research project. Her goal is to gather the thoughts and opinions of parents about when they learned their child has Down syndrome, and see what actions and resources they have found helpful in meeting the needs of their child.
The survey includes demographic questions (zip code, race, gender, etc.), questions about feelings and actions taken when the parent learned their child has Down syndrome, what type of supports are utilized, and questions about empowerment. The survey will take 10-20 minutes to finish and your participation in this research project is completely voluntary and anonymous. There are no questions that will identify the parent or child. The project has been reviewed and approved by the University of Oklahoma Health Sciences Center's Institutional Review Board (IRB #6632).
Participants must be 18 years of age or older, be a parent of a child (including adult child) with Down syndrome, and have been present at the time it was first suggested that their child may have Down syndrome.