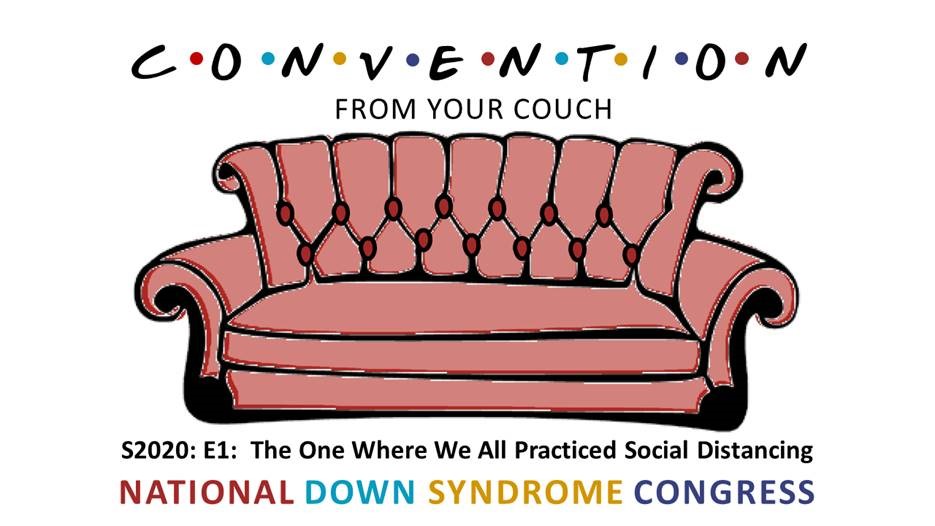 Join us May 11 through June 27 for the NDSC 2020 Convention From Your Couch.  This virtual event will offer programming and interactions for the entire family.  While we'll miss seeing everyone in person, we are planning a top-notch learning experience along with opportunities to socialize!
Beginning the week of May 11, we will present 3-4 new, one-hour workshops per week.
Plus, we will be offering five Deep Dive Sessions over the course of the event. These 3-hour interactive workshops, presented by world-renowned speakers, are designed for those interested in gaining more in-depth knowledge and engaging in discussion with an expert on a specific topic. Deep Dive Sessions are not recorded.
Starting in June, we will kick-off Youth & Adult workshops, spotlights, and of course, the talent show!  There will also be sessions just for siblings in a virtual Brothers & Sisters Conference, along with the opportunity to attend Sharing Sessions designed for your individual ages and stages.
Participate in our peer-to-peer fundraising challenge – it's easy to get in on the FUNdraising.
Take a scroll through our Virtual Exhibit Hall.
The multi-week event will culminate with a full-day virtual event on Saturday, June 27, that will include Advocacy Training Boot Camp; Membership Meeting; Awards Presentation; Plenary with Keynote speaker, Zack Gottsagen; and a Zoom 321 Dance Party.
Registration is just $49 per household. Optional Deep Dive Sessions may be purchased as add-ons for just $19 each.  You can also purchase Convention From Your Couch t-shirts for $19 each, inc. shipping. (The deadline to purchase t-shirts, as well as register for Y&A and B&S programming, is June 1st)
If this will be your first NDSC Convention, we hope to give you a glimpse of the magic that our one-of-a-kind event holds. While we will miss seeing everyone in person, we will still provide a meaningful 2020 convention and hope that you are making plans to join us in Phoenix – July 8-11, 2021!
Workshop Sessions
Download the workshop schedule now!
Each week we'll offer registered attendees 3-4 new sessions in a webinar format, with recordings available to access on a private viewing channel through June 30.  All times shown are Eastern.
Coming up:
May 28, 2020 – 5 PM – Tips and Tools for Online Learning
Sean Smith, PhD, NDSC Board Member, Professor, Department of Special Education, University of Kansas, son with DS, Lawrence, KS
This session will focus on succeeding in online and distance learning. Participants will learn about ways both parents and educators can collaborate to support the needs of our learners, design for the new normal, determine student success, and extend ways to engage our students. Digital tools, strategies, and effective practices will be discussed to assist planning for the fall fully online or blended learning experience.
Sharing Sessions
Sharing Sessions will be offered during the multi-week event for parents and caregivers to talk with each other in predetermined categories.  Sessions will be facilitated by a moderator who will help get the discussions started and allow for meaningful conversations.  Schedule coming soon.
Moms of children 0-12
Dads of children 0-12
Moms of Teens & Adults
Dads of Teens & Adults
Grandparents,
Adult Siblings
Co-Occurring DS-ASD
Parents of an only child
Youth & Adults Programming
Y&A sessions will begin in June and last all month long.  From a kick-off session to workshops & spotlights, the talent show, and a dance party, our self-advocates will have their own virtual experience.  We will also produce and mail out the Memory Book our attendees have come to love.  You can view the schedule here.
Y&A attendees must be 15 or older by June 1 in order to participate. The deadline to register for Y&A is June 1.
Brothers & Sisters Programming
B&S sessions will begin in June and last all month long.  More information coming soon.
Questions about Convention From Your Couch – contact us at cfyc@ndsccenter.org