Exhibitor Registration Has Closed
Any exhibitor planning to attend NDSC Convention programming including plenary sessions, workshops, and/or banquet must register and purchase tickets to the events as appropriate.
2022 Exhibit Hall Schedule
Thursday, June 23:
8:30 AM – 12:30 PM – exhibitor setup
1 PM – 9 PM – exhibits open
Friday, June 24:
9 AM – 5 PM – exhibits open
Saturday, June 25:
7:30 AM – 1 PM – exhibits open
1 PM – 3 PM – exhibit breakdown
Sunday, June 26:
no exhibits open
Cancellation Policy
A 50% cancellation charge will be imposed on any exhibitor who cancels before May 13, 2022. No refunds will be issued after May 13.
An exhibitor may be canceled at any time and given a full refund if deemed appropriate by the NDSC.
We've received many inquiries about what COVID-19 precautions we'll be taking in New Orleans this June. Our COVID-19 task force has recommended protocols to keep everyone as safe as possible and be compliant with CDC guidelines and City of New Orleans regulations. We'll keep this information updated for you. (last updated April 26)
College Fair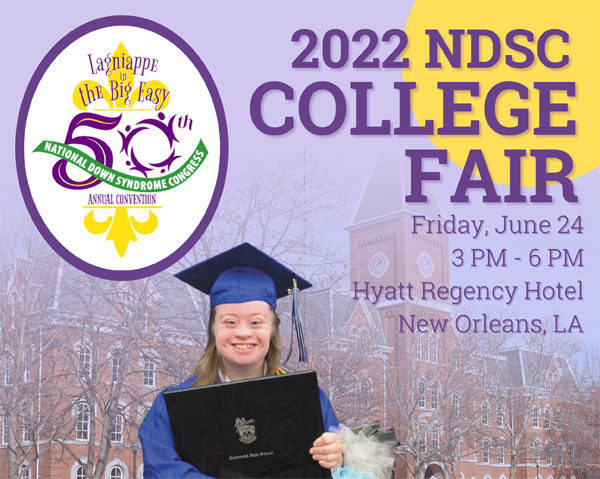 The National Down Syndrome Congress Convention boasts the largest annual gathering of people with Down syndrome, their families, and professionals who serve the Down syndrome community. With approximately 2500 in attendance including 350 self-advocates attending the Youth & Adults Conference, the event provides the perfect place to showcase post-secondary opportunities.
Presented in collaboration with and sponsored by our friends at Think College, we are thrilled to bring information to families and self-advocates about college programs from around the country. College Fair is included in all registration types.
Is your college or university interested in participating?