Included with Registration
All registered attendees are welcome to enjoy the following convention events at no additional charge:
NDSC Advocacy Training Boot Camp
This 3-hour session is designed for beginner advocates but is also a great opportunity for seasoned advocates to get the training needed to take their advocacy efforts to the next level. The NDSC Advocacy Training Boot Camp is included with all General Conference and Youth & Adults Conference registrations and features information from self-advocates who are making a difference through their personal advocacy efforts, parent advocates, and the expert NDSC Policy & Advocacy Team. Advocacy Training Boot Camp is designed to be an Advocacy mini-course with a focus on legislative advocacy. Whether you are a beginner to advocacy or are an experienced advocate, you will walk away with something new and be energized after this session. This session is appropriate for parents, professionals, and of course, self-advocates.
Exhibit Hall
The NDSC Convention boasts the largest annual gathering in the world of self-advocates, parents, siblings, and professionals associated with Down syndrome. The Virtual Exhibit Hall is comprised of organizations and companies that provide information, technology, resources, products, and services – some of which are thriving businesses run by self-advocates. Each booth has the function to allow attendees to join virtual meetings with their staff during certain hours, cultivating a more personal experience much like our in-person event.
Connections Reception
Whether this is your first NDSC Convention or your fortieth, attendees are looking to connect with others who share similar experiences.  NDSC will provide spaces for those who share similar interests, ages or stages.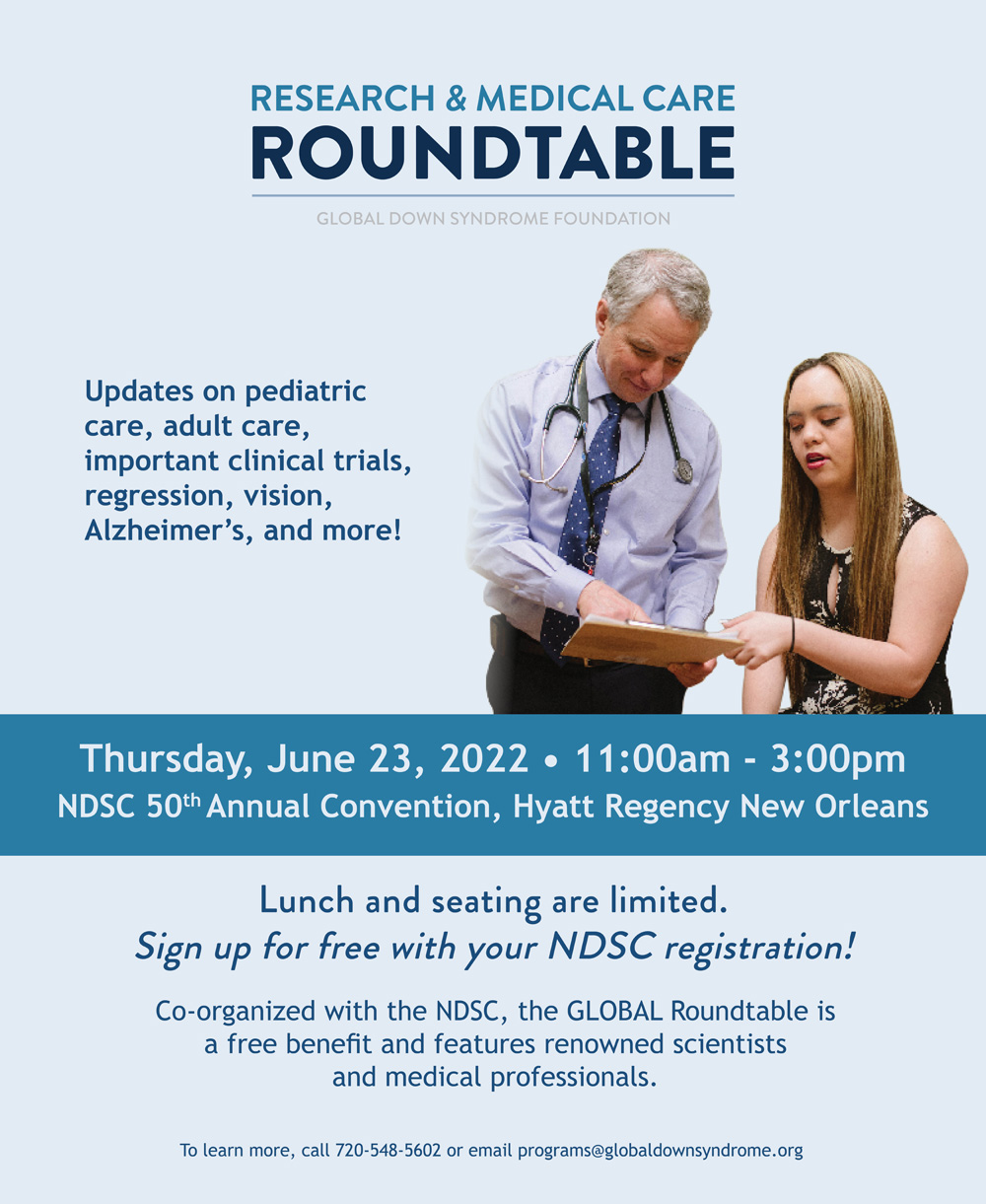 GLOBAL's Research & Medical Care Roundtable
Every year the Global Down Syndrome Foundation (GLOBAL) organizes a timely and impactful GLOBAL Research & Medical Care Roundtable in collaboration with the NDSC Annual Convention. GLOBAL recruits top experts to present on the status of a COVID-19 vaccine and treatment development, COVID-19 and Down syndrome, the NIH budget for Down syndrome research, and improving health outcomes for children and adults with Down syndrome.
College Fair
The 2022 NDSC College Fair, sponsored by Think College, is where families and caregivers can learn about post-secondary opportunities. Friday, June 24, 3 to 6 PM in Storyville Hall.  Colleges will have staff available for Q&A
Plenary Session
The Plenary Session is on June 24, at 6 PM, where you'll hear from NDSC's Executive Director, Jordan Kough, and learn about the Self-advocate Book Project.  We'll hear keynotes from the amazing individuals below!
Jake Pratt
Jake Pratt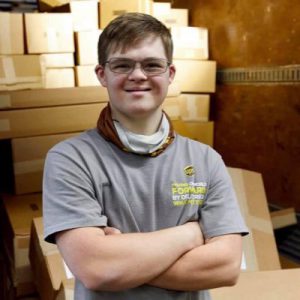 Jake Pratt is a 23-year-old advocate for those with Down syndrome who regularly raises awareness and works to break down barriers for the community. In 2017, Jake went viral when he scored a touchdown for his high school football team, Vestavia Hills. This media attention enabled him to promote inclusion and advocate for individuals with Down syndrome, showing the world that you can achieve your dreams when you work hard. Jake proved this again when he achieved his dream of attending and graduating from college upon completing the ClemsonLIFE program at Clemson University.  
Jake has achieved yet another milestone since his graduation just a few years ago. After working in a few different part-time positions, Jake landed his dream job. In 2020, Jake started working as a part-time seasonal employee with UPS over the holidays. His team quickly saw his commitment and capability during this time, and not long after, Jake was offered a full-time position with UPS. He gladly accepted the offer and continues to work there today. 
Jake has been a vital advocate in the Down syndrome community. Not only has he been speaking out on social media and educating his followers, but he shows the world daily through his actions that people with Down syndrome have valuable contributions to the world. 
Debbie Antonelli
Debbie Antonelli
Debbie Antonelli was a three-year starter on N.C. State's women's basketball team, playing for the legendary coach, the late Kay Yow, and is currently the leading broadcast analyst of women's basketball. 
Debbie works for ESPN, Big Ten Network, CBS, FOX, and Westwood One. She also calls WNBA games for ESPN and NBATV and has been the play-by-play voice of the Indiana Fever since 1996. Debbie, a two-time Emmy-award winner, has also received the Gracie Award for her work in broadcasting basketball. She was also honored with the WBCA Mel Greenberg Award, which recognizes a media, marketing, or sports communications professional who has best displayed a commitment to women's basketball and advancing the media's role in promoting the women's game.  
 
Debbie is the mother of three sons. Her middle son, Frankie, a student at ClemsonLIFE, has Down syndrome. Debbie has been an advocate, and when not broadcasting, she raises awareness and funds for those with Down syndrome. Frankie was the inspiration for her annual "24 Hours Nothing But Net" fundraiser benefitting Special Olympics. Each year Debbie raises thousands of dollars through the fundraiser by shooting 100 free throws every hour for 24 hours. 
 
Learn more about our 2022 keynote speaker, Debbie Antonelli, at 
https://espnpressroom.com/us/bios/debbie-antonelli/ 
321 Dance!™
Following our Plenary Session, we move into the 321 Dance™! It will be an evening filled with energy and excitement.