Big Game Ball
Information for the Big Game Ball 2023 Coming Soon.
The NDSC Staff, Board of Directors, event Co-Chairs, Tony and Maria Barnhart, and Presenting Sponsor, Peach Bowl, Inc., invite you to join us on September 1, 2022, at the College Football Hall of Fame for The Big Game Ball.  We are thrilled to be hosting this event as a prelude to the Chick-fil-A Kickoff Classic games that officially mark the beginning of the college football season.
The event will honor the postsecondary programs serving those with intellectual disability at Clemson University (ClemsonLIFE), Georgia Tech (Georgia Tech Excel), the University of Georgia (UGA Destination Dawgs), and the University of Oregon College of Education for their Special Education Graduate program.  We will also recognize Think College, Nonprofit Honoree; Hallmark Channel, Corporate Honoree; Stephanie Smith Lee, Individual of Impact; and Caden Cox, our first ever, Self-Advocate of Distinction Honoree.
The Big Game Ball honorees exemplify the priorities of the NDSC to:
increase access to inclusive postsecondary opportunities for students with Down syndrome and other intellectual disabilities,
develop high-quality inclusive postsecondary programs,
provide Model Program Accreditation Standards for postsecondary education programs, and
advocate for educators who will continue to forge the path of inclusive education at all levels.
All of which lead to meaningful employment, independent living, and improved quality of life for people with Down syndrome.
NDSC will provide scholarships, to a person with Down syndrome, to the postsecondary programs honored at the Big Game Ball. Funds raised by each team up to $200,000.00, will receive 5% back in a scholarship award. When funds raised exceeds $200,000.00 the team will receive 10% back in a scholarship award for the total amount raised.
Your contribution will support the mission of NDSC to provide information, advocacy, and support concerning all aspects of life for individuals with Down syndrome.  But more importantly, to reshape the way people understand and experience Down syndrome.  To create a world where parents are no longer counseled to institutionalize their child with Down syndrome but to save for the institution of higher education.
Big Game Ball Covid-19 Protocols
Sponsorship Opportunities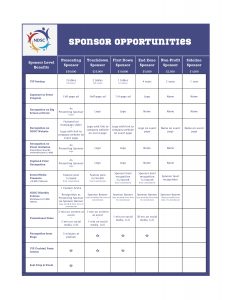 Download or print the Sponsor Benefits Chart  – 2022 Sponsor Benefits Chart.
To view or download the sponsorship form – 2022 Sponsor Commitment Form. 
Big Game Ball Tickets
Corporate Table (10 seats!) – $3500
Individual – $300
Couple – $550
Purchase tickets here.
Big Game Ball in the News
Big Game Ball Sponsors

NDSC works to create sponsorships that work for our partnering organizations. If you would like to discuss building a personalized sponsorship or need more information, call the NDSC National Center at 770-604-9500 or email us at info@ndsccenter.org.