Help Lead Locally
What can I do in my local community to help the NDSC?
As a self-advocate, you don't have to get involved on the national level to make a difference. Every time you speak out, become involved in a local organization or share your story, you help to shape your community's perception of individuals with Down syndrome for the better.
There are many ways to become involved in your local community, but be sure to contact us or your local affiliate with new ideas or for other ways to participate.
Self-Advocates in Action
Self-advocates are speaking up to Members of Congress and their staffs to protect Medicaid, which provides critically important health, employment, home and community-based services for individuals with Down syndrome. Jamie, Steve, and Eli shared the statements they are using in speaking to Members of Congress and staff about this important topic. If you write your own statement, be sure and include your email and your home address so it will be clear you are a constituent!
Benjamin "Jamie" Veerhoff – Kensington, MD 20895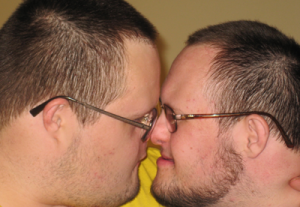 My name is Jamie Veerhoff. I love working on political campaigns, studying history, and watching classic movies and plays. I am an actor and an athlete. I like to stay in touch with my family and friends by chatting on the phone, visits, and Facebook and texting. I have cousins and friends in Toronto, New Zealand and Beijing, and from all over the world. I have an identical twin, Will, who also has Down syndrome.
We count on support services paid for by Medicaid. My support counselors help me stay active and physically fit.  They help my brother and me take care of ourselves and our home, and let my parents take breaks. They give us rides and support when we work. I want independence and I need Medicaid money for counselors so I can live like everyone else.
Please make sure my Medicaid support services don't go away.  Thank you.
Steve Sabia – Rockville, MD 20851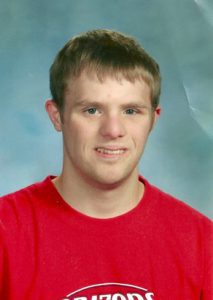 My name is Steve H. Sabia. I am an intern in the Project Search program at the National Institutes of Health (NIH). Each Project Search intern is working towards getting paid employment. Medicaid funds are used to pay for the job support I get at NIH through Project Search. I love working in the cafeteria in Building 31. I stock items, keep everything clean and do some food preparation. I hope the hiring freeze will be lifted at NIH so they can hire me when the program ends in June.
I also use Medicaid funding to pay for personal support staff who help me live independently in the community with my friend Eli Lewis. We have an apartment in Rockville, Maryland. I can do a lot on my own but I need some help with cooking dinner, going grocery shopping and keeping the apartment clean and safe.
Changes in Medicaid funding will prevent people like me from living good lives. Without my Medicaid waiver services, I may not be able to get a paid job, keep a job and or become more independent in my apartment. I may not even be able to stay in the apartment at all without these services. Congress can make a big impact on people with disabilities by keeping Medicaid community services funded the way they are now.
Please help me. I want to be an active member of the community and a hard-working, tax-paying citizen.  Thank you.
Eli Lewis – Rockville, MD 20851
Join me in my journey! I'm Eli Lewis – when I dream, I dream Big!  I am successfully employed with the training received through Project Search. Each Project SEARCH intern is working towards a successful outcome in competitive employment in an integrated setting. This national program is about employment in an integrated setting, year-round work, 20 hours/week or more and minimum wage or higher. I hope you will learn more about it.
I have been employed at NIH since June 2014 as a supply clerk. I am part of a team that is responsible for refilling and maintaining the hand sanitizers throughout the 13 floors of the clinical center. I received training for this job through Project Search with the help of Maryland Division of Rehabilitation Services and SEEC.  I travel to the movies using metro & I compete in Special Olympics Basketball & Power Lifting.  I am an actor with Art Stream, an inclusive acting troupe. I am live independently with my friend Steve Sabia. I am a constituent who pays taxes in Montgomery County, MD.
As you can see, I am very active at work and in my community.  My Medicaid services help me to do this.  I receive Medicaid waiver services for people with developmental disabilities. My services allow me to develop job skills and living skills to live safely and be a good self-advocate.  Cuts in funding for the Medicaid program will prevent people with disabilities from reaching their full potential. Without my Medicaid waiver services, I won't grow in my job and become more independent. Congress can make a big impact on people with developmental disabilities by not cutting funding of Medicaid waiver services.
Please do not cut funding of Medicaid waiver services and help me continue to be an active and helpful member of the community that I live and work in.  Thank you.
Speak up!
One example of self-advocates speaking up is the Emmy Awards a few years ago. A song entitled "Down Syndrome Girl" has been nominated for an award. Instead of finding it funny, self-advocates found it insulting and offensive and wrote to the president of the awards program to say so.
Letter of Protest to John Shaffner, Academy of Television Arts and Sciences:
Chairman and CEO
Academy of Television Arts and Sciences
Production Design
By Shaffner/Stewart
9080 Wonderland Park Ave
Los Angeles, CA 90046
Dear Mr. Shaffner,
The undersigned members of the Self-Advocate Council of the National Down Syndrome Congress and the NDSC Youth & Adult Committee support team are disappointed and dismayed with the decision of the Academy of Television Arts and Sciences to honor the song "Down Syndrome Girl" with an Emmy award nomination in the category "Outstanding Original Music and Lyrics." As a result of the nomination, this hateful song will now be broadcasted to millions of viewers furthering the myths and misconceptions that those of us who have Down syndrome are less valuable than others and deserve ridicule and abuse because of our disability. It goes without saying that the academy would not be likely to similarly honor a derogatory and degrading song entitled "African American Girl," "Gay Girl," or "Muslim Girl" with an Emmy Nomination. However, individuals with Down syndrome appear to be a minority group for whom there are no similar concerns and who are fair game to be ridiculed and marginalized on television.
When the organization you head honors this kind of prejudicial materials, particularly on an award show that is meant to celebrate the best of television programming, it means that those of us with developmental disabilities will have to fight even greater discrimination. What you promote impacts us very personally. We will be taunted more and treated less humanely; we will struggle to be included at school and in our communities. We will have to fight even harder for jobs.
We ask you not to air this song. Although it may be impossible for us to prevent "Down Syndrome Girl" from being honored and performed at the upcoming Emmy Award program, you have the influence to prevent this from occurring in the future. We implore you as the Chief Executive Officer of the Academy of Television Arts and Sciences, and someone who has brought satisfaction to millions through your exceptional production design talents, to promote positive portrayals of those of us with Down syndrome on television.
We beseech you and the Academy to balance this discriminatory song with the truth about us. Accurate information and our More Alike Than Different awareness campaign can be found on the National Down Syndrome Congress website at http://www.ndsccenter.org/morealike/flash/
We are real people with real feelings trying our best to live productive lives in our communities.
Sincerely,
The Self-Advocate Council of the NDSC
Be a Down Syndrome News reporter
Down Syndrome News, the print newsletter of the NDSC is always looking for stories written by self-advocates.
If you have a story that you would like to see in print, send it to:
Down Syndrome News
30 Mansell Court, Suite 108
Roswell, GA 30076 or info@ndsccenter.org
Don't forget to include your name, address, and phone number and a photo to go with your articles.
Wondering what you could write about? Think about your hopes and dreams and write about them. Maybe you would like to write about your school, your job or your volunteer position. There might be someone you would like to interview. Think about what you are good at. If you have a foolproof way to stay on top of your laundry, you could share your tips. DSN readers are interested in the same things that interest you, such as work, family, home, food, sports, pets, leadership, hobbies, travel, art, cinema, friendships, and much more.
Everybody has his or her own story, share yours! If you have Down syndrome, you qualify to be a reporter. If you need support to express your thoughts, dictate your article to a friend. You can do it!
Thank you letter writing campaign
From time to time we need to write thank you notes to businesses or people who donate to the NDSC. We always send thank you notes, but it would mean more coming from a self-advocate. If you have good handwriting and like to write this would be the volunteer opportunity for you!

Self-Advocate Book Project
What is the self-advocate book project?
This project began in 2003 when self-advocate Tracy Hile introduced the idea of self-advocates presenting books on Down syndrome to the NDSC convention host community.
The project is simple. Self-advocates donate money for books that positively portray individuals with Down syndrome. They present these books to school libraries in the NDSC Convention host city.
The project accomplishes several goals set by self-advocates:
The public sees self-advocates as productive and as giving back to the community
Self-advocates increase disability awareness for students K-12
Self-advocates increase leadership opportunities as they implement the project
Schools and communities become more inclusive places for people with Down syndrome
View this awesome presentation created by the Deer Valley Unified School District after we presented books to them at our Convention in Phoenix in 2015.
National Down Syndrome Book Presentation
We are always looking for books that positively portray people with Down syndrome. Please let the NDSC know when you find one! Books submitted will be evaluated as to appropriateness of appearance, age level, content and quality of writing.
"How can I help?
During online convention registration, check the box to have $1 or more added to your registration fee to be donated to the Self-Advocate Book Project.
Assist your self-advocate in generously donating to the project by sending a check to NDSC. This will enable us to purchase more books.
Your local organization can donate a "bundle" of all the books listed below for a donation of $100. You might do this by having a special fundraiser to honor a self-advocate or educator in your community and donating this bundle in their name.
To order by mail, send a check (made payable to NDSC) to NDSC Center, 30 Mansell Court, Suite 108, Roswell, GA 30076. Please put "Book Project" on the memo line. If you wish to make your donation in honor or memory of someone, please include instructions so that we can insert a bookplate.
To purchase a bundle by credit card, click here and make a $100 donation.  Please put "Book Project" in the Comments section along with additional instructions.
2019 Book Project List
Book Project INFORMATION AND List
ABC Building Blocks for Growing Up with Down Syndrome by self-advocate Meredith Martin – Whether the individual is two or thirty-two it's never too late to work on independent livings skills. Meredith does a nice job of outlined components used in her plan.
Chad's Surprise Balloon Ride by Kelly Wallis DeWitt – When a Hot Air Balloon Competition comes to his town, Chad is ready for an adventure! This story, based on real events, is one of Chad's big moments.
Donovan and the Big Hole by Nancy Lambert Davenport – This delightful fiction Texas adventure is narrated by fourteen-year-old Donovan who happens to have Down syndrome. He and his neighborhood friends don't ask for trouble, but manage to find it at every turn.
Sam's Top Secret Journal (3 Book Series) by Sean Adelman – This is a set of three delightful books about the adventures of Sam, a middle school girl with Down syndrome.  They solve mysteries, have adventures, and deal with the world and its conflicts. Each book has a different setting that allows the plots to be unique and fresh.
Stealing First: the Teddy Kremer Story by Teddy Kremer, with Diane Lang and Michael Buchanan – "Nothing—can top that night- I was batboy for the Cincinnati Reds!"
The Little King and His Marshmallow Kingdom by Louis Rotella III – This beautiful book encourages children to be themselves with confidence, and challenge pressures to conform.