The Georgia Down Syndrome Consortium is holding a one-day Learning Summit, designed to meet the needs of parents, siblings, families and caregivers of individuals with Down syndrome across the lifespan.
Join us on Saturday, October 27, at Kennesaw State University's Academy for Inclusive Learning and Social Growth.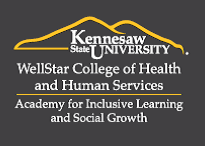 Registration includes conference, materials, lunch and parking.
Learning Summit Sessions
Health & Medical Updates
Hearing and ENT Issues
Sleep Disturbances
Toilet Training & Hygiene
Congenital Heart Issues – short & long term considerations
Transitions & Long-term Goals
Long-term Financial Planning
Transitions for Teens & Adults – Health & Well-being
Employing Individuals with DS
Maximizing Independence – Parenting for Independent Living
Resources, Programs & Ongoing Support
Community Supports, Waivers & Public Systems
Family Support & Benefits; Georgia Trust
Programs & Resources for Spanish Speaking Families
Sibling Panel – Ongoing Support Systems
Technology & More
Tools For Life
Lekotek
Inclusive Congregations
Sports & Recreation
Update on Down syndrome Research
Register Now!