Co-occurring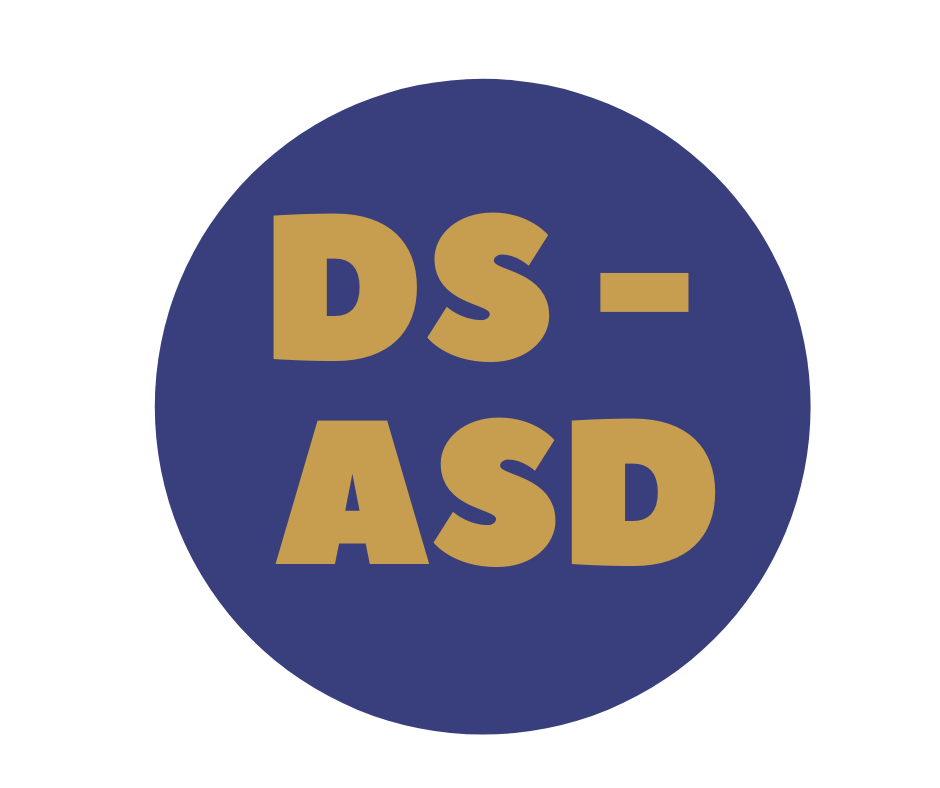 FREE webinar – DS-ASD: Recognizing Signs and Tailoring Interventions
Presented by Dr. Nicole Baumer, Director, Down Syndrome Program and Assistant, Department of Neurology and Developmental Medicine Center at Boston's Childrens Hospital
DS-ASD refers to a condition known as co-occurring Down syndrome and autism spectrum disorder.
What happens when a person has BOTH Down syndrome and autism spectrum disorder (DS-ASD)?
The DS-ASD Connection website explains that Down syndrome and autism are both equal opportunity conditions– meaning that anyone, anywhere, regardless of race, creed, or socioeconomic status, can have a child with either condition. It is believed that approximately 20% (some research suggests up to 39%) of individuals with Down syndrome also have autism spectrum disorder. Both Down syndrome and autism can be challenging disabilities separately, without the combination, however when combined the challenges are multiplied and can be quite complex.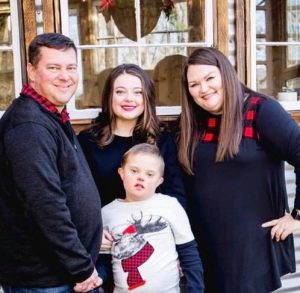 NDSC Board Member Andrea Holmes and her son Gavin who has DS-ASD
Behaviors to Notice
Your child with Down syndrome may have autism if he or she: 
Does not make eye contact with others
—Is nonverbal, makes unusual vocalizations, says words without actual intent, repetitive speech
Stops using speech, signs, or other means of communication
Seems happiest playing alone
Exhibits inappropriate laughing or giggling
Lacks imaginative play, prefers repetitive play with objects
Insists on sameness and routine, has great difficulty with transitions
—Has difficulty understanding gestures and does not use gestures to communicate, e.g. pointing
Shows no real fear of dangers
Appears to be insensitive to pain
May not want to cuddle or hug
—Has eating problems– limited foods, textures, etc.
—Has sleeping problems
—Exhibits repetitive motions – flapping, twirling, tics, rocking, head shaking, spinning, twisting the hands at the wrist
Exhibits sustained odd play and inappropriate attachment to objects
—Exhibits self-stimulating behaviors ("stimming")
Many of these behaviors are normal for children with Down syndrome at certain points of development. However, when these behaviors become predictable, extreme, or resistant to change, your child may benefit from a thorough evaluation.  If you feel an evaluation is in order, observe closely, take notes, and arm yourself with current information. When seeking an evaluation, be sure to ask if the provider has experience with evaluating autism in a person/child with Down syndrome.  Many families seek an appointment with an AUCD center, a developmental pediatrician, or a Down syndrome clinic — and others have been able to obtain an educational diagnosis of autism from their school system.
The Association of University Centers on Disabilities (AUCD) may be a great place to start.
Other Resources
Autism Speaks has compiled many resources to help recognize the signs of DS-ASD and resources for families and professtionals.
When Down Syndrome and Autism Intersect offers a thorough examination of the unique profile of a Down Syndrome-Autism Spectrum Disorder (DS-ASD) diagnosis and best practices for screening, treatment, and caretaking through the lifespan. This one-stop resource, the first of its kind, will greatly benefit families whose child is already diagnosed, and also those who suspect something more than Down syndrome. Professionals, too, will find information on how to distinguish DS-ASD from a diagnosis of just Down syndrome, and guidance on providing services for children and adults.
Down Syndrome- Autism Connection's goal is to ensure that families, teachers, and healthcare providers receive the education and support they need — with the ultimate goal being that children and adults with DS-ASD will receive the understanding, education, medical care, and opportunities they so greatly deserve.
Interactive Autism Network talks with George T. Capone, M.D., director of the Down Syndrome Clinic at the Kennedy Krieger Institute in Baltimore, Maryland, and explains how the combination of these conditions can affect children, and how they can be treated.