Birth to 2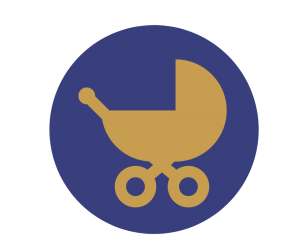 FREE webinar – Developmental & Medical Expectations
Presented by Dr. Kishore Vellody, Medical Director, Down Syndrome Center of Western PA.  This session covered the developmental and medical expectations for your baby with Down syndrome.
New and Expecting Parents
---
Whether you are celebrating your child's birth or anticipating his or her arrival, we congratulate you.
We know this journey is not without its unique challenges and new experiences, but rest assured, you are not alone. Instead, you have become part of a large, deeply caring, and warmly welcoming community.
The New Parent Packet includes:
Understanding Down syndrome
Language Guidelines
Developmental Expectations and Medical Issues
What Parents Wish They'd Known
Early Intervention Information
Speech Resources and more
If you would like to discuss any aspect of what is offered here, please call the NDSC Center, toll-free, at 1-800-232-NDSC (6372), Monday through Friday from 9:00 AM to 5:30 PM eastern time.
Prenatal & Newborn Information
National Down Syndrome Congress, GLOBAL Down Syndrome Foundation, and National Down Syndrome Society have teamed up to publish the second edition of the groundbreaking Prenatal & Newborn Information Pamphlet, available in English, Spanish and Icelandic. The second edition, created from the first national survey of pregnant women and medical professionals, is easily accessible electronically, or in print at no cost.
Prenatal & Newborn Information Pamphlet – English
Información Prenatal – Spanish
Bottle-Feeding and Breastfeeding
Breastfeeding
Babies with Down Syndrome have a higher risk of infection. The mother's body makes antibodies, which she passes on to her baby during breastfeeding. Antibodies help protect your baby against infection. There are many different advantages to breastfeeding, but not all babies will be breastfed.
According to the information provided by Canadian Down Syndrome Society, babies with Down syndrome may have a protruding tongue that can push against your nipple. This may pose a challenge for your baby when latching on, as he may push the nipple out of his mouth. If your baby is latched on properly, you should be able to see his tongue cupped under the breast, resting on his lower gum.
The Canadian Down Syndrome Society has great resources for breastfeeding. Breastfeeding a Baby with Down syndrome. 
Other blogs where moms offer detailed descriptions of their own breastfeeding experiences include the following:
Breastfeeding Your Baby – Part One
Breastfeeding Josee…Ten Tips For Breastfeeding A Baby With Down Syndrome
Bottle Feeding
Each baby is different when it comes to feeding. When bottle feeding you may also run into the same latching issues with nursing. You may need to try different bottle nipple types, including some that slow the flow of liquids, before finding one that works best for your infant.
Talk Down syndrome gives insight into information on techniques for bottle-feeding a baby with down syndrome.
Mass General Hospital for Children- Feeding Advances: Offering Breast Milk or Formula to Your Baby
AAP Healthcare Guidelines and CDC Growth Charts
AAP Health Care Information for Families
You can print a checklist for your child's age, to take with you to your pediatrician here:
You can also print the Down Syndrome Growth Charts, updated by the CDC in November 2015
Developmental Expectations & Medical Issues
Children with Down syndrome typically have some delays in different areas of development. It is important to remember that almost all children with Down syndrome reach developmental milestones at different rates. This guide includes:
Smiling
Rolling over
Sitting
Standing
Walking
This document, written by Dr. Kishore Vellody, also covers different medical issues that your loved one also may run into in their lifetime. This guide includes:
Ear and Nose Issues
Endocrinologic Issues
Dental Care
Musculoskeletal Issues
Early Intervention Services
A child with Down syndrome has unique educational needs to be addressed. The efforts of the NDSC, together with the larger disabilities community, have made great strides toward securing quality education for all people with cognitive disabilities. The most common early intervention services for babies with Down syndrome are physical therapy, speech and language therapy, and occupational therapy.
What is early intervention?
Early intervention refers to a range of specialized programs and resources that professionals provide to very young children with Down syndrome and their families. These professionals may include special educators, speech therapists, occupational therapists, physical therapists, and social workers.
For more information download our Early Intervention-Speech and Language Resources packet below which includes questions you may have such as:
How do I find out if my child is eligible for services?
Can I get help to pay for early intervention?
Why are speech and language early intervention essential to development?
Why is physical therapy important for individuals with Down syndrome?
View or Download Early Interventions and Speech & Language Guide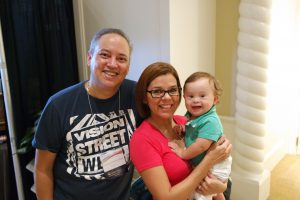 Libby Kumin provides a great insight into the different communication milestones of a baby with Down syndrome in her book Early Communication Skills for Children with Down Syndrome. 
Getting Prepared to Enter the School System
If you have a child receiving early intervention services, it is important to know that the 3rd birthday is a time when there can be many changes to service delivery and funding sources. Just before a child turns 3, a transition meeting by the school system is held so that the change in services your child receives is seamless. Once a child turns 3 years old they are eligible to enter the school system into preschool.
Developing Your First IEP
More information coming soon!