Parent Webinar Series
Join us for our next webinar, coming soon!  You can also find more archived webinars in Ages & Stages.
Check out the following education webinars …
How Do You Create Comprehensive Inclusive Education Programs and IEPs? Focus on General Education Membership, Active Participation, and Learning! TIES is the federally funded National Center for Inclusive Practices and Policies for Students with Significant Cognitive Disabilities. This webinar covers a TIES parent brief on developing inclusive IEPS as well as a comprehensive resource for families and educators on planning for inclusive education programs that focus on General Education Membership, Active Participation, and Learning.
Pivoting Parapro Supports for Current Learning Environments
We explored ways to engage and support students, when not in-person, and identified the changing roles and responsibilities of paraprofessionals – for right now and in the future! Presented by Gail Ghere and Jennifer Sommerness, experts from the TIES Center, and our Policy & Advocacy Director, Heather Sachs, as a parent with a success story.
Have You Seen Our Online Learning Series?
This three-part series was designed to help parents and educators make the jump from the classroom to online learning.  Presented by Sean J. Smith, a professor of Special Education at the University of Kansas and an NDSC Board member, these sessions focus on the various tips, tools, and techniques to maximize online learning for students with disabilities.  Watch any or all of the sessions now!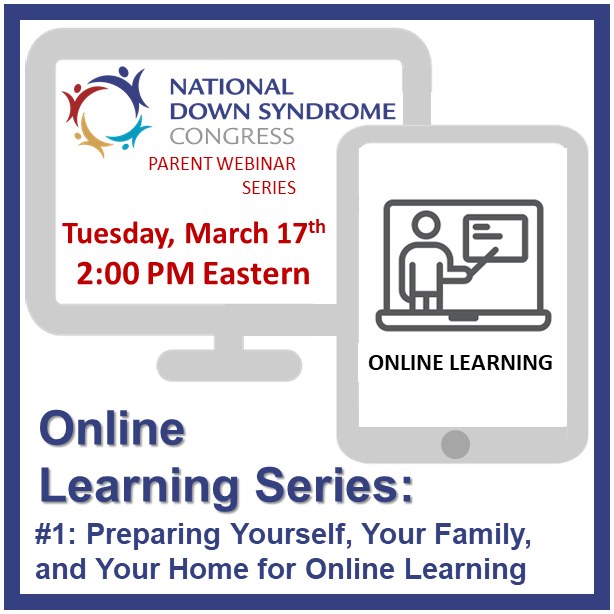 In Part 1, you can learn about adjusting to online learning in the home setting. Sean helps you prepare your home environment and helps you find balance during this shift to a new normal. This is the first in a series of webinars which will also include instructional supports, technology and online curriculum tips.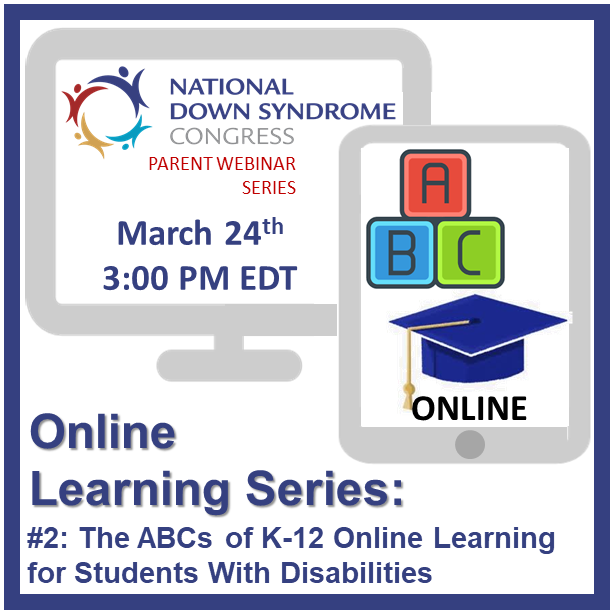 In Part 2, Sean focuses on understanding the nature of online learning curriculum, content, and instructional techniques.
This includes tips and strategies to plan for effective instruction and what parents and educators can do to further facilitate online learning.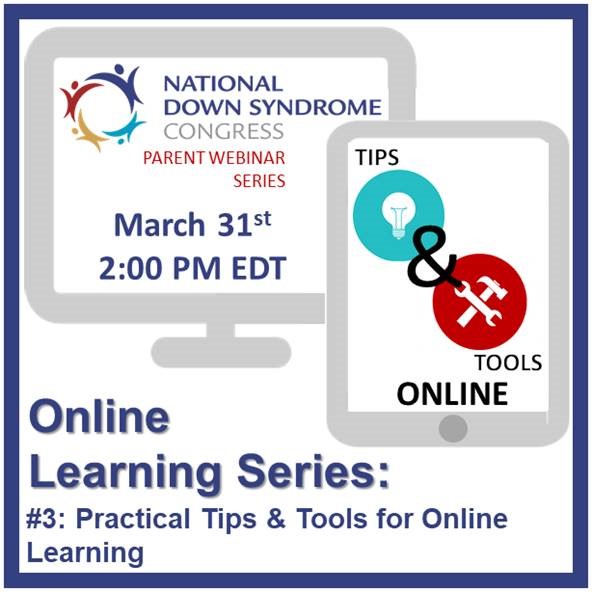 In Part 3, Sean continues to maximize online learning for students with disabilities. Once you've set up your home learning environment and understand different ways to access materials for different learners, he helps you explore the various tools and techniques parents and educators can use to make accommodations.
Can't make the webinar at its scheduled time?  No problem, register for the event and you will receive a link to view the recording. All webinar recordings should be available within one week of a live broadcast.
Access recordings from past webinars
Archived Webinars
Wed, October 7, 2020 -Your Voice, Your Vote- What to Know Before You Cast Your Ballot
View Recording now
What is at stake in terms of the political landscape of Washington DC? What questions can you ask candidates to determine their position on disability policy priorities?  Why is voting so important? In this webinar, self-advocate Connor Long will join the NDSC Policy & Advocacy Team to explore these questions and will discuss his passion for voting and his recent work on the self-advocate-led voting project, "Our Vote Counts."
Tues, July 28, 2020 – Back to School, Or Not? Understanding Your Options
View recording now
Download webinar slides
Download NDSC Schooling Resources document
This webinar focuses on helping parents understand the legal implications of different options, including in-person learning, digital learning, homeschooling, and homebound/home instruction providing ideas on how to maintain certain IDEA rights while maximizing flexibility. Moderated by NDSC Policy & Advocacy Director, Heather Sachs, with speakers: Andrew Feinstein, Esq. from COPAA and the Feinstein Education Law Group and LaTaasha Byrd, Parent and Founder of Countdown to K, Inc.
Mon, May 11, 2020 – NDSC House Call: A Talk with the Docs
View Recording on NDSC House Call
Doctors Kishore Vellody, Nicole Baumer, and Peter Bulova will candidly answer your Top 10 questions.  These docs are all experts in their fields and members of the Down Syndrome Medical Interest Group (DS-MIG).
Tues, April 14, 2020 – No Discrimination in Health Care Rationing
View Recording on Health Care Rationing
Download slides for Health Care Rationing
What is medical rationing and why is it concerning? What have advocacy groups been doing so far? What protocols are hospitals developing? Why are individuals with Down syndrome considered "high risk"? What are the legal prohibitions of discrimination? What can families do to advocate for their loved one with DS if they are hospitalized? How can your local DS organization get involved? Join Heather Sachs (NDSC), Michelle Whitten (GLOBAL), and Ashley Helsing (NDSS) to learn the answers to these questions and more!
Thurs, April 9, 2020 – Take a Deep Breath: IDEA implementation during COVID-19
View Recording on Take a Deep Breath
Download slides for Take a Deep Breath
In this webinar, NDSC Senior Education Policy Advisor, Ricki Sabia, discusses guidance issued by the US Department of Education on the provision of services to students with disabilities during coronavirus related school closures. In addition, frequently asked questions about COVID-19 and parent/student rights are answered by COPAA Legal Director, Selene Almazan.
Thurs, April 2, 2020 – NDAC Briefing on COVID-19
View Recording on NDAC Briefing on COVID-19
Download slides for NDAC Briefing
Join NDSC's Policy & Advocacy Team as they update on what's happening in Washington concerning COVID-19.
Fri, March 27, 2020 – Making Music Together: How music therapy benefits all ages
View Recording on Making Music Together
Join Hannah Rhinehart, Director of The George Center Foundation to learn more about the benefits of music therapy.
Wed, March 18, 2020 – Census 2020: Why it Counts to be Counted
View Recording of Census 2020
Responding to the 2020 Census is a chance to shape your future and the future of your community.  The population count affects your representation in government, determines how much funding your community receives, and provides data to help you plan for the future.
Tues, Feb 11, 2020 – Convention 101: What is the NDSC Convention and Why Should You Go?
View Recording on Convention 101
Presented by David Tolleson – Executive Director, Sarah Hill – Convention Director, and Tamara Pursley – Programs & Partnerships Director, this session will give you an overview of all things convention and an opportunity to ask questions.
Tues, Dec 10, 2019 – Supported Decision Making
View Recording on Supported Decision Making
Supported Decision-Making (SDM) is a way for people with disabilities to make their own decisions, by using family members, friends, professionals, and other people they trust to help understand the issues and choices being faced. In this webinar, the presenter will discuss what SDM means in practical, everyday terms; why SDM is important in the lives of people with disabilities; and how SDM can be used to promote self-determination. She will also share updates on ways in which SDM is being advanced on the local, state, and federal levels across the United States.
Wed, Nov 13, 2019 – Our Voices Are Stronger Together
View Recording on Grassroots Advocacy
View Captioned Recording on Grassroots Advocacy
Join NDSC Policy & Advocacy Director Heather Sachs and Autism Society Vice President of Public Policy Kim Musheno, along with an experienced grassroots advocacy self-advocate, as they discuss the basics of advocacy, why it is important to become engaged, and what steps you can take to help NDSC and Autism Society achieve their policy goals to improve the lives of individuals with Down syndrome, autism, and other disabilities.
Tue, May 14, 2019 – Decline in Skills
View Recording on Decline in Skills
Webinar Decline in Skills Slides
People with Down syndrome may have a decline in skills for a variety of reasons.  Much of the focus has been on Alzheimer's disease but there are many causes, most of which are potentially reversible.  A thorough evaluation, with particular emphasis on conditions that are more common in people with Down syndrome is essential.  Treatment of these conditions will often lead to an improvement in symptoms. Presented by Dr. Brian Chicoine.
Wednesday, April 24, 2019 – When Autism and Down Syndrome Co-Occur
View the recording on Co-occurring Autism and DS
Download slides for DS-ASD
What does the science say?  What are the benefits of knowing?  Will this impact services for my child?
These questions and more are answered during a webinar presented with our friends from the Autism Society of America.
March 12, 2019 – Convention 101
NDSC Staff members provide an overview of the NDSC Convention. Learn about conference options for the entire family, social and networking events on-site, and how the registration system works.
View recording on Convention 101
March 7, 2019 – Transitioning to Adulthood Without Falling off a Cliff
In this webinar, Dr. Alyssa Siegel, Medical Director of the Children's Hospital of Philadelphia's Transition to Adulthood Comprehensive Care, will address the common challenges that families face during this exciting but daunting time. In conversation with Stephanie Pratico, family-centered care educator and advocate, and parent of two young adults with Down syndrome, this experienced team will delineate planning strategies and solutions that will allow families to fly rather than fall as they approach the transition to adulthood.
View recording on Transitioning
January 17, 2019 – How Your Nonprofit Organization Can – and Why it Should – Engage in Grassroots Advocacy
View recording on Member Engagement
The NDSC & DSAIA a co-hosted webinar regarding how to keep your membership informed and engaged in policy issues, build relationships with elected officials, and serve as the voice of the local Down syndrome community to promote policy change.
October 16, 2018 – Why You Should Care About the Midterm Elections
View Recording on Elections
Download slides on Elections
The NDSC's knowledgeable Policy & Advocacy Team provide an inside look at the issues, what's at stake, and how you can talk to the candidates.
May 24, 2018 – Communicating Your Vision: Using The Future to Find Your Now
View recording on Communicating Your Vision
Presented by Kristin Enriquez, founder of Sevi's Smile.  This webinar explores the importance of creating a Vision for your child.  Potential starting points and supports for the development of this Vision will be discussed. Emphasis on how to communicate this Vision effectively with your child's Educational Team, in order to build capacity for increasing experiences of access and opportunity for people with Down syndrome, including the use of a Digital Portfolio.
April 26, 2018 – Behavior and Mental Health: The Missing Piece in the Wellness Puzzle for Adults with Down syndrome
View recording on Behavior
Download slides on Behavior
In this webinar, Bryn Gelaro, AM, LSW, Director of Adult Initiatives and Special Projects for the Global Down Syndrome Foundation, addresses the crucial role behavior and mental health play in the overall health of adults with Down syndrome. Behavior and mental health are intricately connected to physical health, but this can be overlooked, misinterpreted or not looked at in the context of the complete health care picture for adults with Down syndrome.
February 22, 2018 – Ask the Expert – Puberty, Sexuality & Relationships
View recording on Sexuality
Dating FAQ's
Puberty, Sexuality & Relationships Resource Sheet
Adult Down Syndrome Center Resources
Presented by Terri Couwenhoven, MS, the clinic coordinator and health educator for the Down Syndrome Clinic at Children's Hospital of Wisconsin, this webinar will give you the opportunity to "Ask the Expert" your questions about puberty, sexuality, and relationships for teens and adults with Down syndrome and developmental disabilities.
January 31, 2018 – Adopting a Child with Down syndrome
View recording on Adoption
Presented by Stephanie Thompson, Director, this webinar will introduce families to the National Down Syndrome Adoption network and provide information and resources to families who are interested in adopting a child who has Down syndrome within the United States (also known as "domestic adoption"). The adoption process will be explained, from how to obtain a home study to the finalization process.
November 29, 2017 – Accommodations & Modifications
View recording on Accommodations & Modifications
Presentation Slides on Accommodations & Modifications
Other resources
Presented by Julie Harmon, Inclusion Coordinator at University of Colorado Colorado Springs (and NDSC Board member).  This webinar explores how the use of accommodations and modifications can be a key to meaningful participation in the general education classroom for students with disabilities.
October 26, 2017 – Improving Behaviors
View recording on Improving Behaviors
Download handouts on Improving Behaviors
Sam Towers, M.Ed., owner of Towers Behavior Services, LLC is a behavior analyst who has spent 25 years providing services to individuals with disabilities who exhibit problem behavior. In addition, he has served as a special educator and has trained special education teachers at the University of Kentucky. In addition, Towers authored the chapter "Addressing Problem Behaviors in Individuals with DS-ASD" in the book "When Down Syndrome and Autism Intersect".
September 14 – ABLE Accounts: People with Down Syndrome are Finally #ABLEtoSave for the Future!
Heather Sachs (1st session) – View recording on ABLE Accounts
Chris Rodriguez (2nd session) –View recording on ABLE Accounts
Chris Rodriguez and Heather Sachs from the ABLE National Resource Center walk participants through a primer on ABLE accounts and how to use them, including what they are and who can qualify for one; what the rules are regarding eligibility, distributions, and account limits; how to open an ABLE account and manage the funds; how the funds in ABLE accounts may be used; and which states are offering ABLE accounts and how these ABLE programs differ.
August 29, 2017 – Include Me! Including Young Children in Early Childhood Programs –
View recording on Inclusion
Presented by Gerin Martin, Ed.D, this webinar is for parents of children with developmental disabilities, aged 2-5. Inclusion, at any level, is an art in partnerships. Learn what high-quality inclusion in an early childhood classroom should look like and how to partner with the early childhood professionals working with your child, in order to carry over skills at home.