Down Syndrome Summit
South Texas Down Syndrome Summit
May 17, 2019
9:00 AM to 2:30 PM
8:30 AM – registration opens
Schlitterbahn Beach Resort
100 Padre Blvd
South Padre Island, TX 78597
Parent attendee $25
Special Room Rates Available
(code will be given once conference registration is completed)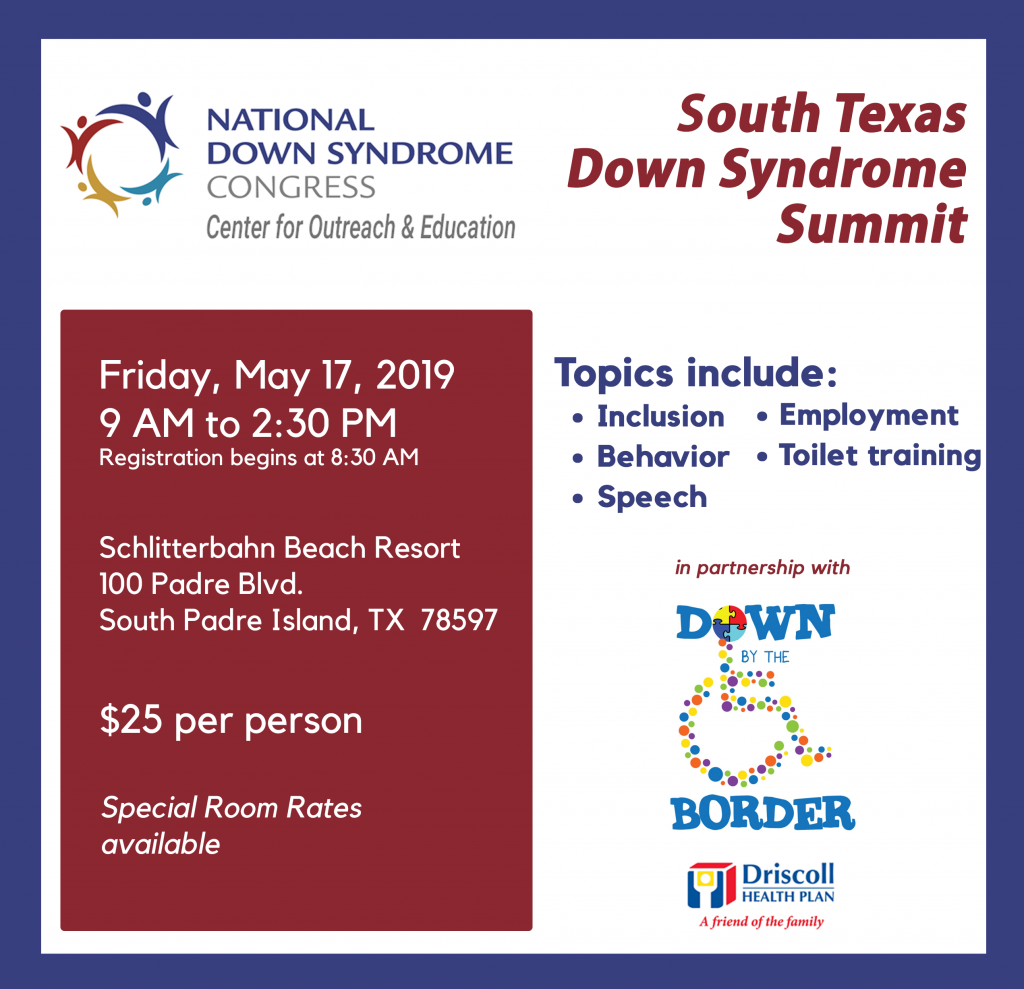 Pre-registration has closed, but you can still join us and register onsite!
South Texas Summit Sessions
Behavior Toolbox
Jennifer Dantzler
This workshop will give you some basic understanding of the different functions of behavior and what to do in different situations.  Behaviors addressed will include increasing compliance to reduce the likelihood and frequency of noncompliance, aggression, elopement, self-injury and more.  Tools will be practical that you can start using as soon as you leave the workshop!
Cuadro de Herramientas del Comportamiento
Este taller te dará un entendimiento básico de las diferentes funciones del comportamiento y que hacer en diferentes situaciones. Comportamientos de que estaremos discutiendo incluyen: incrementar el obedecimiento para reducir la posibilidad y frecuencia del no obedecimiento, agresión, fuga, autolesión y más. Las herramientas serán tan prácticas que podrás usarlas tan pronto salgas del taller.
Everything You Want to Know About Inclusion in the U.S. But Are Afraid to Ask
Marilyn Tolbert
Like most things in life, the definition of inclusion has changed over the years.  This presentation will give families information on defining and understanding of what inclusion is, the value for your children and how to ensure your child receives the services he/she needs and is included in the general education programs.  Attendees will gain insight and understanding of how to help your child and his/her teacher feel successful in an inclusive setting.
Todo lo que quieres saber sobre inclusión en los EE.UU  pero tienes miedo en preguntar
Como la mayoría de cosas en esta vida, la definición de inclusión ha cambiado en los últimos años. Esta presentación le dará información a familias de cómo definir y el entendimiento de lo que es inclusión, el valor para sus hijos y como asegurar que su hijo reciba los servicios él/ella necesita y sea incluido(a) en los programas educativos generales. Los participantes tendrán entendimiento de cómo ayudar a que su hijo(a) y su maestro se sienta exitoso en un ambiente inclusivo.
Planning For Your Future: What's your reality?
Lorissa Luna
Plan and prepare to have more money in your pocket. This session will provide you the tools and resources to explore careers and learn the skills employers are seeking from future employees.
Planeando para tu futuro: ¿Cuál es tu realidad?
Planea o prepara en tener dinero en tu bolsillo. Esta sesión te proveerá las herramientas y recursos para explorar carreras y aprender sobre habilidades que empleadores están buscando en empleados futuros.
Expectativas y Estrategias del Habla y Lenguaje en Personas con Síndrome de Down
Hilda Torres
Esta sesión abarcara fortalezas y necesidades en personas con Síndrome de Down desde la infancia hasta la edad adulta. Se discutirán factores que afectan la claridad del habla, desarrollo del lenguaje, alimentación, y funcionamiento ejecutivo a través de la vida. Los asistentes aprenderán estrategias que podrán aplicar para ayudar a personas con SD, basados en las destrezas de cada invididuo y así fomentar el uso de la comunicación apropiada.