Down Syndrome Summit
NE Indiana Down Syndrome Summit
March 16, 2019
9:00 am to 4:30 pm
8:30 am – registration opens
Homestead High School
4310 Homestead Road
Fort Wayne, IN 46814
Parent attendee $25
Professional attendee $50
Vendor table $50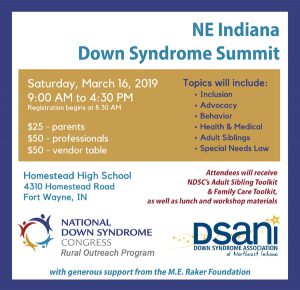 Session Overviews
A Deep Dive into IEPs

The IEP document can be intimidating and confusing to parents, but parents are expected to be equal and valued contributing members to the IEP team. This session will walk parents through the parts of the IEP document and provide the basics of what each part requires. Following the session, parents should feel comfortable reading and interpreting their own children's IEP documents.

Advocacy 101
Advocacy 101 – How to Talk with Your Legislators to Impact Change
Grassroots advocacy is an important tool for families and self-advocates to effect real change in laws and policies. This session will focus on empowering self-advocates and their families to advocate for change in local, state, and federal legislative bodies. Topics will include common agenda items, advocacy strategies, and other easy ways to get involved.

Education Transitioning Planning
Education Transitioning Planning
IDEA provides that districts must provide free, appropriate public educations until children reach age 22. What happens thereafter varies widely. This session covers planning for post-secondary options, whether that is work, further education or training, or something else. The session will include an overview of typical options, advocacy tips, and strategies for person-centered planning.

Have a Question? Ask the Doctor!
Have a Question? Ask the Doctor!
Dr. Kishore Vellody, Professor of Pediatrics and Director of the DS Center of Western PA will answer health and medical questions asked by attendees in the session.

HOW TO: Create a Special Needs Plan
HOW TO: Create a Special Needs Plan that Allows Your Child to Live a Purposeful and Impactful Life
In this interactive session, the presenter will share with you three changes to Special Needs Planning that you need to know about, educate you on the five essential areas of Special Needs Planning (Vision, Life, Resource, Financial, Legal), and show you how you can create a Special Needs Plan that enables your son or daughter to live a purposeful life. The true benefit of planning is the peace of mind you'll gain from knowing that your family is well prepared for today – and the future.

NDSC's Adult Sibling Toolkit
NDSC's Adult Sibling Toolkit
Transition of caregiver responsibilities can be an uncomfortable time. NDSC has developed a toolkit that can help guide those family discussions, while also collecting important information about your loved one with DS.

Promoting Optimal Health
Promoting Optimal Health for Children with Down Syndrome
This session will provide an overview of the current healthcare guidelines for children with DS, give suggestions for the management of common medical issues encountered in DS, and introduce the role of a comprehensive Down Syndrome Center.

Special Needs Financial Planning Basics
Special Needs Financial Planning Basics: Trusts and ABLE Accounts
Many families with children with special needs have questions about Special Needs Trusts (SNT) and ABLE Accounts. In this discussion-based session, we'll begin by providing a brief overview of special needs financial planning, including explaining the similarities and differences between a SNT and an ABLE Account. Then the majority of the session will be devoted to answering any questions you have about the basics of special needs financial planning.

Using the Principles of Behavior
Using the principles of behavior to promote positive behaviors and decrease challenging behaviors
This presentation will focus on viewing all behaviors through a behavior analystic lens. Learn about why our children engage in behaviors and leave with easy, ready to apply solutions.

Supported Decision-Making and Other Options
What to Know About Supported Decision-Making and Other Options for Adulthood
This session discusses a range of options for supporting someone with decision-making in adulthood, with a special highlight on Supported Decision-Making.