Down Syndrome Summit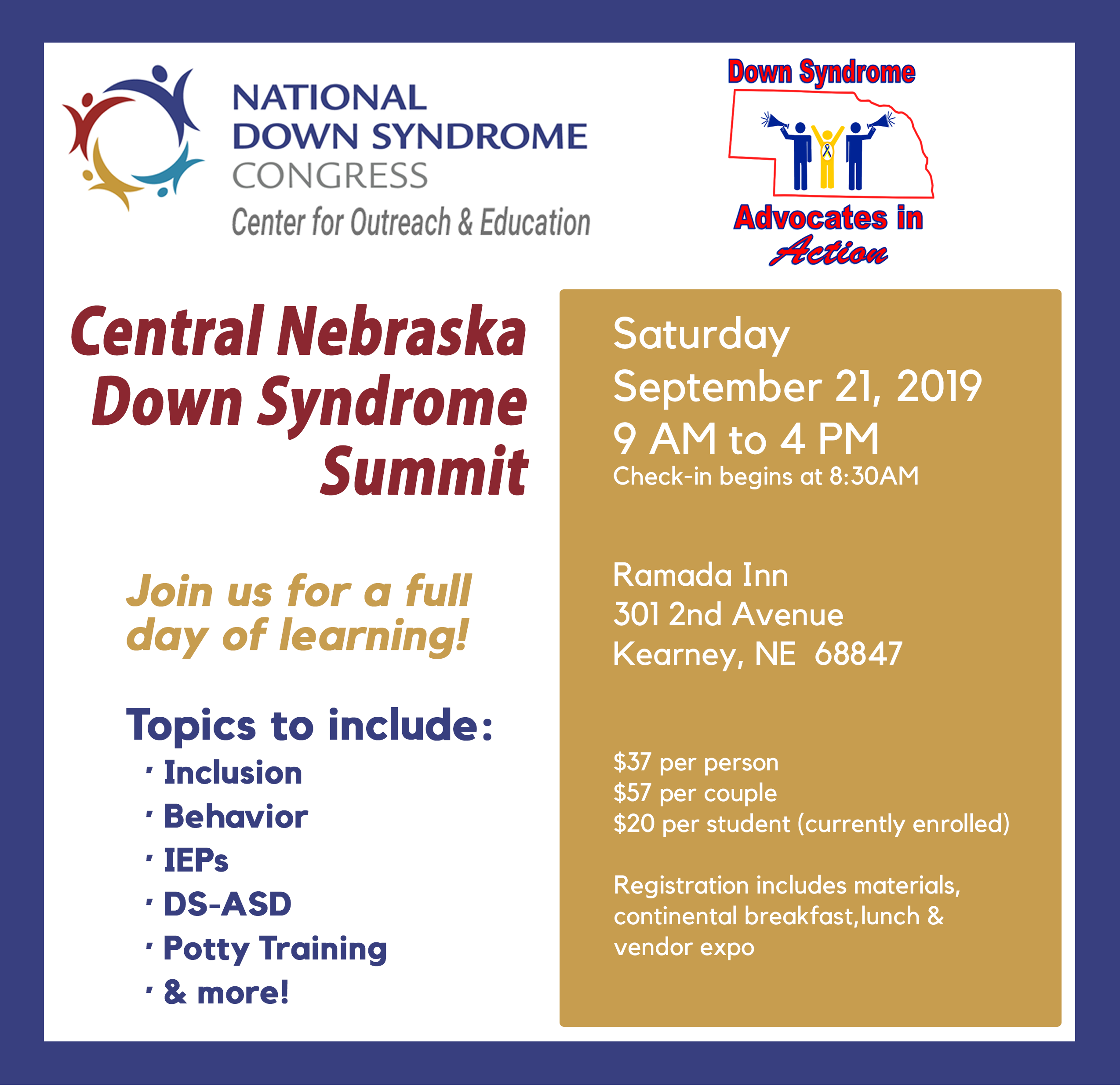 Register Now
If you have food allergies, please make a note in the "Comments" field as you register.  If you are registering as a couple, please note the other attendee's name in the "Comments" also.  Thanks!


Schedule
Speaker Bios
Chaka Batley, DNP
Chaka Batley joined Quincy Medical Group in 2011 as a Pediatric Nurse Practitioner after graduating from the University of Iowa. She received her Doctorate in Nursing Practice, also from the University of Iowa in 2013. Chaka is board certified through the Pediatric Nursing Certification Board for Primary Care. Her current role at Quincy Medical Group involves building relationships with families within the community to improve lives, creating a healthier tomorrow. She received her Master of Business Administration (MBA) from Culver-Stockton College in 2017. Chaka recently graduated from Johns Hopkins School of Nursing (August 2019) with her Post-Masters Psychiatric Nurse Practitioner degree to continue her pursuit in alleviating the stigma surrounding mental health.
Jeanne Doherty
Jeanne Doherty lives in the Boston area with her husband and three daughters, including Jessica who was diagnosed with DS-ASD at age 7. Jeanne has supported families with loved ones with DS-ASD for over 10 years. She is currently the Family Support Specialist for the Massachusetts Down Syndrome Congress. She also serves as Board President for Alternative Services, Inc., a company that owns and operates group homes, as well as President of the Board for the Down Syndrome-Autism Connection. Jessica is a young adult now, so Jeanne brings with her a wealth of experience and knowledge about providing care to an individual with complex needs.
Kate Dougherty
Kate Dougherty is a proud wife & M-O-M of 4 children (2 biologically original, 1 of which ROCKS his extra chromosome, & 2 biologically shared). Kate has background in the brokerage/marketing industry, holds a B.A. in History/Political Science & a Lifetime teaching certificate for grades 9-12 in Social Science, Communication Arts & Speech/Theater. She is the President & Founder of Down Country, a rural non-profit awareness & education initiative operating under the fundamental principles that: Every Child is a Gift! Every Child Can Learn! & Every Child Learns Differently! She is a national speaker, consultant and currently co-hosts a local radio show #Every1 talking about #Everything on WGEM 105.1FM on Sunday mornings. Kate is passionate about Technology, Education & POSSIBILITIES for #EVERYCHILD.
Caroline Fehlhafer

Caroline Fehlhafer lives in Seward, Nebraska with her husband and two children.  Her youngest son is 16 and has Down syndrome.  Caroline has been an active volunteer in the disability community for the last 15 years.  In the last 10 years she has worked for Heads Start and Bright Beginnings Child Development Center helping children reach their full potential.  In the last 3 years alone, she has potty trained over 30 kids of all abilities.
Julie Harmon
Julie Harmon lives in Colorado Springs and is the proud parent of two sons with Down syndrome. Julie is the Inclusion Coordinator at the University of Colorado, Colorado Springs, a Board Member for the Colorado Springs Down Syndrome Association, and former Board Member for the National Down Syndrome Congress. Her oldest son, Nick, attended college at the University of Colorado, Colorado Springs and is starting his senior year this fall. Julie's youngest son, Noah, graduated from high school in the Spring and works at 24 Hour Fitness and loves everything about fitness.  Julie advocates for inclusion for people with disabilities in all aspects of life to someday realize a world with equal rights and opportunities for everyone.
Meredith Martin

Meredith Martin, is a 37 year old self-advocate from the Northeast Nebraska community of Neligh.   She enjoys sharing her story of growing up in a small community, setting goals, working with the school district to try new programs and establishing an independent living experience.  Meredith began her independent living experience at the age of 18.  She drives herself to and from her four part time jobs.  She is active in church and community functions and has served on the National Down Syndrome Congress Board of Directors.  Meredith is an avid kick boxer and also enjoys Pilates, Zumba and dancing.
Angie Willey

Angie Willey first started teaching sign language 18 years ago when her oldest son was a baby.  When her youngest son was born with Down syndrome, she knew learning sign language would be critical to his language development and became an Advanced Signing Time instructor.  In addition to teaching ASL to young children, she Co-founded Down Syndrome Advocates in Action Nebraska, serves on her local ARC board, has recently trained to be an IEP Advocate, and enjoys crafts and photography in her spare time.