Fundraising
Social Champions
The NDSC Online Challenge engages participants in raising funds and awareness online. Participants use Facebook Fundraising platforms and will be awarded some really cool prizes for their efforts.  We are challenging YOU to help raise awareness and funds to support the projects and programs of the NDSC such as Rural Outreach and Educators Conferences.

How to Get Started with Facebook Fundraising
Here's how you can make a difference and win prizes!
Between now and year-end, hop onto your Facebook page, and create a fundraiser for the National Down Syndrome Congress (we are already in the Facebook charitable system). Tell your story and promote the campaign to all of your friends and family.  Your single campaign, coupled with hundreds of other single campaigns, can add up to huge numbers and overall awareness – not only for the NDSC but for Down syndrome!
How to get started:
Choose the time frame of your fundraiser.
Create your Online Fundraiser at https://www.facebook.com/fund/thendsc/
Facebook will send us a check!
It is important to note that we do not see who donates to your fundraiser, so make sure to thank them.
If you need aid in setting up your page, no problem!  Email Rhonda@ndsccenter.org and she will answer any question you may have.  Click here for a "how to" guide!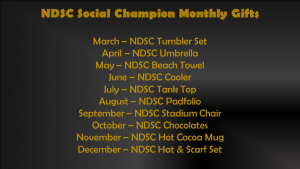 Thank you to all who participated in the Fall and Winter Online Challenges.  We had a great response to the campaign and several people have asked if we could continue the fun through the year. Of course, we said "YES"!
Kroger Community Rewards®
NDSC is proud of our partnership with Kroger. Sign up now and raise money all year long!
It's easy when you enroll in Kroger Community Rewards®. To get started, sign up with your Plus Card at www.KrogerCommunityRewards.com and enter National Down Syndrome Congress as the organization you wish to support. It's that simple!   Once enrolled, you'll earn rewards for the NDSC every time you shop and use your Plus Card.