The Georgia Down Syndrome Consortium is holding a one-day conference, designed to meet the needs of parents, siblings, families, and caregivers of individuals with Down syndrome across the lifespan.
Join us in Winter of 2020, at Kennesaw State University's Academy for Inclusive Learning and Social Growth.
Prillaman Hall
520 Parliament Garden Way
Kennesaw, GA  30144

Registration includes conference, materials, lunch, and parking.
Online registration is closed, but we'd LOVE to see you there!  You can register onsite, beginning at 8:30 AM.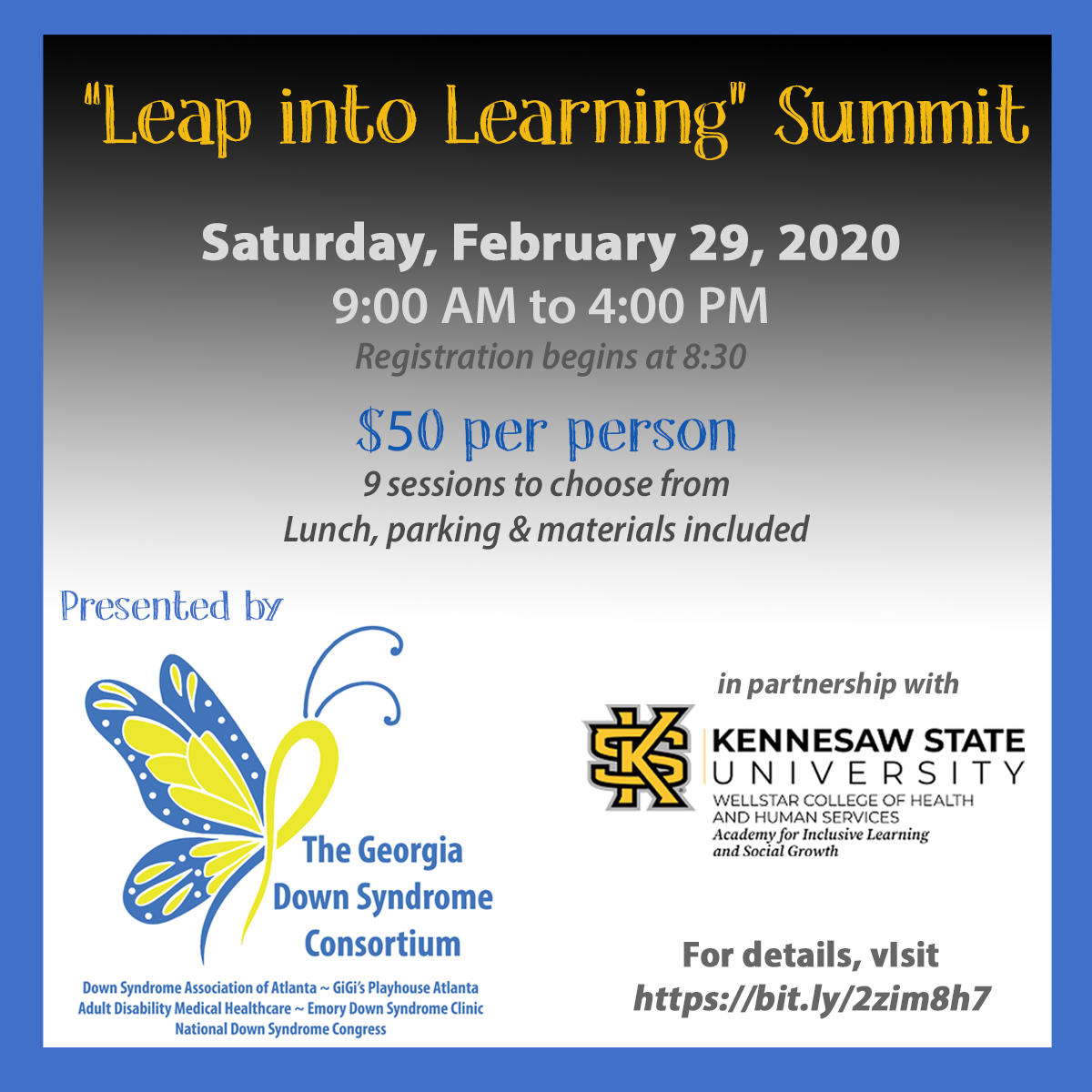 Summit Schedule
Speaker Bios
Kishore Vellody, M.D. – Keynote Presenter
Dr. Vellody completed his medical degree at the University of Illinois at Chicago College of Medicine and his pediatric residency at the Children's Hospital of Wisconsin in Milwaukee. He is a Professor of Pediatrics at the University of Pittsburgh School of Medicine and has been on the faculty since 2005. In March 2009, he assumed the role of Medical Director of the Down Syndrome Center of Western Pennsylvania. The Center sees over 500 children and almost 200 adults per year making it one of the busiest clinics in the world that is focused on Down syndrome. Dr. Vellody is also the President of the National Down Syndrome Congress board of directors and is Co-chair of the Professional Advisory Council.  Dr. Vellody became a pediatrician in large part because of his relationship with his older brother, Das, who is smart, funny, caring, . . . and also has Down syndrome. 
David Blanchard
Following the completion of a master's degree in Family Studies from Auburn University, David Blanchard served as a Peace Corps Volunteer in Papua New Guinea. His career spans twenty years where began supporting families as a Service Coordinator for Georgia's Babies Can't Wait program in DeKalb county, then served as the Public Policy Director for All About Developmental Disabilities (AADD), eventually being promoted as their Executive Director. He left AADD to become the Assistant Deputy Commissioner for the Department of Behavioral Health and Developmental Disability's Division of Developmental Disabilities, then recently worked as the Vice President for Development for Parent to Parent of Georgia while completing a Masters of Marriage and Family Therapy at Mercer University. David currently offers counseling at Couples Counseling ATL in Virginia Highlands, where he enjoys working with couples and men looking to improve their lives and relationships. He volunteers as a moderator for Georgia Better Angels, as well as serving as a member of the Legislative Committee for the Georgia Association for Marriage and Family Therapy.
Becky Borak, MEd, BCBA
Becky received a bachelor's degree in intellectual disabilities and special education from University of Georgia and then received a Master's degree in interrelated resource for individuals with disabilities. She taught in the public-school system for 16 years in the field of special education, then decided to go back to school to become a BCBA. Since that time, she has dedicated her work to helping families learn the basic principles of Applied Behavior Analysis, as well as help the members in their family learn to improve their socially significant behaviors and reduce the unwanted behaviors.
Daniel Faust
Daniel has graduated from Georgia State University with a 3.2 GPA, a Bachelor's degree in Exercise Science, and a certificate as an ACSM Certified Exercise Physiologist. He has spoken at a couple of events for the Down Syndrome Association of Atlanta as a self-advocate being an inspiration for those with Mosaic and Down Syndrome. Daniel currently works at Fiserv as a receptionist doing many tasks, one of them giving tours of the building, throughout the building, especially the mailroom. In addition, he is a board member for the Down Syndrome Association of Atlanta as a self advocate whose perspective, story, expertise, and character inspires, encourages, and serves everyone he has met and will meet and speak to in the future.
Eva Hampton, MA, CCC-SLP
Eva is a Speech-Language Pathologist from Spring City, Tennessee and is the mom of Wyatt, her 10 year old son who has DS. Eva earned her B.A. and M.A. in Speech and Language Pathology at the University of Tennessee in Knoxville. She has been in practice since 1998, with most of her years of experience established in the public schools (preschool, elementary, middle and high school). Eva wants to share the perspective she and her family have gained by having the privilege to watch and learn from her youngest son, Wyatt. She is married to Jimmy, her wonderful husband of 25 years. They also have a 17 year old son, Landon, who is Wyatt's hero.
Roberta Leu, MD
Dr. Leu is a pediatric sleep medicine specialist in Atlanta, GA.  She graduated from the University Of Virginia School Of Medicine in 2004, pediatric residency at Rainbow Babies and Children's Hospital in 2007 and completed her fellowship in sleep medicine at Case Western Reserve.  She is the Director of Sleep for the Emory + Children's Pediatric Institute and has focused her time building the sleep practice and is now developing subspecialty programs in an effort to improve care for pediatric patients with sleep disorders.  She and Dr. Nikhila Raol work together in the Refractory OSA after adenotonsillectomy clinic to work on optimal management of OSA that does not respond to typical surgery.
Jeffery Lewis, M.D.
Dr. Lewis is a senior partner with one of the top pediatric GI practices in the US, GI Care for Kids. In the most recent US News and World Report, GI Care for Kids together with Children's Healthcare of Atlanta was ranked #5 in the US. Dr Lewis completed his pediatric GI fellowship in 1995 at Harvard medical school and Boston Children's hospital. He has a special interest in celiac disease and in the micro biome. He founded a summer camp for kids on a gluten free diet, Camp Weekaneatit, that is now in its 15th year. In 2013, He was the first doctor to perform a fecal transplant in a child in Georgia. As a peds GI doc, he works day with kids with Down syndrome and in 2014 was recognized by the Georgia Department of Public Health for his years of service to special needs children with a special annual award at the Georgia AAP chapter meeting. 
Anna C. Maki
Anna Maki is the Director of Benefits Navigation at Bobby Dodd Institute (BDI), formerly All About Developmental Disabilities.   She earned her Juris Doctorate at the University of Georgia School of Law and has a Master's in Community Counseling specializing in clinical diagnoses and treatment of individuals with developmental disabilities.  In her work at BDI she developed a comprehensive benefits mapping process to assess individuals' eligibility for benefits including Social Security, Medicaid Waivers, Family Support Services, GVRA, and more.   In the past three years, Anna and her team has secured more than 150 million in lifetime benefits for individuals with intellectual and developmental disabilities.  With over 20 years of professional experience, Anna is adept at problem-solving and navigating the benefits maze.  She has four children, including an adult son with autism.  Anna enjoys volunteering in the community, and serves as a Special Olympics coach in bocce, basketball, and track and field. 
Nikhila Raol, MD, MPH
Dr. Raol is a pediatric otolaryngologist who joined the otolaryngology faculty at Emory University School of Medicine and Children's Healthcare of Atlanta in 2016. She completed her residency at Baylor College of Medicine and pediatric otolaryngology fellowship at the Massachusetts Eye and Ear Infirmary. She then went on to complete a Master of Public Health degree and a health services research fellowship at Harvard. Her clinical interests include pediatric voice/swallowing disorders and pediatric sleep disorders, particularly in populations with complex medical conditions. She lives with her husband and three young children, and they enjoy playing and watching sports, musical theatre, and everything Harry Potter!
What is the Georgia Down Syndrome Consortium?
The Georgia Down Syndrome Consortium was formed in 2018, to find a way for like-minded organizations to work together to serve the Down syndrome community – because we're ALL BETTER TOGETHER!