Ages & Stages Fall 2022 Webinar Series
---
---
Supporting Self-Determination Development with Kate Doyle and Dr. Christina R. Carnahan 
Thursday, December 15, 2022 @ 11 AM EST
Within the field of disability, Wehmeyer defined self-determination as, "acting as the primary causal agent in one's life and making choices and decisions regarding one's quality of life free from undue external influence or interference."
In this webinar,
a) we will define self-determination in the context of a school and home setting;
b) discuss strategies to create and teach self-determination for individuals with disabilities; and
c) reflect on opportunities to embed more self-determination instruction and opportunities in the classroom and home.
About the Presenters
Kate Doyle is a Special Education faculty member at the University of Cincinnati. Dr. Doyle is a Board Certified Behavior Analyst (BCBA-D) and a licensed intervention specialist. Subsequent to her roles in higher education, she taught in the public-school system for 12 years and worked in the adult developmental disability system for 3 years. She has worked in center-based services, home-based services, and in the community with individuals with disabilities across the lifespan. Her research interests include developing academic and social communication interventions for individuals with significant disabilities as well as teacher and paraprofessional training.
Dr. Christina R. Carnahan is Associate Professor of Special Education, and the Director of Advancement and Transition Services in the School of Education, College of Education, Criminal Justice, and Human Services at the University of Cincinnati. Her research interests include literacy and communication interventions for individuals with autism spectrum disorders and other complex communication and behavioral support needs, and creating efficient and effective instructional practices in inclusive settings across the lifespan. Dr. Carnahan has published in journals such as Exceptional Children, Journal of Special Education, and Focus on Autism and Developmental Disabilities. She is also the co-author of two books including Quality Literacy Instruction for Learners with Autism Spectrum Disorder and Facilitating Evidence Based Practice for Students with ASD: A Classroom Observation Tool for Building Quality Education.
---
Evaluations and Eligibility with April Rehrig
Monday, January 16, 2023 @ noon EST
What you'll learn:
When to ask for an assessment
Why school-based evals are key
How to read your report like a pro
What does a comprehensive evaluation look like
About the Presenters
April is a cross-trained special education advocate and school psychologist who teaches positive communication strategies for special education assessment and IEP development. April founded Rise Educational Advocacy to simplify the IEP process. Her online coursework and ready-to-use toolkits support neurodiverse children and adult students K12 and beyond.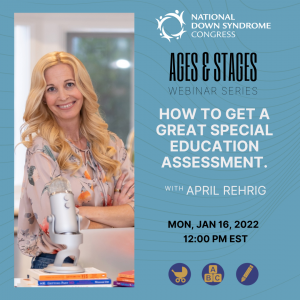 ---
---
Effective Communication at the IEP Table & Beyond
with Ashley Barlow
Friday, October 21, 2022 @ noon EST
Participants will learn:
– At least THREE communication strategies you can implement NOW
– Advocacy tips to use with your IEP team
– Negotiation strategies to help your communication make an impact
– How to bridge the gap between home, school, and the community
– What kind of information to share with your IEP team
– When to communicate to make the best impact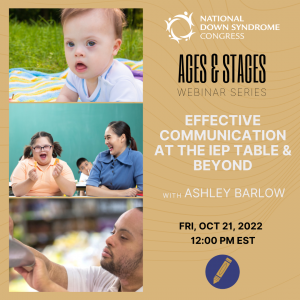 Supporting The Executive Functioning Needs of a Child at School: Advocacy Strategies and More!
with Ashley Barlow
Wednesday, November 2, 2022 @ noon EST
Progress Monitoring: How to Read It and How to Take Data at Home to Ramp Up Your Advocacy Skills
with Ashley Barlow
Wednesday, November 16, 2022 @ noon EST 
Do you get Progress Monitoring Data from your child's IEP team, stow it away, and never look at it again?  Does the progress monitoring even make sense to you?  You're not alone if you feel overwhelmed, confused, and uninspired by your child's progress monitoring data, but when used correctly by all members of the IEP team, the child's progress monitoring data is a game changer.
In this webinar, our Director of Education, Ashley Barlow, will help us understand
– the data,
– how to take it at home, and
– how to use it to better advocate for our students.
Recording Coming Soon.
More webinar information coming soon. Each webinar will need to be individually registered for. 
The Fall 2022 Ages & Stages Webinar Series will be recorded and posted on the website after each webinar.