Online Learning Resources
NDSC's Parent Webinar Series: Preparing for Online Learning
This 3-part series webinar series, hosted by NDSC Board member and Professor of Special Education at the University of Kansas, Sean J. Smith, addresses the important issues students, parents, and educators are facing during the quarantining caused by the COVID-19 pandemic.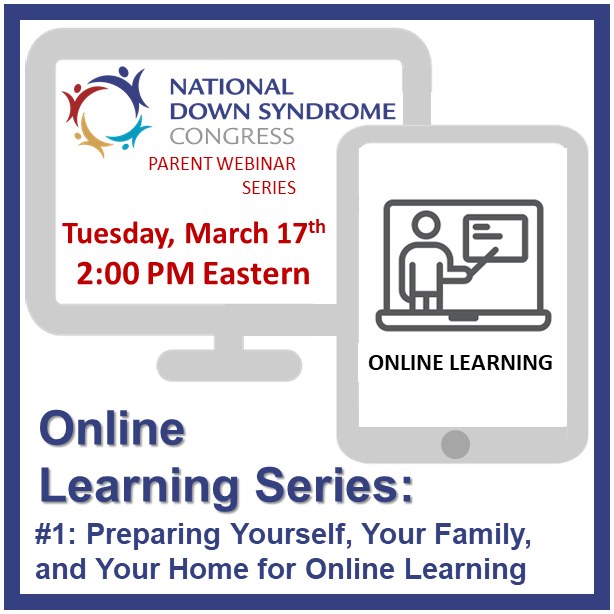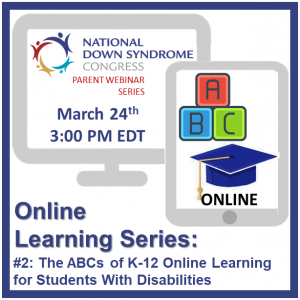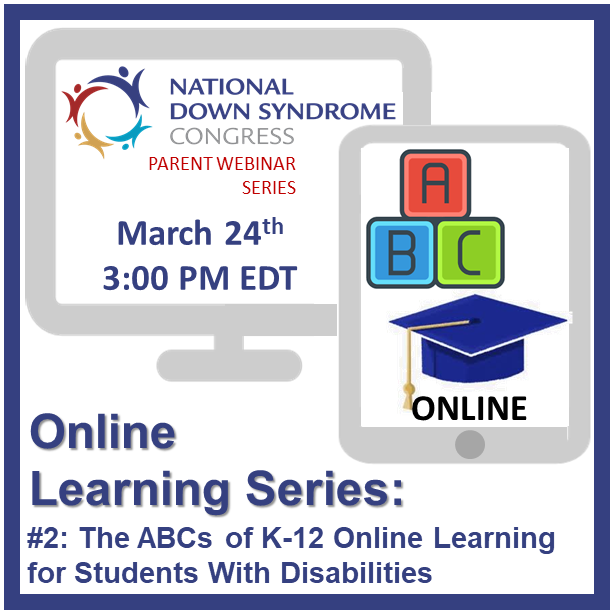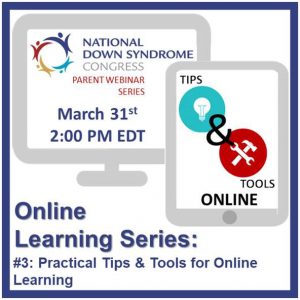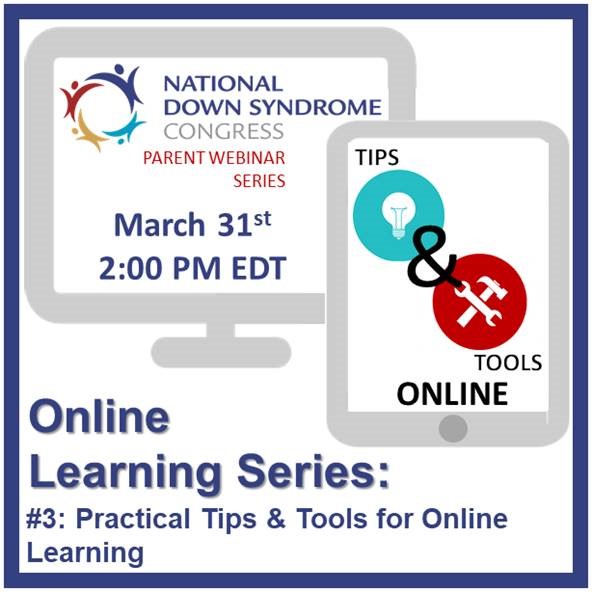 The first session, entitled "Preparing Yourself, Your Family, and Your Home for Online Learning" focuses on the role of the parent, as they become the teacher, to prepare the environment in the home for learning and working while ensuring balance for all. The second session of the series, entitled "The ABCs of K-12 Online Learning for Students With Disabilities", Dr. Smith explains the impact of this instruction on the needs of individuals with disabilities and will include tips and strategies to plan for effective teaching and what parents and educators can do to further facilitate online learning. The third session, "Tips, Tools, and Techniques to Maximize Online Learning for Students With Disabilities", provides ideas for accommodations to online curriculum.
Access to recorded sessions can be found on our Parent Webinars page.
Also, join NDSC Board President Kishore Vellody and director of the Down Syndrome Center of Western Pennsylvania as he talks with NDSC Board member Dr. Sean Smith about the coronavirus pandemic, and how many children with Down syndrome are now needing to use online tools that may not be ideal for their learning on their own. Dr. Smith discusses these issues as well as multiple other resources on this podcast. Access to the podcast can be found Down Syndrome Center of Western Pennsylvania Podcast. 
You may have questions about how your child's IEP is being implemented and what your rights are.  The Department of Education has created a Q&A document to outlines states' responsibilities to infants, toddlers, and children with disabilities and their families, and to the staff serving these children during the COVID-19 outbreak.
Online Resources for Different Learners
The TV Teacher: Susan Ellis, a mother of 2 with Autism, and Marnie Danielson, and occupational therapist, have co-created a handwriting program that has made incredible breakthroughs for children with Down syndrome since 2006.  They have opened up their ad free/safe online site FOR FREE TO EVERYONE through the end of the school year.  Their writing program has 5-minute video tutorials to teach writing formations (letter, number, shape) using rhythmic chants/songs and repetition.  NO information at all is taken; they just want you to have some fun learning at home.
Login at:  streaming.thetvteacher.com
Use THIS email: practice@thetvteacher.com
Use THIS password: practice
The SAG-AFTRA Foundation's award-winning children's literacy website, Storyline Online, streams videos featuring celebrated actors reading children's books alongside creatively produced illustrations. Reading aloud to children has been shown to improve reading, writing and communication skills, logical thinking and concentration, and general academic aptitude, as well as inspire a lifelong love of reading. Teachers use Storyline Online in their classrooms, and doctors and nurses play Storyline Online in children's hospitals.
Vooks – Storybooks brought to life.  A kid-safe, ad-free streaming library of read-aloud animated storybooks.  Free for one month

Bookshare makes reading easier. People with dyslexia, blindness, cerebral palsy, and other reading barriers can customize their experience to suit their learning style and find virtually any book they need for school, work, or the joy of reading.
Khan Academy can be used for any age through the college level. Khan Academy provides personalized learning where students practice at their own pace, first filling in gaps in their understanding and then accelerating their learning. Created by experts, Khan Academy's library of trusted, standards-aligned practice and lessons covers math K-12 through early college, grammar, science, history, AP®, SAT®, and more. It's all free for learners and teachers.
Edmentum is providing free program access for 2 of their popular programs. Two free months of access to Study Island for Home is being offered to families, while two free courses in EdOptions Academy to any school or district who has shut down due to this virus.
K12 wants people to know that if they want to make online and blended learning a part of their crisis response planning, they are prepared to quickly lend a helping hand now and in the future. To help support learning continuity, they are offering several K12-powered solutions for both families and school districts for free.
Pearson provides access to expert faculty, best practices, and other online learning resources for people who are studying, teaching or working remotely. During this time of uncertainty they are updating their site regularly with helpful resources.
TED-Ed is a site for learning through video. Animations feature the words and ideas of educators brought to life by professional animators. Great for older students.
Kids Pages offers a collection of flashcards that are great for learning English or can be used as ESL flashcards.
ABCmouse.com is a global education initiative with a goal to help children build a strong foundation for future academic success by providing a comprehensive and engaging online curriculum to greatly assist early learners to succeed in pre-k, kindergarten, and early elementary school programs. Free for 30 days
Learn in Color creates quality and unique resources to help students enjoy learning. Their goal is ease for educators and fun for students. Whether your student needs extra help on a lesson or is breezing through the material, their hope is that learning will be enjoyable. Their words: We don't just create products for memorization, we create tools for success.
Code.org® is a nonprofit dedicated to expanding access to computer science in schools and increasing participation by women and underrepresented youth. Our vision is that every student in every school has the opportunity to learn computer science, just like biology, chemistry or algebra. Code.org provides the leading curriculum for K-12 computer science in the largest school districts in the United States
IXL Learning products are used in classrooms and homes in more than 190 countries around the world touching the lives of millions of educators and learners daily—from teachers providing personalized guidance to each student, to parents looking for high-quality educational games for their kids, to a university student tackling a foreign language, and more. IXL alone is used by over 400,000 teachers and over 8 million students (who have answered a whopping 60 billion questions to date!).
NMUSD Distance Learning Toolkit is a toolkit for students and teachers presented in both English and Spanish
Switcheroo Zoo is a website that helps children learn about animals by watching, listening and playing games.