Youth & Adults Conference
The Youth & Adults (Y&A) Conference is the heart and soul of the NDSC Annual Convention, which holds true even in a virtual setting. With the support of the NDSC Youth & Adults Conference Team, this conference is planned and presented by self-advocates for self-advocates. It is designed to be a fun, educational, empowering, and inspiring experience for self-advocates (individuals with Down syndrome) ages 15 and older. Meet the Y&A Conference Team below!
Only individuals who have registered for the 2021 Y&A Conference will be permitted to participate in the event. The registration fee is $49 per attendee and includes all Y&A workshops and spotlights, the Y&A Talent Show, access to the NDSC Advocacy Training Boot Camp, GLOBAL's Research & Medical Care Roundtable, the 3rd Annual College Fair, and other convention functions such as the Plenary, the 321 Zoom Dance, and the Virtual Exhibit Hall. Each Y&A attendee will be required have their own registration and email address, even if they reside in the same household. Registration for NDSC 2021 Convention opens for all attendees on April 26, 2021.
It is our top priority to provide a safe and enjoyable experience for all attendees. To prepare and provide the proper support for all Y&A attendees, please complete the entire Y&A registration form being sure to provide all requested information. Self-advocates who determine the Y&A Conference will not meet their needs are welcome to register as a General Conference attendee.
Download Youth & Adults Schedule
Y&A Conference Workshop Sessions
Changing Perspectives: Create a Growth Mindset
Eden Rapp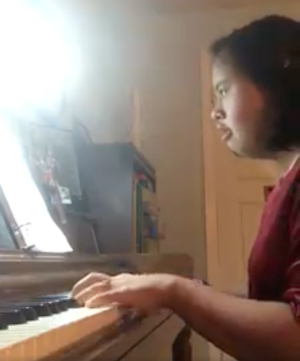 How do you change your perspective in a difficult situation? What is a growth mindset? In this workshop together we will exchange ideas and play games to help you build and create a stronger perspective on life. When you face a difficulty, it is important to not just say "I am going to give up"! You need to take the opportunity to learn and grow from it. According to "How to Teach Growth Mindset" (p.3) from BigJournal.com, "these beliefs are a part of our mindset which is so powerful it can fuel our behavior and predict our success."
About the Speaker: Eden Rapp works at MOD Pizza in Rolling Hills Estates and music is her passion. Her goals are to become a stronger self-advocate, a woman of faith, and to learn how to be independent. She has lobbied locally in Southern California, in Sacramento, and in Washington, D.C. with the National Down Syndrome Society, Cal-TASH, and Disability Voices United. Eden also leads UpVoice, is active in Toastmasters (CC 2019, PS1 2021), and serves on the boards both of Disability Voices United and the Down Syndrome Association of Los Angeles. She plans to attend Shepherds College in the fall.
We Want to Move it!
Mary Borman
In this session, Mary will be working with participants to meditate, stretch, do some yoga, and floor exercises. Then comes the fun part- After that Mary will be teaching line dancing and we will dance, dance, dance. No prior experience is necessary. Get ready to have fun!
About the Speaker: Mary Borman is a 22-year-old woman with Down syndrome. Mary swims competitively both nationally and internationally with Special Olympics and the International Down Syndrome Swimming Organization representing the USA. She has been dancing as long as she has been walking. She speaks to audiences all over the country concerning health, fitness, and nutrition for individuals with Down syndrome as well as helping others understand what it is like to have Down syndrome. She lives in Fayetteville, Arkansas.
Achieving Our Dreams: Being Ready for College & Learning to Live Independently
Kaeleigh Crose & Kristin Jewell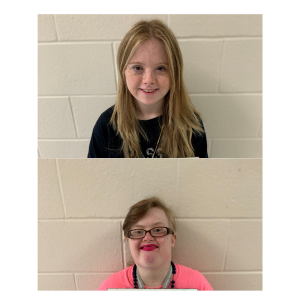 Preparing to live at college or in a more independent setting than the family home can be a daunting, yet exciting experience. Kaeleigh and Kristin have just completed their first year in a dorm. They will share the skills they needed to have to live successfully in a dorm, as well as some things you need to know about living with a roommate. Kristin and Kaeleigh will also discuss what they have enjoyed about this year away from home and what was a little more challenging. In addition, they will lead participants in two or more short activities (i.e. making a healthy snack).
About the Speakers: Kaeleigh is 21 years old and is currently enrolled in Green Oaks Life Prep at Arlington Baptist University. She is studying culinary/hospitality and hopes to be an event planner after graduating. She previously attended Tarrant County College as well as the Texas A&M Bridge to Career program. Her favorite thing about college is girls night and chapel.
Kristin is 31 years old and is currently enrolled in Green Oaks Life Prep at Arlington Baptist University. She is studying culinary/hospitality and hopes to be a chef or baker after graduating. She has previously worked as a file clerk at Vivicare Health. Her favorite thing about college is hanging out with her friends and taking cooking classes.
New Ideas & 2 New Books for Our Book Project
Tracy Hile & Meredith Martin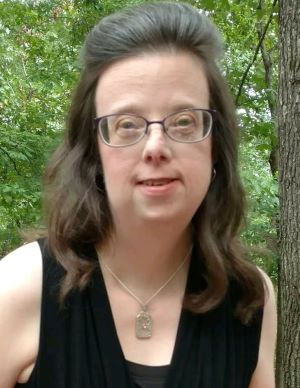 This presentation will highlight the Self-advocate Book Project. Tracy Hile will introduce herself telling why she started the Book Project. Meredith Martin will then present a PowerPoint and narrative of how the Self-advocates can help expand the Book Project in their communities following convention.
About the Speakers: Tracy Hile is 52 years old, lives a very active full life. Works as Breakfast Hostess at Queen of Diamonds Inn in Murfreesboro AR…Home of the only Natural Diamond Mine in North U.S.! She also founded the NDSC Book Project in 2003 and currently serves on the NDSC Self-Advocate Council.
Meredith Martin is a 39-year-old self-advocate from the northeast Nebraska community of Neligh.   She began her NDSC experience at the age of 16 when she attended her first Youth and Adult Conference.  Since that time, she has grown through her experiences and has become a regular presenter at the annual conventions.  Meredith has served on the National Down Syndrome Congress Board of Directors.  She is currently active on the Self Advocate Council and has focused a good deal of her interest toward the Book Project. Back in NE, Meredith has lived independently since the age of 18.  She drives herself to and from her 4 part-time jobs.  She is also active in her church and community.  A few years ago, she was able to publish her own book, "The ABC Building Blocks for Growing UP with Down Syndrome". Meredith lives by the S.T.A.R. philosophy:  S–Surround yourself with positive supportive people; T–Teach others about your abilities; A–Always advocate for yourself and others; R–Reach for your North Star!
Two Tomatoes: Carrie & Tommy!
Carrie Bergeron
This presentation will feature Carrie Bergeron, new author of "Tommy: The Special Tomato". She will discuss the ideas behind her new book and the processes she went through to become a published author. She will read from her new books and host a live Q&A following her presentation. You won't want to miss this!
About the Speaker: Carrie Bergeron, now 44 years old, has many roles including being a daughter, sister, aunt/godmother, friend. volunteer, teacher's helper at Gigi's Playhouse in Rochester, NY (a part-time paid job), a first-degree black belt holder, a fitness enthusiast, a dancer with interpretative signing along with being a motivational speaker for Down syndrome awareness both locally and nationally.  She is a former board member of the National Down Syndrome Congress and currently serves on the Self-Advocacy Council.  She will share her latest role with you as an author of her book, Tommy the Special Tomato, as she presents for the Y & A virtual convention in June.
Cooking with Melissa: Episodes 1 to 5
Melissa Silverman
Over multiple presentations throughout convention week, Melissa will demonstrate how to cook a couple of easy "go-to" meal and snack ideas. The ingredient lists will be posted in advance in our resources for this workshop, so come prepared with your ingredients & treat yourself to a tasty meal with Melissa! You can look forward to cooking the following recipes during this workshop series: Pumpkin Chocolate Chip Muffins, Snickerdoodles, Delicious Smoothies, One Pot Chicken & Rice, Crustless Quiche with Cheddar Cheese Muffins, and a "Pour On" Pizza!
About the Speaker: Melissa Silverman is 38 years old and graduated from high school in 2001 with an academic diploma.  She attended 2 years at the Community College of Baltimore County where she earned her 90-hour childcare certification.  She has been a teacher's assistant in a pre-school and at a before and after school childcare program at a local elementary school for the past 18 years.  Melissa has many interests outside of work.  She enjoys swimming and playing soccer with Special Olympics, loves Country music, is a part-time professional magician, loves to travel, and loves cooking meals and desserts.  She also collects Hard Rock Café signature guitar pins from all over the world!  Melissa also enjoys speaking to various groups as a self-advocate for people with disabilities, along with lobbying in Washington DC and Annapolis, her state capital, on behalf of people with disabilities.  She has been on the board of the NDSC, is currently on the Self Advocate Council (SAC) and has been on the board of her local parent group.  She remains active in her community.
How to Start & Stick with an Exercise Plan
Denise Cruse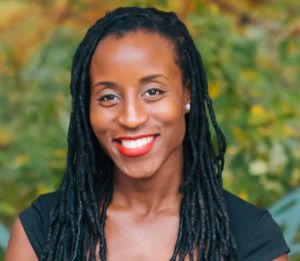 Even as a certified personal trainer and former NCAA division 1 athlete, I can admit that sticking with an exercise plan can be really challenging!  You may feel discouraged to exercise because your individual needs differ from those of the general population. However, the benefits of consistent exercise are not specific to one demographic and can be obtained by anyone who is willing to participate. The benefits of consistent exercise include but are not limited to:
• Preventing and treating obesity
• Enhancing cardiovascular (heart health) endurance; muscular strength; flexibility and range of motion
• Reducing the risk of heart disease which is the leading cause of death for adults in the U.S.A
• Helping improve sleep and mental health/mood
The Centers of Disease Control and Prevention (CDC) reports that, almost half the adults in the United States are not meeting the recommended guidelines for exercise, to achieve and maintain optimal health.  It's hard to start and/or stick with an exercise plan when our personal and professional obligations overwhelm us, but there is always a chance to get back on track.  Join this session to learn a few tips and tricks to get you back on track.
About the Speaker: Denise Michelle Cruse is a passionate certified personal fitness trainer, serving individuals with disabilities in the greater Washington, D.C area since 2016.  She has been an active participant in the disability community since childhood. Denise learned American Sign Language (ASL) in elementary school and continued her ASL studies at Seton Hall and Gallaudet University.  Denise's energetic and nurturing approach to fitness training,  has improved the quality of life and self-esteem of her clients through weight loss, enhanced muscular strength, flexibility and range of motion.  Her client list includes individuals with cognitive and physical disabilities such as Autism; Bi-Polar Disorder: Cerebral Palsy; Deaf and Hard of Hearing;  Down Syndrome; Kidney Failure; Osteoporosis; Paraplegics; Schizophrenia; Spinal Back Fusion and Type 1 Diabetes. As a former full scholarship, division 1, collegiate sprinter and recent 1⁄2 marathon runner, Denise is extremely knowledgeable of the nutritional and fitness practices necessary to achieve optimal health.
Get Moving, Be Awesome! PT-Based Fitness for Strength, Stability, Balance, and Endurance
Sarah Mann, Hannah Baker, & Blake Peacock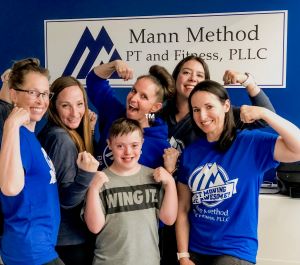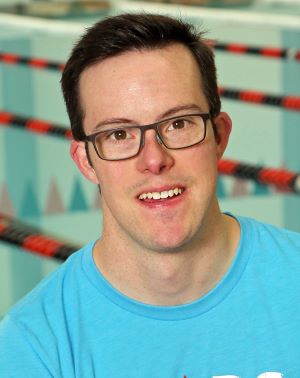 This is an interactive session focused on purposeful movement, PT-based fitness, and learning to be your own best advocate for your health and fitness! We will participate in a PT-directed exercise program during our session, so be ready to move! We will also be talking about feet, footwear, fitness, and physiology specific to individuals with Down syndrome. Be prepared to come away with a plan and inspiration to move!
About the Speakers: Sarah Mann, PT, DPT, MBA – Sarah Mann has a Doctor of Physical Therapy degree (DPT) from the University of Colorado Anschutz Medical Campus. She completed her physical therapy training at the Sie Center for Down Syndrome at Children's Hospital Colorado under the mentorship of Pat Winders, PT. Dr. Mann is the clinic owner and director of Mann Method PT and Fitness, PLLC and Mann Therapies, LLC. She specializes in working with teenagers and adults with Down syndrome and is passionate about fitness and physical activity. Dr. Mann thrives on sharing her love of activity coupled with her knowledge of exercise science and exercise prescription. Dr. Mann has been working with teens and adults with Down syndrome since 2004.
Hannah is 20 years old and a Senior at Hewitt-Trussville High School. Hannah is actively involved in theater and dance, and has been a past member of service organizations such as Key Club, an Ambassador at school, as well as a volunteer for summer theater camps in her community. Hannah was crowned Homecoming Queen this past Fall during homecoming festivities at high school. She hopes to attend a secondary college program and work in the medical sector as an assistant to medical staff, pursue work in theater, or be involved in physical fitness training.
Having Down syndrome has never kept Blake Peacock from accomplishing his dreams. Supported by his mother, father and younger brother, Blake, 34, has always pushed himself to show others what people with disabilities are able to accomplish. Blake has won multiple gold medals in many Special Olympics sports, including downhill skiing, gymnastics and swimming. He brought home two gold, a silver, and bronze medals in snowshoeing from the 2001 Special Olympics World Winter Games in Anchorage, Alaska. He has performed on the gymnastic rings alongside world-famous Olympians in the TJ Max Tour of Champions. And he even served as the honorary captain of the Chicago Bears football team, standing in the middle of a packed Chicago Soldier Field stadium. An accomplished swimmer, Blake often swims four days a week and competes on two swim teams – the Libertyville Stars (Special Olympics) Swim Club, and the Libertyville U.S. Masters swim team (a team of non-disabled athletes). He particularly enjoys the longer events, like the 400-yard freestyle (16 lengths of the pool)! In high school, Blake performed in the marching and symphonic bands, earned letters competing on the gymnastics and swim teams, and was a member of Libertyville High School's concert choir. During his senior year, he was chosen to conduct the finale in his last band concert. For the past 15 years since graduating from high school, Blake held three jobs – at a pharmacy, the local library, and a health club. His hobbies include classical piano lessons, ballroom dancing and reading (he participates in a book club, and often reads two full-length novels every month).  He also loves attending Broadway musicals, University of Michigan football games, and is a die-hard Chicago Cubs and Blackhawks fan. Blake has recently discovered the joy of exercising at home, finding many great athletic and dance workouts for himself and his mom on the Internet. He is extremely grateful to have been invited to participate in a 2021 University of Nevada – Las Vegas research project with Dr. Sarah Mann and Dr. Thessa Hilgenkamp, evaluating the benefits of a remote exercise program for people with Down syndrome
Y&A Conference Spotlight Sessions
Working Towards Greatness
Aaron Homer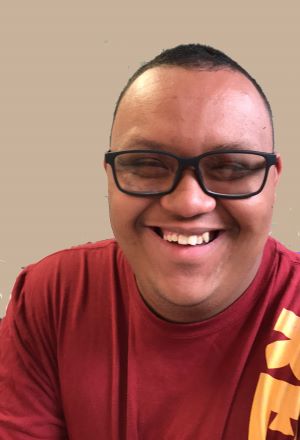 Presentation on how I have never let my disability affect me in achieving my goals.  I have achieved many things like graduating, writing music, being a godfather, working, volunteering and many other things.  Would like to inspire others to do the same.  This presentation was also the theme of my graduation from a transition school, and I presented it at graduation.  This presentation got accepted last year for the NDSC convention, but we were unable to attend.
About the Speaker: My name is Aaron Homer and I live in Albuquerque, NM.  I work hard at whatever I do and almost always have a smile on my face. I am friendly and work well with others.  I currently work for Texas Roadhouse but have been unable to work for almost a year because of the pandemic.  I love life and my family. I enjoy playing special Olympics softball and bowling and have won many medals. I volunteer with my church and love sports!  My favorite teams are the Washington Football Team, New York Knicks, the Yankees and the Dodgers.  I love to travel, attend sporting events and hanging out with my family and friends. I am actively involved in Moxie, my dayhab provider and have created many fun projects over the past year like an easter egg wreath, paintings and even did an online zoom class with them on making my favorite sandwich.
From Tragedy to Triumph – Nick's Incredible Journey
Nick Doyle
In the summer of 2018, Nick Doyle's brother passed away.  Around the same time, his mom was diagnosed with cancer. He was also working at a job that no longer fulfilled his needs. In a time when Nick could have laid down and given up, he decided to do the opposite. He was cast in the world's first all Down syndrome improvisation troupe and performed shows in front of thousands of people, he quit his unfulfilling job and became a member of two non-profit boards, and began a job with Stand Up For Downs as an assistant Director and Sales Associate, he met, Gabi, the love of his life, and together they received national attention from a video that went viral of their amazing airport reunion.  This all culminated with being a guest on the Kelly Clarkson show. Through his incredible support teams, friends, family and his passion for life, he began a journey that fulfilled the biggest dreams of his life, and in his words, "I'm not ever going to stop".
About the Speaker: Hi! My name is Nick Doyle, and I am 32 years old. I am from Canton, Ohio and I currently serve as the Vice President with Stand Up For Downs. I am a National Sales Executive and an Assistant Director for The Improvaneer Method.
Healthy Living, Happy Life
Samuel Ewing
Presentation about how living a balanced life (Healthy eating, exercise, and staying mentally active) keeps you happy and gives you a full and rewarding life. Samuel will share experiences from his life where these things have benefitted him.
About the Speaker: I am Sam Ewing. I was born in Anchorage, Alaska and I lived there until I was 12 years old. Now I live in Olympia, Washington. I work at Home Depot and I just got my 5-year patch. I love and enjoy working there. I volunteer for Olympia Police Department and I also volunteer at Olympia Food Bank. I enjoy listening to music, watching movies and TV shows, and spending time with my friends and family. I do Special Olympics. I am an Athlete Leader for Special Olympics Washington. My sports are swimming, basketball, flag football, softball, track and field. I am a busy guy and I love everything in my life!
Life Beyond Down Syndrome
Sean Adams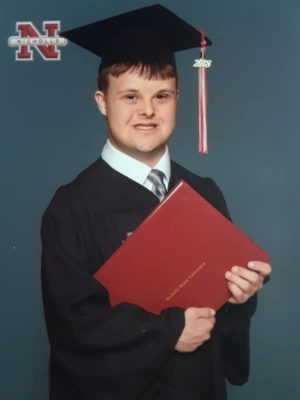 Sean will share his view of what living with Down syndrome truly means to him. He will then lead into his experience as one of the very first students to attend an accredited local college and successfully graduate from the program designed specific for individuals with intellectual disabilities. He would be excited to also share his real-life experiences beyond school. He currently lives independently on his own, is a published author, is a self-advocate speaker & successfully maintains a job at the Clerk of Courts office in Thibodaux, LA.
About the Speaker: Sean Adams is a self-advocate with Down Syndrome.  Although he was born with Down Syndrome, he has never allowed it to hinder him from focusing on his abilities.  It is important to Sean to bring awareness to all with disabilities to live their lives to the fullest. Sean lives in an apartment and is currently employed at the Lafourche Parish Clerk of Court Office. Sean graduated from Nichols State University Bridge to Independence Program. He enjoys swimming and staying healthy. Sean serves as the Ambassador for Blessed By Downs and is a published author. Sean finds the happy and positive in life.
Y&A Conference Team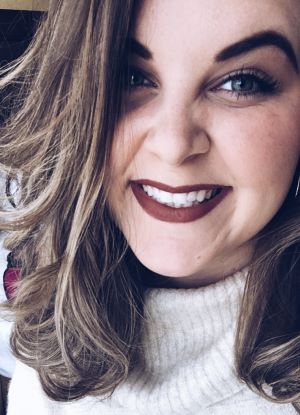 Emily Cullars Carswell
Huntsville, Alabama
NDSC Convention Coordinator and Y&A Team Lead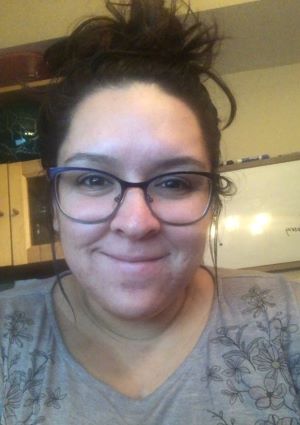 Angelica Camacho
Lombard, Illinois
Began serving as a Table Volunteer and have since transitioned to Back of House Logistics.
I have attended 8 NDSC Conventions!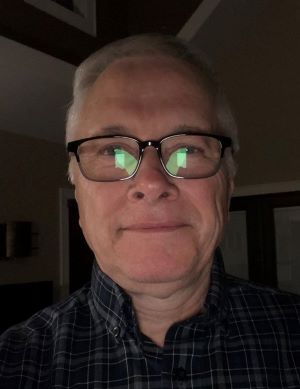 Dave Donahue
Lombard, Illinois
Serves throughout the Y&A Conference & provides support wherever needed!
I have attended more than 20 NDSC Conventions!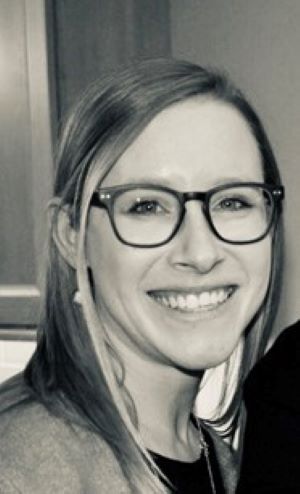 Colleen Donahue
Denver, Colorado
Serves throughout the Y&A Conference – Began as a Table Volunteer & has since transitioned to Back of House & Volunteer Training.
I have attended 11 NDSC Conventions!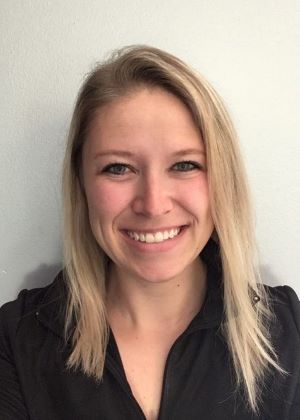 Mary Ferkel
Saint Peters, Missouri
Serves in Back of House Logistics & wherever needed
I have attended 12 NDSC Conventions!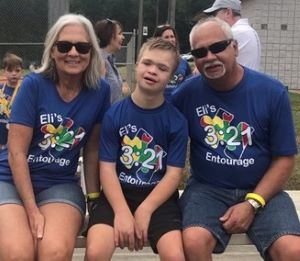 David & Debbie Hipps
McDonough, Georgia
Serve through Volunteer Check-In & Back of House Logistics
We have attended 14 NDSC Conventions!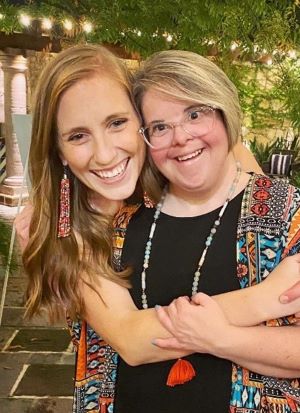 Courtney Kinson
Fort Worth, Texas
Serves throughout the Y&A Conference – Her favorite part of Y&A is the DANCE PARTIES!!
I have attended 12 NDSC Conventions!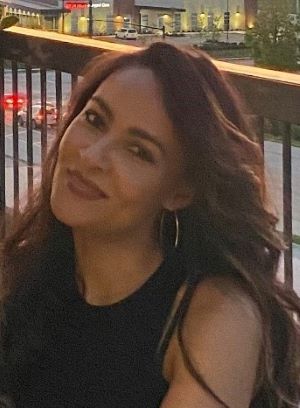 Korina Mancillas
Indianapolis, Indiana
Serves throughout the Y&A Conference & provides support wherever needed
I have attended 6 NDSC Conventions!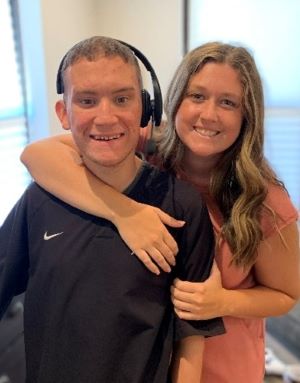 Taylor Mounce
Coppell, Texas
Serves throughout the Y&A Conference & provides support wherever needed
I have attended 3 NDSC Conventions!
Marilyn Tolbert
Fort Worth, Texas
Serves throughout the Y&A Conference & Coordinates and Executes the Self-Advocate Council Meetings
I have attended more than 20 NDSC Conventions!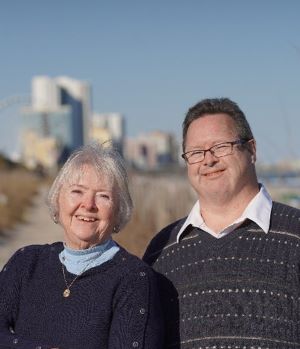 Gracie Williams
North Myrtle Beach, South Carolina
Serves through Volunteer Training & Support
I have attended more than 20 NDSC Conventions!