Elyssa Schmitz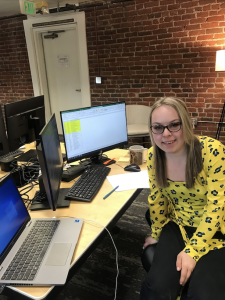 Elyssa Schmitz, 26 of Denver, Colorado, has two jobs. As a Courtesy Clerk at King Soopers, Elyssa is responsible for engaging with customers, bagging groceries, and gathering carts from the parking lot. Her pet peeve is when people do not place the carts back in the corrals and not just at King Soopers but anywhere! Elyssa works at King Soopers four days a week and has been there for seven years.  
If you meet Elyssa, you will know that her second job as a Happiness Ambassador for Spire is a perfect job because she has a gift for engaging and connecting with people and making them feel valued. She escorts visitors to rooms, brings drinks to visitors, and does data entry. She is included in company outings, gatherings, and holiday parties. Elyssa also invites her co-workers to dances, and recently, four of her Spire coworkers joined her for a Global Down Syndrome Foundation "I Love You" dance party. She works at Spire one day per week and has been there for three and a half years.  
Elyssa likes to spend her money on clothes, coffee, and skin care products! Sometimes she buys mom flowers and dad chocolate!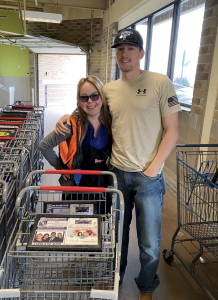 Elyssa stays busy with her many social and church activities, traveling, and going to the gym. She refers to her living room as her "Country Gril Howdy Ya'll Cave" and spends her spare time singing. Thank you for sharing your story, Elyssa.