General Conference
The General Conference is designed for parents, adult siblings, grandparents, caregivers, as well as, medical and educational professionals. General Conference attendees have access to six workshop cycles. Each cycle offers a selection of 90-minute workshops that registrants attended based on their interests. These interactive workshops are presented by the experts – from those who pioneer in early childhood communication, to those who redefine the K-12 classroom and those on the frontier of adult challenges. The General Conference attendee rate is $189 per person (no family or group rate) and includes 12-month access to the Workshop Recordings.
Note: Individuals registered for the Y&A Conference, B&S Conference, or Kids' Camp CANNOT also register as a General Conference attendee. All attendee registrations include access to social events (unless a ticket is required), plenary session, and the exhibit hall.
A listing of workshops will be available in early March.  Attendees choose as you go – no need to pre-register for specific workshops. Each workshop will be designated with one (or more) of the following icons that will help you decide what suits your needs: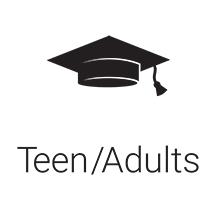 Co-occuring Down Syndrome and Autism (DS-ASD)
The NDSC cares deeply about serving the needs of all families, including those with loved ones with co-occurring DS and autism, autism-like behaviors or complex medical needs. In collaboration with the Down Syndrome-Autism Connection, the NDSC Convention offers a specially-designed workshop during each of the six cycles to meet the needs of these families. Experts in the field of DS-ASD will be presenting on important issues and will be available to answer questions and provide much-needed support.  On Thursday evening, plan to meet and greet other families facing this dynamic at our NDSC Meet & Greet.
Adult Siblings
The role of brother or sister changes dramatically as parents age. You'll find workshops designed to give adult siblings the tools they'll need to support their sibling. Packed with experts in financial planning, adult transition, employment and mental health, coupled with a few networking opportunities, adult sibs will leave feeling prepared, supported and empowered.
For Spanish-speaking Attendees
During each of the six workshop cycle there will be one session deliver in Spanish and one simultaneously interpreted in Spanish.  We strive to provide a balanced array of sessions for our Spanish-speaking attendees to enjoy.