NDSC E-News ~ December 2022
During This Time of Thanks & Giving!
2022 has been an exciting year of change and growth for NDSC. Our staff and board have renewed dedication to our mission of creating a better world for individuals with Down syndrome, where Dreams Do Come True, which has inspired the focus of our end-of-year giving campaign.  
Our goals for 2023 are ambitious:  
to expand our national training program for teachers,  
continue to promote transitions,  
educate families about postsecondary education programs, 
support affiliates through programs that encourage partnerships,  
and remain the strongest advocates for your family, 
and we need your help to accomplish these goals.
During this time of thanks and giving, we hope you will consider a one-time end-of-year or a reoccurring monthly gift in 2023.  
Thank you for your support through the years. 
Or simply text NDSC to 56651. 
---
2023 NDSC All Kinds of Heroes Golf Classic
The 2023 National Down Syndrome Congress Golf Classic will be held on Monday, April 24, at the fabulous Bear's Best Atlanta Golf Course in Suwanee, GA.
We are thrilled and honored to have Amy Bockerstette serving as this year's Grand Marshal. Amy is the first person with Down syndrome to receive an athletic scholarship to attend college and compete in a national collegiate championship. She won the hearts of the world during a practice round at the 2019 Waste Management Phoenix Open when defending champion Gary Woodland invited her to play the infamous 16th hole at TPC Scottsdale. The video of those magical moments is the most viewed video on the PGA Tour's YouTube channel.
Sponsor Registration is open now.  Player Registration opens on February 1, 2023.
Sponsor Registration Event and Sponsor Details
---
Presenting the 51st Annual Convention Website

Everything convention in one convenient place!
Whether you plan to attend, sponsor, volunteer or participate another way you'll find all the information you need.
Find the convention site anytime on the NDSC website linked in the main menu.
---
Convention speaker deadline is coming up!
Complete your speaker proposal before midnight ET on Friday, December 9, 2022.
---
Give the Gift of Convention this Holiday Season
Learn about Sponsoring a Family
---
Employment Success Story
Meet Eli Lewis, age 31 from Rockville, Maryland. Eli has worked at the National Institutes of Health (NIH) for seven years. Before the pandemic he worked in the clinical center. Now, he works as a Supply Clerk in the laundry. One of the things Eli likes about his job is that he can listen to music while he works. NDSC is proud to share Eli's story about his job and living on his own!
---
NDSC Website Highlight
Check out NDSC's Local and National Support Network on our website!
The NDSC has connections to a wide-reaching network of local, regional, and national organizations serving people with Down syndrome and their families. Throughout history, this network has supported each other, learning and growing together into a dynamic community. As a member of our community, we offer our in-depth knowledge and support to you.
---
NDAC Member Leading Efforts to Reduce the Oklahoma Waitlist  
Doris Erhart of Oklahoma City recently accepted an opportunity to begin working with the Oklahoma Department of Human Services, Developmental Disabilities Services. She will be working with families and caregivers of individuals who, after years of being on a waiting list, are now transitioning to Medicaid Home and Community Based Services (HCBS) Waiver. Doris will be sharing a parent's perspective about the Self-Directed Services option, giving guidance, and answering questions. The Oklahoma Legislature passed HB 4466 in May to eliminate the list of families waiting on services. As of May 1, 2022, there were over 5,100 individuals on the waitlist with a projected wait of 13 years
Doris became an advocate after her son Aaron was born with Down syndrome over 24 years ago. She was introduced to legislative advocacy by Madeleine Will, NDSC Policy Advisory Council, Disability Rights Activist Patty McGill Smith, and NDSC Policy Advisors Stephanie Smith Lee and Ricki Sabia. She says she learned from these leaders and by attending national conferences about the importance of building relationships with people in all levels of government and leadership. She learned by getting involved.
Doris encourages everyone wanting to advocate for a loved one to build a network at the local, state, and national level, wherever they feel comfortable. "You truly never know where or how a connection can begin. For instance, someone in your neighborhood, your church or the gym may work in a position with a lawmaker or other community leader.  Always be watching for a chance to start your contact list."
Doris believes that building her network over the years has led to many opportunities for her to share a parent's perspective about potential legislation and how it could affect those with disabilities. In addition, it led to her serving on various boards and committees dealing with disability matters. Doris is a member of the National Down Syndrome Advocacy Coalition (NDAC) and says she would recommend this as an easy first step to anyone wanting to advocate for people with Down syndrome. Congratulations Doris and thank you for your service and leadership.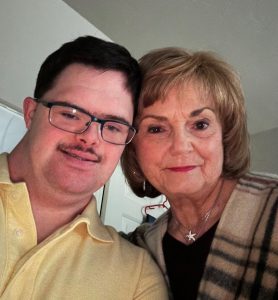 ---
2023 Down Syndrome Advocacy Conference
NDSC is pleased to be an Advocacy Partner with the National Down Syndrome Society (NDSS) for the 2023 Down Syndrome Advocacy Conference (DSAC), April 17 – 19, 2023, Hilton, Crystal City Reagan National Airport. DSAC will bring the Down syndrome community together to advocate for legislative priorities that impact our community. During the optional pre-conference learning sessions on April 17th, attendees will take a deep dive into policy topics. Tuesday, April 18 will be the first full day of the conference and attendees will take part in advocacy trainings, learn more about legislative priorities and asks, and hear from guest speakers such as Heather Avis of The Lucky Few and Matthew Schwab of Matthew Schwab Speaks. The conference culminates on Wednesday, April 18 with visits to Members of Congress on Capitol Hill. Other national sponsors include Advocacy Partner Global Down Syndrome Foundation and Gigi's Playhouse ™, Down Syndrome Affiliates in Action, and LuMind IDSC Down Syndrome Foundation. More information and registration can be found at Down Syndrome Advocacy Conference.
---
Upcoming Events
12/15/22 at 11 EST            Self Determination from Birth to Adulthood – Webinar
                                           with Kate Doyle and Dr. Christina R. Carnahan
1/16/23 at noon EST         Evaluations and Eligibility – Webinar
                                           with April Rehrig
1/28/23                              The Special Education & Advocacy Conference – Virtual
 with the Ashley Barlow Co.
Save the Date for the 3rd Annual Ashley Barlow Co./ NDSC Virtual Special Education Advocacy Conference!  We've got a great line-up of speakers ranging from educators, advocates, and attorneys to psychologists, therapists, and parents!  The Conference will be FREE or available on-demand for a small fee. Click title to pre-register!
2/11/23                              Techniques for Success: Resilience and Reinvention– In-Person
 with the Techniques for Success, DSAMD, DSNMC and FRIENDS
Close to the Baltimore/ Ellicott City Area?  Join us for this training for educators and parents, in Ellicott City. Click title to pre-register!
Interested in bringing a Educators Conference to your area? 
Contact ashley@ndsccongress.org.
---
Amicus brief filed in Supreme Court by former ED officials in case of importance to students with disabilities
Stephanie Smith Lee, NDSC Senior Policy Advisor, and former U. S. Department of Education (ED) Director of the U. S. Office of Special Education Programs, along with Madeleine Will, NDSC Advocacy and Policy Advisory Council member and former ED Assistant Secretary, U.S. Office of Special Education and Rehabilitative Services, have filed a Supreme Court amicus brief along with a bipartisan group of former ED officials responsible for special education policy.
The brief is in support of petitioner Miguel Perez, a young man who is deaf and communicates through a sign language interpreter. Perez was denied a sign-language interpreter for 12 years while attending school in the Sturgis, Michigan school district. As explained in this Education Week article the Perez family filed a due-process complaint in 2017 and the Individuals with Disabilities Education Act (IDEA) portion of the complaint was settled. Perez then filed a complaint under the Americans with Disabilities Act (ADA) seeking damages.
The school district appealed and a lower-federal appeals court decided in their favor. The school district argued that Perez could not sue under the ADA because he had not exhausted all administrative proceedings under the IDEA. The Supreme Court has agreed to consider this case that will have significant implications for students with disabilities.
IDEA protects students' rights and creates incentives to settle claims. The Appeals Court decision would force students to choose between settling a claim and obtaining a free appropriate public education, or turning down a settlement to retain their rights under other laws.
As the former ED officials' brief states, "Forcing children with disabilities to forgo immediate relief and reject favorable settlement offers – simply to preserve claims that seek relief unavailable under the IDEA for injuries not redressed by that statute – finds no support in the statute or common sense."
---
Impact Change: Join NDAC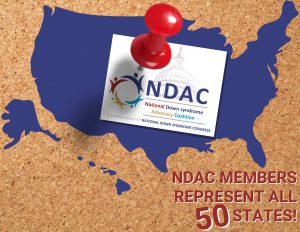 The NDSC's National Down Syndrome Advocacy Coalition (NDAC) has officially reached the goal of having members in all 50 states! These constituent NDAC members are critical to advancing legislative priorities important to the Down syndrome community. Thank you to everyone who is already an NDAC member! If you would like to become an NDAC member.