Policy & Advocacy Newsline ~ April 2022
US Department of Education OSEP Director Valerie C. Williams to Speak At 50th Annual National Down Syndrome Congress Convention 
Valerie C. Williams, Director of the U.S. Department of Education Office of Special Education Programs (OSEP), will present at the National Down Syndrome Congress (NDSC) plenary convention to be held on June 24 in New Orleans. Director Williams, formerly the NDSC Vice President, is the parent of a son with Down syndrome and has a distinguished career in senior positions in government and non-profit organizations as well as working with Members of Congress and staff on Capitol Hill.
As OSEP Director Williams is responsible for overseeing the administration of the Individuals with Disabilities Education Act (IDEA), which authorizes formula grants to states for the education of children and youth with disabilities in addition to grants to lead agencies for the infants and families program. OSEP is responsible for ensuring state compliance with IDEA. This federal law guarantees the right to a free appropriate public education (FAPE) for children with disabilities in the least restrictive environment (LRE). IDEA also authorizes discretionary grants for state personnel development, technical assistance and dissemination, technology, and parent training and information centers.
At the NDSC convention, to be held June 23 through June 26, 2022, Director Williams will present to educators from across the country about OSEP's current initiatives and resources at the June 23 Educators Conference. She will be joined by personnel from the OSEP-funded TIES Center, who will discuss TIES resources on inclusive education for students with significant cognitive disabilities.
Director Williams will provide remarks at the African-American Lunch and Learn on June 24 about OSEP initiatives and her priorities for improving the education of students with disabilities, particularly related to students of color.
On June 25, she will hold a Town Hall for members of the National Down Syndrome Advocacy Coalition: the NDSC grassroots advocacy group. Along with senior OSEP staff from the OSEP monitoring division, she will hear directly from students, families, and advocates about what is working well and what the education challenges are for children and youth with disabilities. The OSEP monitoring staff will also hold three listening sessions for families of children who are birth through preschool-aged, families and students in kindergarten through 8th grade, and high school and transition age.
The TIES Center, along with the OSEP-funded PBIS Center, and OSEP staff, will present a deep dive workshop: Creating Communities of Belonging for Students with Significant Cognitive Disabilities on June 24. The TIES Center will present a workshop on June 25, Federally Funded Inclusion Toolkits and Resources for Parents and Educators.
Participation at the convention of the OSEP Director and staff, and OSEP-funded technical assistance centers, is a great privilege and opportunity from which our convention participants and our broader community will benefit.
Advocacy Training Boot Camp | Sunday, June 26th 
NDSC Advocacy Training Boot Camp is designed for beginner advocates but is also a great opportunity for seasoned advocates to get the training needed to take their advocacy efforts to the next level. The 3-hour session is included with all General Conference and is an option for Youth & Adults Conference attendees.  It features information from self-advocates who are making a difference through their personal advocacy efforts, parent advocates, a State Representative, a State Senator, and the expert NDSC Policy & Advocacy Team.
Advocacy Training Boot Camp is designed to be an Advocacy mini-course with a focus on legislative advocacy.  Whether a beginner to advocacy or an experienced advocate, attendees walk away with something new and are energized after this session. NDSC Advocacy Training Boot Camp is appropriate for parents, professionals, and of course, self-advocates!
Initial Success in Advocacy Efforts to Combat Discrimination in CMS Coverage of Alzheimer's Drugs; More Advocacy Needed in Future 
Widespread advocacy efforts by the Down syndrome community have succeeded in removing discriminatory language from a Centers for Medicare & Medicaid Services (CMS) determination that would have excluded individuals with Down syndrome from coverage in clinical trials for a new class of Alzheimer's treatments.  In January, the Centers for Medicare & Medicaid (CMS) released a draft proposal relating to a new class of treatments for Alzheimer's disease.  This proposal stated that FDA-approved drugs in this class would be covered for people with Medicare only if they are enrolled in qualifying clinical trials.  However, it specifically excluded from trials participation patients who have "any neurological or other medical condition that may significantly contribute to cognitive decline." People with Down syndrome fell into this exclusion, which means that the high cost of a new class of potential Alzheimer's drugs would not have been covered by CMS if Alzheimer's patients with Down syndrome were to seek treatment from these drugs.  Please note that NDSC is not, never has, and will never endorse a particular medication or drug.  We believe this should be a decision left solely to the patient, their support team, and medical providers.  Instead, our advocacy efforts concern ensuring that people with Down syndrome have equal access to clinical trials and coverage by CMS of the drugs in those trials.
NDSC sent an Action Alert, submitted comments to CMS to oppose this proposal and, along with Down Syndrome Affiliates in Action (DSAIA), Down Syndrome Medical Interest Group (DSMIG-USA), GiGi's Playhouse Down Syndrome Achievement Centers, Global Down Syndrome Foundation (Global), LuMind IDSC Foundation (LuMind IDSC), National Down Syndrome Society (NDSS), and National Task Group on Intellectual Disabilities and Dementia Practices (NTG), catalyzed a community-wide response by urging people to submit comments to CMS on this proposal.
The Down syndrome community submitted more than 1800 comments on this draft proposal, which directly affected CMS's decision to remove this discriminatory language from its recently-released final decision memo. This is an unprecedented level of advocacy in this area, and we are grateful to the entire Down syndrome community for pulling together on short notice to make our voices heard.
Though we celebrate this small victory, our work is not yet done.  People with Down syndrome are still regularly excluded from clinical trials.  Given that approximately 90% of people with Down syndrome will be diagnosed with the early onset of Alzheimer's in their lifetime, the next phase of our community's advocacy will focus on supporting the inclusion of people with Down syndrome in clinical trials for Alzheimer's treatments.
The newly formed National Down Syndrome Coalition has released a joint statement on this important issue and will continue collaborating on future advocacy efforts.  The Down Syndrome Coalition includes the following national organizations (in alphabetical order): Down Syndrome Affiliates in Action (DSAIA), Down Syndrome Diagnosis Network (DSDN), GiGi's Playhouse Down Syndrome Achievement Centers, Global Down Syndrome Foundation (GLOBAL), International Mosaic Down Syndrome Association (IMDSA), LuMind IDSC Foundation (LuMind IDSC), National Down Syndrome Congress (NDSC), National Down Syndrome Society (NDSS), and National Task Group on Intellectual Disabilities and Dementia Practices (NTG).
Home and Community-Based Services: Advocacy Update and Recent Reports 
NDSC continues to advocate at the national level for more funding for Medicaid Home and Community Based Services (HCBS), which are critical supports for people with Down syndrome and other disabilities to live and work in the community.  The comprehensive $1.75 trillion Build Back Better Act, which passed the U.S. House of Representatives in November 2021 and contained an unprecedented $150 billion over 10 years in funding for Medicaid HCBS, has essentially died in the Senate.  However, NDSC supports the need for a $150 billion investment in HCBS as part of any economic and social spending package.  NDSC signed on to this letter to President Biden and this letter to Congress. Recently, new reports have been released that discuss important issues relating to HCBS and can also be used in advocacy efforts.  The Kaiser Family Foundation released a brief which focuses on the number of people served by HCBS and the amount of spending on HCBS during the pandemic.  The Kaiser Family Foundation has also released a brief on state agencies' policy choices relating to HCBS during the pandemic.  Finally, our colleagues at ANCOR and United Cerebral Palsy have released the latest edition of the Case for Inclusion, an annual report analyzing data of the IDD community and the needs regarding independence, health, and quality of life.  This data shows that the waitlist for HCBS continues to grow, with nearly 600,000 people still waiting for HCBS services nationwide.  These documents can be used to educate state and federal policymakers about the dire need for investments in HCBS.
Employment Legislation   
NDSC also continues to advocate for the passage of the Transformation to Competitive Integrated Employment Act (TCIEA)(S.3238/(H.R. 2373). This bill would phase out subminimum wages over a five-year period while addressing barriers to and expanding opportunities for competitive integrated employment (CIE) for people with disabilities.  It would provide states, service providers, subminimum wage certificate holders, and other agencies with the resources they need to create CIE service delivery models and would create a national technical assistance center.  The TCIEA would also offer inclusive wraparound services that some individuals with disabilities will need when subminimum wages are phased out.  NDSC submitted a letter of support for this bill to Congress and continues to advocate for its passage.
While the TCIEA continues to gather cosponsors but has not yet moved in Congress, the U.S. House of Representatives Education and Labor Committee recently passed a reauthorization of the Workforce Innovation and Opportunity Act of 2022 (H.R. 7309).  The Workforce Innovation and Opportunity Act of 2022 provides career services and training to help people get the job skills they need and to help employers hire qualified workers.  Notably, NDSC is relieved that this reauthorization has not addressed Title IV of WIOA, which amended the Rehabilitation Act of 1973 and authorized funding for vocational rehabilitation services for people with disabilities, as well as codified the definition of Competitive Integrated Employment.  Along with our partners in the Collaboration to Promote Self-Determination, NDSC has expressed concerns to Congress that any reauthorization of WIOA Title IV could potentially dilute or otherwise weaken the definition of CIE and all other resources that Title IV provides to the disability community. This bill still has a long way to go and is not likely to be taken up in the Senate this session.
Real Pay for Real Jobs Grant Program Launched by U.S. Department of Education 
The U.S Department of Education's Rehabilitation Services Administration (RSA) has announced the Real Pay for Real Jobs Initiative, a grant competition, to help states increase access for people with disabilities to obtain jobs in competitive integrated employment (CIE).  The Subminimum Wage to Competitive Integrated Employment (SWCIE) grants will make $167 million available to 18 State Vocational Rehabilitation Agencies and their partners.  This new grant program will sponsor innovative approaches to job creation in critical areas of need such as HCBS, the arts, transportation and related industries, and ideas to transition people from subminimum wage to CIE. The grant application is currently available.  We encourage you to contact your State Vocational Rehabilitation Agency and/or any potential partners and encourage them to apply for this unprecedented grant before the June 21, 2022 submissions deadline.
Meet Emma Bouza
National Down Syndrome Advocacy Coalition (NDAC) Member Emma Bouza is busy.  Follow her on social media or talk with her for just a few minutes, and you will learn that she is an involved community member, mom, wife, para educator, leader, and an enthusiastic disability advocate.  It was no surprise when Emma said, "If I can get involved, I do it."
Before Emma's daughter Ruby was born with Down syndrome 11 years ago, she said she spent time around individuals with disabilities and even has family members with intellectual disabilities.  However, she said having a child with Down syndrome pushed her to become more involved in policy advocacy than she had ever imagined she would be.
Emma received a prenatal diagnosis, and while Ruby did not have many medical complications, Emma did have to learn how to advocate in the healthcare environment quickly.  She says, looking back, this pushed her to gain the confidence to use her voice and seek opportunities to learn and serve.  Since Ruby's birth, she has attended many National Down Syndrome Congress Conventions.  Soaking in all that she learned at the Convention and through interactions with parents, professionals, experts, and self-advocates "laid the foundation for what I wanted to do and where I wanted to be and wanted Ruby to be."
In addition to attending the NDSC Convention and getting involved in school and local groups, Emma has found local and state training opportunities.  She points to several trainings that really impacted her, including the University of South Dakota (USD) Center for Disabilities Leadership Education in Neurodevelopmental Disabilities (LEND) program. LEND is a nationwide program often administered through the state University Center of Excellence in Developmental Disabilities.  USD LEND provides graduate-level interdisciplinary training as well as interdisciplinary services and cares with the mission to improve the lives of individuals with disabilities and their families across the state of South Dakota, the region, and nationally.  During the second semester of the program, Emma was required to do a research project.  She says this was very fulfilling because she was able to research Sleep Apnea using her daughter Ruby as a case study.
Family Leadership Institute Training through the University of Iowa Child Health Specialty Clinics.  She learned valuable advocacy skills, made connections, identified partners, and learned how to develop advocacy strategies.  She now serves on the Child Health Specialty Clinic's Family Advisory Council.  She also joins other advocates for the Iowa Developmental Disabilities Council Day on the Hill where they conduct a brief advocacy training and meet with legislators to educate them on policies important to people with disabilities.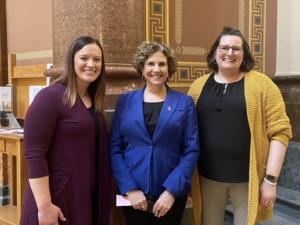 Pictures at this year's Iowa's Disability Day on the Hill: (L-R) Shawne Wittrock, Child Health Specialty Clinics, Iowa State Senator Claire Celsi (D), and Emma Bouza.
In 2020 Emma worked with the Iowa Development Disabilities (D.D.) Council and other advocates to get Organ Transplant Nondiscrimination legislation introduced in Iowa.  Iowa Governor Kim Reynolds (R) signed the bill into law later that year.
Emma's current pet project is advocating for the passage of legislation requiring high schools to teach Disability History as part of the history block requirement.  She got the idea after participating in a book club with other parents who read "Demystifying Disability" (Landau, 2021.) As a result, the history teacher at the local high school will be including disability history as part of his coursework next school year.  Though she didn't plan it this way, while Emma was visiting legislators at the D.D.  Council Hill Day, she found a State Senator who is interested in this and is hopeful of getting it introduced and passed.
These are just a few ways Emma has developed and honed her advocacy skills.  Her journey to understanding the importance of the content and connections from serving, training, and participating are examples of why local and state advocacy and training are so important.  This year's NDSC Advocacy Training Boot Camp at the 50th Annual NDSC Convention will focus on local and state advocacy.  Some of the programs Emma mentions are available in every state and will be highlighted at Advocacy Training Boot Camp.
Emma's family, including Ruby, older sister Norah (14), and her husband Ben, make their home in Hawarden, Iowa.  Although Emma lives in Iowa, she also takes advantage of opportunities just across the state line in South Dakota.  She would love to identify more Down syndrome advocates in the area wishing to work together.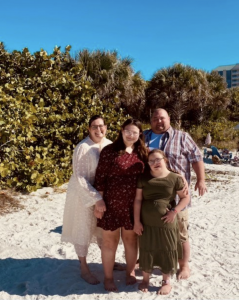 Emma, Norah, Ruby & Ben Bouza.
The State of the Art Conference is Back In-Person 
NDSC is a proud supporter of the State of the Art Conference (SOTA) to be held  October 19-20, 2022, in Syracuse, New York.  Proposals to present for State of the Art 2022 with the theme  A Decade of Progress at State of the Art: Exploring the next frontier of Inclusive Higher Education (IHE)  are now being accepted.
OTA  provides opportunities for students, family members, colleges, universities, researchers, and program staff to learn about the current state of research and practice in inclusive postsecondary/higher education and network with each other. In addition, the parallel Student Leadership Conference brings current and prospective college students together to learn about useful tools for the transition to college life, expand their skills as student advocates and leaders, and meet peers from across the country.
Compensatory Education Guidance from U.S. Department of Education 
The Office of Special Education and Rehabilitative Services (OSERS) wrote a letter to the Council of Administrators of Special Education (CASE) clarifying that the September 30, 2021 guidance, Return to School Roadmap: Development and Implementation of Individualized Education Programs, is "not new interpretation [of the law]" and that "compensatory services may be necessary to mitigate the impact of the COVID-19 pandemic on the child's receipt of appropriate services.  OSERS disagreed with CASE's interpretation of when compensatory services are appropriate, saying that it is an IEP team decision and does not require an order by a hearing officer, court, or State complaint.
"We disagree that the provision of compensatory services is appropriate only in context of an order for equitable relief (e.g., by a hearing officer or court) or as a remedy for the loss of special education and related services determined by filing a state complaint.  First, this is not a new interpretation.  In prior guidance documents, we have stated that, generally, the decision to provide "make up" or compensatory education when there is a disruption in the provision of educational services, and the nature and amount of the special education and related services that are to be provided as compensatory education, is an individualized determination made by the individualized education program (IEP) Team in accordance with the requirements in 34 CFR §§300.320–300.324.  That is, the IEP Team must determine whether the child was denied educational benefits because of the disruption in educational services and whether compensatory education is needed to "make up" for the denial, including addressing any skills that may have been lost."
Compensatory Education Advocacy Advice 
With the return to in-person learning, some parents of students with disabilities are trying to recoup that lost learning by asking for what's known as "compensatory education." What exactly is compensatory education?  And what do parents and guardians need to know before asking their child's school for it?  An article published on March 28, 2022, by U.S. News provides useful information and resources for families who may need compensatory education.
Department Letter on New CDC Recommendations and Impact on Students with Disabilities \
On March 24, U.S. Secretary of Education Cardona released a letter to Educators and Parents regarding the new CDC recommendations and their impact on students with disabilities.  Secretary Cardona states that the letter "is intended to help educators, staff, and families thoughtfully design learning experiences for all students – including students with disabilities.  It reviews some important strategies for doing so and reiterates key rights afforded to students with disabilities to ensure they can maintain equal access to in-person instruction and receive a free appropriate public education (FAPE) in the least restrictive environment (LRE).  Consistent with Federal civil rights laws, this must be done so that students with disabilities do not face risk to their school-related health needs."
President Biden's 2023 Education Budget 
The budget, submitted to Congress for the fiscal year 2023, provides $16.3 billion for IDEA Part B Grants to states, a $3.3 billion increase over the 2021 level – the largest two-year increase ever for the program.  The increased funds would support special education and related services for students with disabilities in grades Pre-K through 12.  In addition, the budget doubles funding to $932 million for IDEA Part C grants, which support early intervention services for infants and families with disabilities.  The budget also more than doubles funding to $250 million for IDEA Personnel Preparation grants to support a pipeline of special educators at a time when the majority of states are experiencing a shortage of special educators.  In addition to proposed increases for IDEA funding, the budget provides $15.18 million for Transition and Postsecondary Programs for Students with Intellectual Disabilities (TPSID programs and the National Coordinating Center).  This is an increase over the $13.8 million in the current budget.  Congress will have to approve the 2023 budget, and advocacy will be needed to enact all these increases.
OSEP Director Puts Focus on LRE Data by Disability Category 
In the April Newsletter from the Office of Special Education Programs (OSEP), Director Valerie C. Williams pointed out the discrepancy between Least Restrictive Environment (LRE) data for students with disabilities as a group and the data when it is broken down by disability category.  She said:
"Our IDEA section 618 data shows that children with ASD, intellectual disabilities, multiple disabilities and deaf-blindness are mostly educated outside the regular education classroom and education within the regular education classroom has not appreciably changed between the 2012 and 2020 school years.  This data raises more questions and leads me to believe that we're stuck in traditional service delivery models based on disability categories instead of ensuring a child is educated in the least restrictive environment.  If you haven't already, I encourage you to check out the resources on supporting inclusive education for students with significant cognitive disabilities on the TIES Center website."
The newsletter also includes charts under the heading "Dose of Data," showing the data to which Director Williams refers.  NDSC has long advocated for attention to be paid to LRE by the disability category.  We are very pleased that Director Williams spotlighted this issue in her newsletter.  We also welcome the fact that she encouraged readers to use the resources from the TIES Center.