Advocacy Training Boot Camp – Jawanda and Rachel Mast
My name is Jawanda Mast. Since my daughter Rachel was born with Down syndrome almost 20 years ago, I have been involved in advocating on behalf of individuals with Down syndrome and other disabilities and their families. I have had some remarkable opportunities to tell our story and have seen our story impact change. My daughter Rachel is 19 years old, and in her first semester of college. She is in the Bear POWER program at Missouri State University. She has been doing advocacy since she was a toddler. Recently, I shared with her that we would be a part of the National Down Syndrome Congress Advocacy Training Boot Camp this year. The discussion that followed was kind of funny and also on point.
Jawanda: Rachel, in June we are going to the National Down Syndrome Congress again.
Rachel: Yah. I am so excited to go back to the Youth and Adults conference. I will see my friends and dance. It is so much fun.
Jawanda: We are also attending the Advocacy Training Boot Camp. I am helping coordinate. Do you want to help?
Rachel: Yes! I will wear my pink cowboy boots?
Jawanda: Well, you can wear your pink cowboy boots but why?

Rachel: You said it is a boot camp?
Jawanda: You don't know what a boot camp is do you? It's simply a training where we help people learn how to be good advocates.
Rachel: Oh, I understand. I have done lots of advocacy. Senator Moran says, "I am the best lobbyist in Washington DC."
Jawanda: Well, that's a start. But what else would you tell people.
Rachel: I would tell them that it is important to be friends with your Representatives and Senators. You should tell them what you need them to do.
Jawanda: Like what?
Rachel: I tell them my hopes and dreams and how they can help me by sponsoring laws like the ABLE Act.
Jawanda: How did you learn to do that?
Rachel: I go to Washington DC and Topeka (Kansas State Capitol) and tell them how much I love my life. Then, I ask them to please sponsor the ABLE Act. I always take a bio. It has a picture of me and tells them about my life. Then, you always ask them to support something.
Jawanda: Anything else?
Rachel: You always take a picture. Then, post it on social media. My dad says you always tag them in your posts, too. Sometimes they will even dance with you. You can post that on social media, too, like I did with my new representative Sharice Davids.
Jawanda: So maybe you could help us with the social media part of the training. Do you want to do that?
Rachel: Oh, yes. I would love to. I can show them my bio, too.
Jawanda: I'm glad you are going to help us with the NDSC Advocacy Training Boot Camp. Why should people come?
Rachel: They should come so they can learn how to be friends with the Representatives and Senators. It's easy.
Jawanda: Should self-advocates come?
Rachel: Self-advocates should come because they will make friends. They can learn to tell people that everyone is different in some way, but people with Down syndrome have the same dreams as everyone else. My dream is to be an actress and live in a pink house.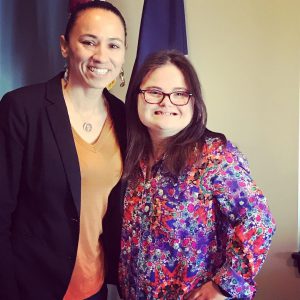 Rachel is right. Advocacy is telling people who impact important policy decisions about your hopes and dreams and how they can help you live your dreams. The NDSC Advocacy Training Boot Camp is a great way to learn how to be an effective advocate. You'll learn from parent advocates, professionals, elected officials, and maybe most importantly, self-advocates. You'll leave equipped with the tools you need to tell your story like Rachel.
Plan now to come early for the National Down Syndrome Congress Advocacy Training Bootcamp.
The Bootcamp will be on Thursday, June 27, 8 AM – 12 Noon.
It is free to NDSC Convention registrants.
Questions? Email lauren@ndsccenter.org or call 800.232.NDSC (6372)