Heather Hancock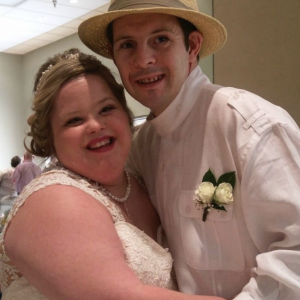 Our featured NDAC Member, Heather Hancock Blackburn, 39 of Moore, Oklahoma, is a fierce advocate for the inclusion of individuals with Down syndrome. She is very proud of her advocacy work with her local Down syndrome group, the Down Syndrome Association of Central Oklahoma, to make the world a better place for people with Down syndrome. 
Heather is particularly dedicated to advocating for changes to laws that would make it easier for people with Down syndrome to get married to people they love and live their dreams together. 
Heather met Craig Blackburn, of Louisiana, at an NDSC Convention. They became boyfriend and girlfriend. As their relationship grew, they dreamed of being legally married and living together. Unfortunately, outdated laws related to benefits, including laws sometimes known as the "marriage penalty," have created a system where she and/or Craig would have to forfeit much of their financial assistance to be legally married and live in the same state. She and Craig opted for a commitment ceremony and consider themselves married, but Heather says this is disrespectful and wrong. "I just want to live in my own house, in the same state with my husband Craig."  
While Heather and Craig hope their dream of living together in the same state comes true soon, she has not allowed that issue or Down syndrome to slow her down. Among her many activities, she is a Special Olympics athlete, an NDSC Self Advocate Council Member, and works two jobs, one at Not Your Average Joe and the other at the Oklahoma Department of Special Education. Craig is also very active, including in his roles on the NDSC Board and as an NDAC member. She and Craig communicate regularly and meet up as often as possible
Heather invites anyone who wants to join her in advocating for people with Down syndrome to join the National Down Syndrome Advocacy Coalition.