Lauren Devard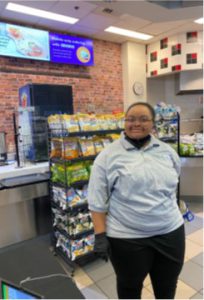 Lauren Devard, 22 of Bear, Delaware, is a Food Runner for the Trabant Center Greens to Go at the University of Delaware Food Court. Her employer is Aramark. Lauren fills customer orders by matching customer meal tickets to prepared items and bagging them with utensils and related items. Lauren then notifies customers via a tablet device that their order is ready. If there is an issue, she (with the help of her job coach) works to resolve it.  Lauren loves doing a good job and meeting so many different people; but her favorite part is the free custom salad and wraps. Lauren uses some of her earnings to go to concerts, plays and other special events. She also likes to buy art supplies, eat out, and employs a personal trainer. 
Lauren's mom, Samtra, adds: "Lauren's Journey is so exciting. Lauren is brave and makes the most of every opportunity that she is blessed to have. Lauren's enthusiasm and resolve to do her best at her job is evident. Lauren gets to experience the dignity of work. I talk to families who are discouraged because their focus is on what their loved one with Down syndrome can't do. I was there. But I want to encourage families that there is hope, and there are resources. It feels risky. But it is worth the risk. It is fulfilling to see how Lauren's confidence and skills have grown." 
Thank you, Lauren, for sharing your employment story, and thank you Samtra, for those encouraging words that we all need to hear from time to time.