Advocacy & Policy Newsline ~ October 2020
Update on COVID-19 Relief Bills
With the election just weeks away, the Senate is unlikely to pass another broad COVID-19 relief package in the near future. On October 1, the House passed the $2.2 trillion stimulus bill known as HEROES 2.0 Act, which included many of NDSC's top priorities, including dedicated funding for Medicaid Home and Community Based Services (HCBS). Negotiations around another COVID-19 relief bill have been on and off, but it is unlikely that an additional, comprehensive plan like HEROES 2.0 will to progress in the Senate. It is most likely that any future COVID-19 relief will come as Senate Leader Mitch McConnell (R-KY) pushes for a very limited and targeted smaller "skinny" COVID-19 bill to assist small businesses. Such a "skinny" COVID-19 relief bill would likely not address most priorities of the disability community. To see a comparison of the various proposed COVID-19 relief bills, as they relate to disability priorities, you can visit the Center for Public Representation website.
If you would like to express your disappointment that these funding priorities for people with disabilities have been neglected or would like to urge your representatives to find a solution to these shortfalls, you can find contact information at https://contactingcongress.org.
ABLE Act Regulations Finalized by IRS
Earlier this month, the Internal Revenue Service (IRS) released final regulations for the Stephen Beck Jr. Achieving a Better Life Experience Act of 2014 (the "ABLE" Act). Regulations are official rules issued by a government agency to detail and clarify how a law should be implemented and enforced, and they have the same force as laws.
Originally passed in 2014 after nearly a decade of advocacy efforts, the ABLE Act allows people who become disabled prior to age 26 to establish tax-exempt savings and investment accounts without jeopardizing their eligibility for public benefits. Currently, 42 states and the District of Columbia have ABLE programs, many of which are available to people with disabilities nationwide.  More information about ABLE accounts and specific ABLE programs can be found at the ABLE National Resource Center.
Since the passage of the ABLE Act in 2014, the IRS has proposed temporary regulations twice (in 2015 and 2019), as well, several notices to resolve specific issues, such as who can open ABLE accounts on behalf of the beneficiary, what ABLE funds can be used for, and how beneficiaries are required to certify their eligibility for opening and maintaining ABLE accounts. NDSC has consistently commented on proposed ABLE regulations to request clarity on certain ambiguities and minimize recordkeeping burdens and enhance ABLE account owners' protections. The final ABLE Regulations provide details about ABLE accounts' mechanics and explain how the law should be applied.
Continuing Resolution Funds Government Through Mid-December
The federal government has passed a bipartisan continuing resolution (C.R.) to fund the federal government through December 11, 2020, thereby avoiding a government shutdown. A CR is a temporary measure that Congress can use to fund the federal government for a limited amount of time to give lawmakers more time to negotiate appropriations bills for the following fiscal year. The C.R. signed by President Trump on October 1 means that the funding levels of most government programs for the fiscal year 2020 (which ended September 30) remain the same until December. The C.R. also contained an additional $8 billion in funding for child nutrition assistance and temporarily extended the Money Follows the Person Medicaid program. You can find more information about the C.R. in a press release published on September 22, 2020.
Social Security Benefits Increased
The Social Security Administration (SSA) has announced an automatic cost-of-living adjustment, known as COLA, to benefit people with disabilities who receive Supplemental Security Income and other Social Security. Beneficiaries will see an increase of 1.3% in their payments beginning in 2021. For individuals receiving SSI, the maximum federal payment will increase from $783 per month this year to $794 per month in 2021 with the automatic adjustment. Couples will receive $1,191 per month in 2021, up from $1,175. This change is tied to the increase in the Consumer Price Index from the U.S. Department of Labor's Bureau of Labor Statistics. Social Security beneficiaries do not have to do anything to receive these increased benefits and should be notified by SSA about them in early December.
NDAC Group Member Spotlight: Chesapeake Down Syndrome Parent Group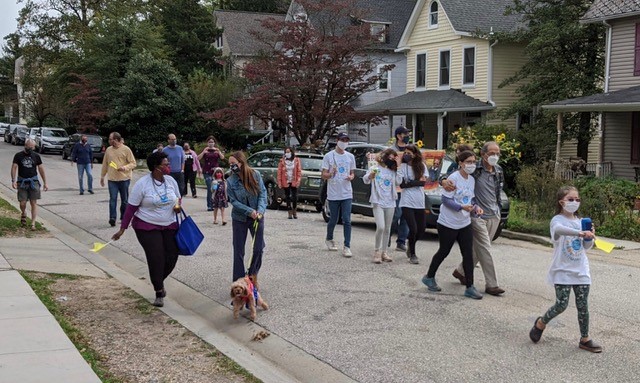 (Senator Mary Washington – far left, MD-43, with Team Hope for the Future led by Hope Katz-Zogby)
Confronted with the reality that our 2020 walk would be virtual, the committee planning Step Up for Down Syndrome Baltimore for the Chesapeake Down Syndrome Parent Group (CDSPG) had to transform our 7th annual gathering into a dispersed event. As creative ideas for the October 10 event bubbled up and took shape, our optimism grew that our reimagined walk could afford us unique opportunities – particularly for advocacy.
Each year, we invite 120 elected officials who represent Baltimore City and the five surrounding counties in local, state, and federal government. Most years we are joined by three or four state legislators who represent the legislative district where our event is held. For 2020, we presented officials two options for participation: a video greeting that we could post on social media or the opportunity to join a family in-person on walk day in their neighborhood – outdoors, masked, and socially distanced. We were thrilled by the response!
We received videos from 10 officials, including three congresspeople, two county executives, Baltimore's mayor and city council president, and several state legislators. Many went well beyond the provided talking points with remarks about building more inclusive communities, supporting individuals with Down syndrome through the challenges of the pandemic, and advocating for competitive integrated employment and inclusive education. Even better, we had nine additional elected officials who walked with families in person.
My family hosted our state senator, Mary Washington. Upon her arrival, my daughter Hope (10) offered her banana bread and quickly set her up with a Down syndrome advocacy bracelet, t-shirt, and bubbles, while we chatted about how virtual schooling is going. Neighbors trickled over and introduced themselves. Then our small contingent marched around the block following a dancing Hope who clutched a portable speaker pumping out her favorite tunes.
The feedback from families was universally positive – they were honored to have their representatives join them and pleased to find legislators eager to connect, hear their stories, and relate these stories to their legislative work.
Each official received a letter detailing our community's policy priorities, and we plan to follow up later this month with thank you cards from families. We will continue to build these relationships throughout the coming year, with touchpoints at the winter holidays and World Down Syndrome Day which is conveniently mid-way through Maryland's legislative session. We had a few challenges, including two last-minute cancellations and one official who arrived to greet a CDSPG family without masks for his family. From this, we learned that consistent follow-up and reminders may have been helpful in advance of the event, and that we should provide our families with not only a briefing and swag, but also any items (like disposable masks) that they need to feel safe.
We are already thinking about how to replicate this success when the walk (fingers crossed!) returns to the Inner Harbor next year. And we are hopeful that the seeds of stronger relationships we planted this year will flourish and provide opportunities for successful advocacy in the years to come.
Follow along with CDSPG's advocacy and events on their Facebookhttp://www.facebook.com/cdspg and Instagram pages.
Accreditation Program Standards
NDSC Senior Policy Advisor, Stephanie Smith Lee, chairs the National Coordinating Center Accreditation Workgroup that has now completed the revising and updating model program accreditation standards for postsecondary programs for students with I.D. The culmination of 10 years of work, these new model standards will lead to improved postsecondary opportunities for students with I.D. and program accountability. The model standards are expected to be released next week.
New Model Postsecondary Programs and NCC Awarded
NDSC has long supported funding model postsecondary programs and a National Coordinating Center (NCC) for postsecondary students with I.D. The U.S. Department of Education has recently awarded new Transition and Postsecondary Education Program for Students with Intellectual Disabilities (TPSID) grants for 2020-2025. Twenty-two colleges and universities in sixteen states have been awarded TPSID grants to enable them to create or expand high quality, inclusive model programs. Think College at the University of Massachusetts Boston was once again funded to continue its work as the National Coordinating Center. You can review the abstracts describing plans for the new TPSIDs and the abstract for the NCC.
NDSC is looking forward to continued collaboration with Think College as a member of the NCC Project Advisory Council.
Podcast on Postsecondary Education
Stephanie Smith Lee, NDSC Senior Policy Advisor and Debra Hart, Think College Director, recorded a podcast discussing the history and future of inclusive postsecondary education for Your Legacy of Care.
SOTA Conference
While the State of the Art Conference on Inclusive Postsecondary Education and Individuals with Intellectual Disability was cancelled this year due to COVID-19, the Student Leadership Conference and College Fair elements of the conference still took place virtually. The Inclusive College Fair presentations by over 30 colleges, and video presentations from the Student Leadership Conference may be viewed online.
OSERS Posts Blogs by NDSC Members
In recognition of October as National Down Syndrome Month, the U.S. Office of Special Education and Rehabilitative Services (OSERS) reached out to NDSC to provide blog posts to publish on its website. We are very pleased that blog posts by Rebecca and Chris Newlon  (https://sites.ed.gov/osers/2020/10/laying-educational-foundations/)  and Courtney Hansen (https://sites.ed.gov/osers/2020/10/we-can-do-virtually-anything/) have been posted. All of these bloggers are members of NDSC's National Down Syndrome Advocacy Coalition.
New OSEP FAQ Document
On September 28,  the Office of Special Education Programs (OSEP) issued this Question and Answer (Q&A) document in response to inquiries concerning the implementation of the Individuals with Disabilities Education Act (IDEA) Part B provision of services during the  COVID-19 pandemic. IDEA Part B covers students age 3-21+.
To review other Q&A documents that OSEP has provided related to COVID-19, please visit the Individuals With Disabilities Education Act website.  More information specific to the COVID-19 pandemic may be found online at https://www.ed.gov/coronavirus.  Additional OSEP K-12 resources, strategies, and support materials are available on the National Center for Systematic Improvement website.
New OCR Technical Assistance and Restraint and Seclusion Brief
The U.S. Department of Education's Office for Civil Rights (OCR) issued a new technical assistance document to assist elementary and secondary (K-12) schools with meeting their obligations under the Federal civil rights laws enforced by OCR. This document addresses numerous issues related to students with disabilities.
OCR also recently published a brief on restraint and seclusion of students with disabilities using information from the 2017-18 Civil Rights Data Collection (CRDC). The brief illustrates the disproportionate use of restraint and seclusion on these students compared to the overall student population.
The brief shows that students with disabilities comprise 80% of all students physically restrained; 41% of those are mechanically restrained, and 77% of all students secluded.  The 2016-17 CRDC showed that students with disabilities comprised 71% of all students restrained (physically or mechanically), and 66% of all students secluded.  However, due to OSEP'S recent efforts to address reporting issues by districts (also described in the brief), it is difficult to infer specific increases in the use of restraint or seclusion between the two data collections.
TIES Center News
The September 2020 newsletter from OSEP contains a great deal of information from OSEP's numerous technical assistance centers. Highlighted this month from the TIES Center on inclusive practices and policies for students with significant cognitive disabilities are two briefs on participation in the general education curriculum co-authored by NDSC Senior Education Policy Advisor, Ricki Sabia. You can read this newsletter and sign up to receive future newsletters on the U.S. Department of Education website.
The TIES Center has developed a new distance-learning resource, which will be posted shortly, entitled Pivoting Between Paraprofessional Supports in  Inclusive Schools and Distance-Learning.
On November 9, 2020, NDSC will host a webinar featuring the authors of this resource. Registration information will be posted on NDSC social media pages and on our website. The TIES Center has also published the TIES Lessons for All: The 5-15-45 Tool. This tool is designed to support collaboration between general and special educators based on the amount of time (5 minutes,15 minutes, or 45 minutes) they have to spend on a project.
New Education Bills Supported by NDSC
Congressman Schiff and Congresswoman Johnson recently introduced the Supporting Children with Disabilities during COVID-19 Act (H.R. 8523), the House companion bill to S.4100, which was introduced by Senators Van Hollen, Murphy, and Hassan. The bills provide for an appropriation of $11 billion for state grants under IDEA, $900 million for early childhood education programs, and $300 million for personnel development.
NDSC also supports the Counseling Not Criminalization in Schools Act (S.4360/H.R. 7848) introduced in the Senate and House by Senator Murphy and Congresswoman Pressley. This legislation would divert federal funding away from school-based law enforcement and toward evidence-based and trauma-informed services that create positive learning environments. A separate grant program would be created for districts to replace police personnel with counselors, social workers, and other health providers. This bill responds to the disproportionate negative impact that the increase in schools' officers has had on students of color, students with disabilities, and LGBTQ students.