NDSC Capitol Hill Advocacy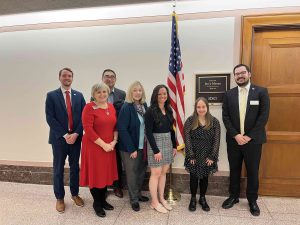 National Down Syndrome Congress (NDSC) Executive Director, Jordan Kough joined the NDSC Policy Team including Director of Policy and Advocacy, Cyrus Huncharek, Senior Policy Advisor Stephanie Lee Smith, Grassroots Advocacy Manager Jawanda Mast, and Policy and Advocacy Associate Chapman Bryant, for meetings on Capitol Hill with Congressional offices and key committee staffers to discuss NDSC policy priorities for the Down syndrome community. The NDSC staff was joined by Madeleine Will, former Assistant Secretary of Education for Special Education and Rehabilitative Services and NDSC Policy Council member, and Madison Essig, George Mason University graduate, NDAC member, and self-advocate.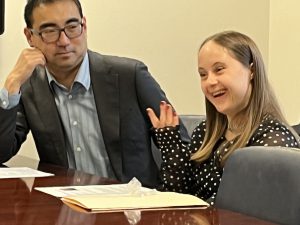 The group met with several offices in the United States Senate, the United States House of Representatives, and key officials (Valerie Williams, Director, Katherine Neas, Assistant Secretary, and Meghan Whittaker, Special Assistant) with the Department of Education's Office of Special Education and Rehabilitative Services (OSERS) to advocate on behalf of people with Down syndrome. The meetings included advocating for the Congressional Public Policy Agenda for the 118th Congress. The policy team's main priorities included employment, education, social security, and eliminating restraint and seclusion. Furthermore, advocating for increased Individuals with Disabilities Education Act (IDEA) funding, eliminating the marriage penalty for people with Down syndrome and other disabilities, and ensuring a higher wage does not correlate to loss of Social Security benefits or Medicaid.  In addition to the main priorities, the policy team asked members of Congress to join the recently registered Congressional Task Force on Down Syndrome in order to build membership to increase Capitol Hill awareness and action on Down syndrome specific issues.