NDSC E-News ~ September 2022
Mission Moment
with NDSC Executive Director Jordan Kough
The Big Game Ball was a BIG Success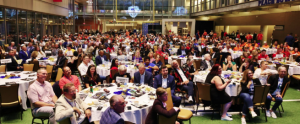 The Big Game Ball at the College Football Hall of Fame on September 1 was a huge success.  We are thrilled to announce that together we raised $348,000 towards promoting postsecondary education for individuals with intellectual disabilities.
The event honored the postsecondary programs serving those with intellectual disability at Clemson University (ClemsonLIFE), Georgia Tech (Georgia Tech Excel), the University of Georgia (UGA Destination Dawgs), and the University of Oregon College of Education for their Special Education Graduate program.  Also recognized for their commitment to secondary education were Think College, Nonprofit Honoree; Hallmark Channel, Corporate Honoree; Stephanie Smith Lee, Individual of Impact; and Caden Cox, our first ever, Self-Advocate of Distinction Honoree.
Still want to give? Text "NDSC" to 56651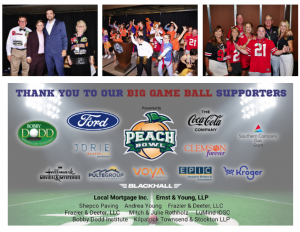 Introducing NDSC's New Policy & Advocacy Director
The NDSC is excited to welcome Cyrus Huncharek as the new Policy and Advocacy Director this month. Before joining NDSC, Cyrus was a Senior Public Policy Analyst at the National Disability Rights Network (NDRN) where he oversaw several policy areas impacting people with disabilities. Prior to his work at NDRN, Cyrus worked as a Government Affairs Coordinator for the National Parent Teacher Association (National PTA), taught high school English in South Dakota through Teach For America, and served as a Learning and Development intern for the White House Office of Administration where he developed e-learning courses for executive office employees. He holds a B.A. in Government from the University of Texas at Austin. Cyrus' experience as a classroom teacher and prior work on special education policy motivates him to now work toward an improved world for individuals with Down syndrome.
 Upcoming Events
Ages & Stages Webinars
Join us beginning the first week of October for all new Ages & Stages Webinars!  We'll provide you with a new session each week, alternating between English and Spanish presenters and topics.
Stay tuned for more information, the schedule, and how to register.
---
Learn more about NDAC at NDAC FAQ
---