Petra Mark & Nancy Spanski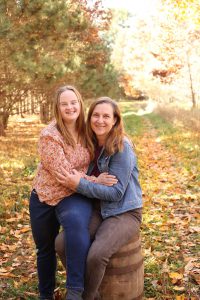 May's National Down Syndrome Advocacy Coalition (NDAC) featured members are 18-year-old Petra Mark and her mom Nancy Spanski of Michigan. Petra is our first self-advocate NDAC member from Michigan! Petra says, "As a person with Down syndrome, I am interested in making the world a better place for people with Down syndrome." She goes on to say that she felt it was important to join NDAC because she likes speaking up for herself on important issues. She believes is important to be part of NDAC to stay informed. 
Nancy is a long-time member of NDAC. Nancy says, "I was inspired by the collaborative effort of advocates to be effective on a variety of issues. I also appreciate the support and advice when I am working on state and local issues."   
Petra and Nancy's advice for beginners is the same. "Don't be afraid to introduce yourself, believe in what you do and always stand up for yourself. Start where you feel comfortable, which could be an email or phone call to your legislator. " 
Petra recently had breakfast with her state legislator and invited him to meet with her at the state capitol. She says, "It was good to get to know him, and I plan to keep in touch with him and also meet with my US Representative and Senator."
Petra, Nancy, brother Ian, and Dad Chris are a farm family. Petra, a decorated 4-H member, shows rabbits, chickens, and goats in 4-H. Petra says one important thing she wants you to know about her is that she is graduating in May with her diploma! 
Petra and Nancy, thank you for your advocacy and sharing your story.
Learn more and/or join the National Down Syndrome Advocacy Coalition here.