Policy & Advocacy Newsline ~ December 2021
Congratulations to the New OSEP Director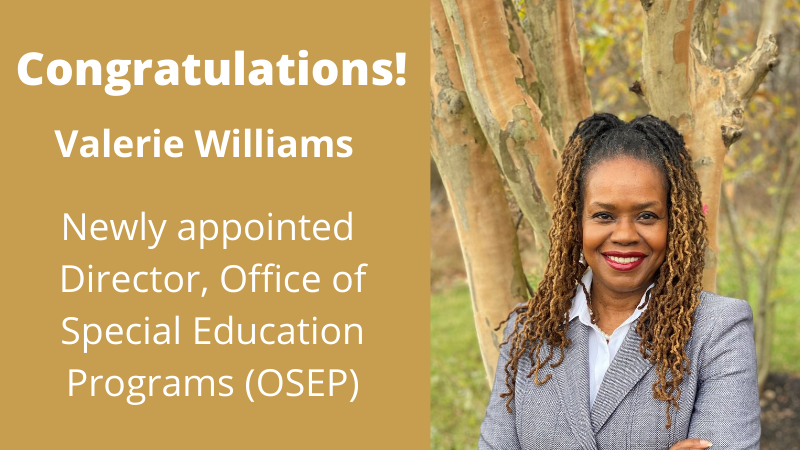 On Monday, December 13, Valerie C. Williams was sworn in as the Director of the Office of Special Education Programs (OSEP) in the U.S. Department of Education. In her new role, Valerie will be responsible for the effective implementation of the Individuals with Disabilities Education Act (IDEA), the federal special education law, advising the OSERS Assistant Secretary, and providing leadership to the policy development, management, and resource allocation activities of OSEP, including IDEA monitoring and grant administration. Valerie has an exemplary record of service as Senior Director of Government Relations and External Affairs for the National Association of State Directors of Special Education (NASDSE) with the U.S. Congress, federal agencies, and nonprofit organizations.
Immediately prior to this appointment, Valerie served as a Co-Chair of the NDSC Public Policy Advisory Council for several years and has worked closely with the NDSC Policy & Advocacy Team to develop and articulate NDSC's policy positions on a wide range of issues. She has also served on the NDSC Board of Directors and is a parent of a son with Down syndrome. The NDSC Policy & Advocacy Team looks forward to working with Valerie in this new capacity at the Department of Education.
Build Back Better Reconciliation Bill Update
On November 19, 2021, the U.S. House of Representatives passed the $1.75 trillion Build Back Better Act, also known as the "reconciliation bill."  The Build Back Better Act contains an unprecedented amount of funding for Medicaid Home and Community Based Services (HCBS) ($150 billion over 10 years), as well as a substantial number of other provisions that would greatly benefit people with disabilities and their families. Additional provisions in the House version of the bill include funding to encourage states to build capacity for competitive integrated employment for people with disabilities, funding for special education teacher training under Part D of IDEA, allocations for affordable housing, and help for families such as paid family leave, nutrition assistance, and tax credits. The Build Back Better Act is currently being negotiated in the Senate, where some provisions could be weakened or eliminated. Please keep up the advocacy pressure on your Senators to include these provisions in the Senate version of the bill, particularly the HCBS funding request.  You can use NDSC's Action Alert to contact your Senators.
Transformation to Competitive Integrated Employment Act
On November 18, a Senate version of the Transformation to Competitive Integrated Employment Act (TCIEA) (S.3238) was introduced by Senator Bob Casey (D-PA) and Senator Steve Daines (R-MT). This bill is substantially the same as the House version (H.R. 2373) introduced by Representatives Bobby Scott (D-VA) and Cathy McMorris-Rodgers (R-WA) earlier this year. The TCIEA would phase out subminimum wages over a five-year period while addressing barriers to and expanding opportunities for competitive integrated employment (CIE) for people with disabilities. The House version would provide states service providers, subminimum wage certificate holders, and other agencies with the resources needed to create CIE service delivery models and the inclusive wraparound services that some individuals with disabilities will need when subminimum wages are phased out. NDSC submitted a letter of support for this bill to Congress and continues to advocate for its passage. Watch for upcoming Action Alerts about this bill.
Charlotte Woodward Organ Transplant Discrimination Prevention Act
On December 2, the Senate version of the Charlotte Woodward Organ Transplant Discrimination Prevention Act (S.3301) was introduced by Senator Marco Rubio (R-FL) and Senator Maggie Hassan (D-NH). A House version of this bill was introduced last spring by Representative Jamie Herrera-Beutler (R-WA). This bill, which is named for a woman with Down syndrome who received a heart transplant, would ensure that medical providers cannot discriminate against patients in need of an organ transplant solely on the basis of disability. NDSC signed onto a letter of support prepared by our colleagues at the National Down Syndrome Society (NDSS) and is advocating for this bill's passage. You can find more information about this bill and other state-level organ transplant discrimination prevention bills on NDSS' dedicated web page.
Post Secondary Education Presentation
NDSC Senior Policy Advisor Stephanie Smith Lee and Debra Hart of Think College presented a keynote, Update on Accreditation of Inclusive Higher Education Programs, at the 2021 Florida Postsecondary Education Program Planning Institute.  To view the presentation and learn more about the impact of the new standards, visit the Florida Center for Students with Unique Abilities YouTube channel.
Support for IDEA Full Funding Act
NDSC sent a letter to the U.S. House and Senate Education Committees supporting the reintroduction of the Individuals with Disabilities Education Act (IDEA) Full Funding Act, which would set a path to fully fund IDEA as was promised in 1975 when IDEA was enacted. NDSC is a named supporter of the bills in press releases by the leading House and Senate sponsors, including Senator Van Hollen
You can read the bills and see who in the House has co-sponsored the bills so far at
https://www.congress.gov/bill/117th-congress/house-bill/5984/cosponsors?r=23&s=1
And for the Senate at
https://www.congress.gov/bill/117th-congress/senate-bill/3213?s=1&r=8
OSERS Guidance on IEP Development and Implementation
NDSC, along with several other disability organizations, sent a letter to Katherine Neas, the Acting Assistant Secretary of the U.S. Office of Special Education and Rehabilitative Services (OSERS), to support key elements of the OSERS guidance. The letter was issued regarding the development and implementation of IEPs, which are particularly helpful to students and their families as they endeavor to participate fully in the IEP process with schools and districts at this critical time.
Read the guidance report released 9/30/2021
Inclusive Schools Week
December 6-10 was Inclusive Schools Week. The TIES Center on Inclusive Practices and Policies for Students with Significant Cognitive Disabilities. You can see posts and find resources that the TIES Center shared on their Facebook page. NDSC is proud to work with TIES on its parent briefs and other resources.
Nominee for U.S. Assistant Secretary for Special Education and Rehabilitative Services
President Biden has announced his intent to nominate Glenna Gallo for Assistant Secretary for Special Education and Rehabilitative Services (OSERS) at the U.S. Department of Education. Ms. Gallo has a background as a special education teacher, administrator, and state special education director and a record of working collaboratively with all stakeholders. We congratulate Ms. Gallo on her nomination and look forward to working with her if confirmed by the Senate.
Read Secretary Cardona's statement