Fall Into October With NDSC!
Be a #SocialButterfly On Facebook & More
Support NDSC in October, and Win Fabulous Prizes, Including a Chance to Receive a Scholarship for the 2019 NDSC Convention in Pittsburgh, PA (with 3 Nights Free Hotel!)
Getting involved and helping us raise awareness and funds has never been easier!  With October being Down Syndrome Awareness Month, we are simply asking all of you to give us one week out of the year to be a steward for the NDSC.
Here's how you can make a difference and win prizes!
Choose a week in October, hop onto your Facebook profile, and create a fundraiser for the National Down Syndrome Congress (we are already in the Facebook charitable system).  Tell your DS story and promote the campaign to all of your friends and family for a week.  Your single campaign, coupled with hundreds of other single campaigns, can add up to huge numbers and overall awareness – not only for the NDSC, but for Down syndrome!
How to get started:
1)  Go to your calendar and choose your week
2)  Create your Online Fundraiser and Facebook will send us a check!
3)  Please note that we do not see who donates to your fundraiser, so make sure to thank them when it is all over
If you need aid in setting up your page, no problem!  Email Rhonda@ndsccenter.org and she will send you a written "How To", or answer any question you may have.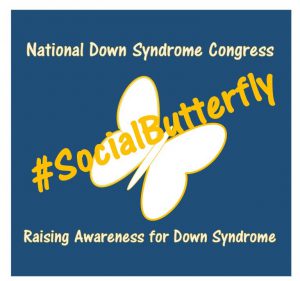 You Don't Have to Start a Facebook Fundraiser to be an NDSC #SocialButterfly!
You can start a grassroots movement for the NDSC in the month of October, promote it online, and still win fabulous prizes.  Starting a movement that creates awareness, and helps raise funds, is not only easy, it adds up!  Our goal for the month of October is to engage the masses, across the globe, to help the NDSC.
Down syndrome Awareness Month is our "call to action" for individuals, businesses, organizations, schools and communities!
Whether you are one person, or a group of people, you can help the National Down Syndrome Congress, and here is how:
1)  Do you work for a restaurant, or other business who can get involved?  Here is an example; If you work for a Donut Shop, pick a day (or a week) in October, and donate 25 cents to the NDSC (locally or nationally) for every donut sold.  It is important to know that we will in turn advertise your business, where to find you, and encourage people to shop during your event!
2)  Are you a Runner? Pick a walk, or run, or a marathon in October, hop onto GoFundMe and set up a way to have friends and family support you financially! Post your page on your social media, send it to friends via email, and tell them about the NDSC, and share your message. You can also choose a local running event, gather a team, and everyone can build a fundraising page, or build a team page!  We will make sure that everyone we know hears about your generosity.
3)  Are you a member of a community organization such as Rotary, Jaycees, or another local group? Gather your group together in the month of October, and host an event to help raise money for the NDSC.  Remember, we will promote you!
4)  One of the best ways to raise funds and awareness is to challenge a classroom of kids, a school, or a Sunday school group to each raise funds in the month of October!
Please notify Kathy about your fundraiser so that we can promote for you!  For questions about putting together a grassroots fundraiser for the NDSC in the month of October, contact Kathy@ndsccenter.org
Win Big!
If you raise $321 or more, you win a beautiful, limited edition #SocialButterfly T-shirt.
If your raise $750 or more, you win the limited edition T-shirt, and a limited edition #SocialButterfly YETI
If you raise $1,000 or more, you win the limited edition T-shirt, and the limited edition YETI, and a limited edition #SocialButterfly Cooler
Everyone who raises $1000 or more will have the chance to win a $500 SCHOLARSHIP TO THE 2019 NDSC CONVENTION IN PITTSBURGH, PA, INCLUDING 3 NIGHTS HOTEL!!  The winner of this prize will be announced on November 10th.
Seasonal Décor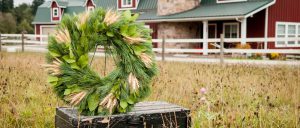 The National Down Syndrome Congress is so excited to be working with Lynch Creek Farm!
Lynch Creek Farm has been handcrafting exceptional (and live) Fall and Holiday decorations for close to 30 years, and now they have partnered with the NDSC to create an easy way for people to give back, while purchasing something beautiful for their homes.   Whether you purchase items for yourself, or send them as gifts, the NDSC earns 20% back on all purchases (by phone or online) from now through December 18th.   Standard Ground shipping is free in the continental US, and all products are shipped out directly to you (or to your gift recipient) on the date specified during checkout. To order beautiful centerpieces, wreaths, or trees click here.