NDSC E-News ~ December 2018
NDSC's Mission Moment –Reflecting on 2018 and Looking Forward to 2019
with

Executive Director David Tolleson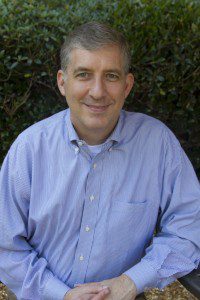 I love December!  The food, the festivities, the family, and the friends – it's such a great time of year!  It's also a good time to look back on the year that's drawing to a close and to think ahead to the new one just around the corner.In 2018, your NDSC team focused on expanding service delivery on multiple fronts.  This year's NDSC Convention – already the largest of its type in the world – hit a new attendance record.  It is both our joy and privilege to host the Down syndrome community's largest annual family reunion, and we take that responsibility seriously. Knowing that not everyone can attend the Convention, we've begun taking our programs on the road, hosting successful Rural Outreach conferences in California and Michigan.  We also made our resource-rich website mobile-ready, so everyone can access its wealth of information easily.

This year saw the expansion of NDAC, our National Down Syndrome Advocacy Coalition and at this year's inaugural Advocacy Training Day, self-advocate Christopher Bennett unveiled the Advocacy Toolkit for Self-Advocates, produced with support from the Bennett family.  We look forward to educating more members on important policy issues as we expand advocacy training at the 2019 Annual Convention in Pittsburgh.Of course, we continued our ongoing, individualized family support through the NDSC Center.  We are delighted to share our popular Adult Sibling Toolkit – made possible with support from the Marino Family Charitable Foundation; the Family Care Toolkit – created through the generosity of the Global Down Syndrome Foundation; and, many other resources for parents and professionals.  We were the only national Down syndrome organization to exhibit at the National Society of Genetic Counselors conference, where we shared information and resources, including our life-changing prenatal testing pamphlet, also developed and distributed in conjunction with our friends at the Global Down Syndrome Foundation.  We also offered a new training session for First Responders in Texas.
Next year promises further expansion of services as we will broaden our outreach to both underserved communities and educators across the nation through one and two-day Rural Outreach summits and as we take our acclaimed Educators Conference on the road.  We will be expanding our online and in-person services to Spanish-speaking families and will reach more First Responders as we expand training for firefighters and paramedics.  On the home front, we're looking forward to hosting our second annual All Kinds of Heroes Golf Classic – a fun and popular way to support the NDSC's vital work.  Of course, June's Convention in Pittsburgh promises to be one of our best ever – I hope to see you there!
As we head into the final weeks of the year, I want to sincerely thank you.  It's a privilege to serve you and your family.  We appreciate your kindness and support year-round.  Through your generosity, we're able to change lives each and every day.
May God bless you, now and in the new year,

NDSC Members In Action
Thank You to All Who Supported the NDSC in 2018
The National Down Syndrome Congress is a membership-sustained not-for-profit organization dedicated to an improved world for individuals with Down syndrome. Through the work of our members, volunteer boards, and staff we continue to remain a leading national resource of support and information in the Down syndrome community. In 2018, we were able to challenge ourselves to go beyond our normal reach to serve more families and to have a greater impact on the Down syndrome community.
Through the generosity of an anonymous donor, we have an amazing opportunity to match the first $150,000 of year-end contributions, all of which directly support the new Center for Outreach & Education. We appreciate your continued support. To make your year-end contribution click here.
NDSC Members' Online Challenge Success
Thank you to all who participated in the recent NDSC Online Challenges. NDSC members, staff, and even non-members have raised over $11,000.00 that will fund new programs and projects in 2019. Congratulations to our top fundraisers:
1. Jean Shoup – $2019.00
2. Heather Berner Sachs – $1530.00
3. Daniel Chaplin – $1313.00
Other participants (in no particular order)
Tyler Dunmire   Emma Bouza    Philip Stockwell    Michelle Lee    Babs Balliett Osterud
Hope Heinrichs Ortega    Shannon Martin Ramynke    Leah Lucier-Pike   Caroline Rich
Crystal St.Pierre   Karson McKee    Ifeude Ukadike Hill    Lelia Chase   Emily Simino   
Chaquana Hall   Annette Manuel Irvello    Becky Garland    Kristi Jones Duda   
Evan Schmoll    Brian Landreville   Sharalene Wheeler    Jim Mitchell   
David Tolleson    Sharalene Wheeler    
Your Feedback Will Help Form Our Future
To help guide the 2019 goal setting and strategic planning of the staff and Board of Directors, we are conducting a survey which provides you with an opportunity to share your thoughts on the programs and services we offer.
We value and appreciate your assistance as we move forward into our 47th year as one of the world's leading sources for Down syndrome information, advocacy, resources, and support. Thank you in advance for your input. To access the survey click here.
All individual confidentiality will be maintained. Please complete the survey by January 4, 2019.
The NDSC Policy and Advocacy Team in Action
National Down Syndrome Advocacy Coalition –
The Voice of the Down Syndrome Community in Washington, D.C.
In late 2017, the NDSC started a grassroots advocacy program called the National Down Syndrome Advocacy Coalition (NDAC). Led by the NDSC Policy & Advocacy Team, NDAC is designed to educate individuals with Down syndrome, their family members, and other allies about policy issues and give them the advocacy tools and techniques to effectively engage with their legislators to advocate for change.
In the year since NDAC's inception, we already have over 250 members of all advocacy abilities and experience levels, representing 42 states and 34 Group Members (including 5 national organizations). Although we are off to a great start, we need to continue to increase our membership numbers to amplify our voice! The only requirement for NDAC membership is that you are an NDSC member. If your group is an NDSC Affiliate Subscriber, it is eligible to become an NDAC Group Member at no additional charge. Contact lauren@ndsccenter.org to check your individual or group NDSC membership status.
To learn more about NDAC or to join click the NDAC logo.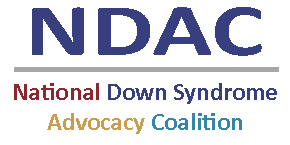 How Your Nonprofit Organization Can – and Why it Should – Engage in Grassroots Advocacy
Many non-profit leaders shy away from advocacy efforts for fear that they will jeopardize their organization's 501(c)(3) tax-exempt status by being "too political". Join the NDSC & DSAIA for a co-hosted webinar, during which, you will learn how to keep your membership informed and engaged in policy issues, build relationships with elected officials, and serve as the voice of the local Down syndrome community to promote policy change. Co-hosted by NDSC Advocacy Director, Heather Sachs, and NDSC Policy and Advocacy Associate, Lauren Camp, with DSAIA, this webinar will discuss NDSC's National Down Syndrome Advocacy Coalition (NDAC) and other resources you can use to get your group connected and educate members about policy issues.

Save the Date
Thursday, January 17, 2019
1:00 PM – 2:30 PM (EST)
Register today!
Can't make the webinar?  No problem, register for the event and you will receive a link to view the recording.
NDSC Convention News
We hope that you are planning to join us for our 47th Annual Convention in Pittsburgh, Pennsylvania, June 27 – 30, 2019. Whether you are a first-timer or a veteran Convention attendee, planning to attend the NDSC Annual Convention takes; well, planning! With all that the NDSC Annual Convention has to offer, how will you know what you should register for?
Convention Registration Opens March 25th – Are You Ready?
With all of the conferences, workshops, networking opportunities, and social events registration for the NDSC Annual Convention can be a bit overwhelming. In order to help attendees better navigate the registration process, we have updated the About Convention page of our website. We encourage you to take a few moments to familiarize yourself with all of the conferences, workshops, and opportunities to engage with other families and professionals in the Down syndrome community prior to the open of registration on March 25th.
Call for Workshop Speakers
Do you know of a dynamic, engaging, speaker who we may want to consider for our 47th Annual Convention speaker lineup? If so, please invite them to submit an NDSC Workshop Proposal Form for consideration.  Application deadline is January 2, 2019.
Call for Self-Advocate Youth & Adult Conference Presenters
Self-advocates interested in sharing their talents, experiences, and perspectives with their peers during the Youth & Adult Conference at the 2019 NDSC Youth & Adult Conference should submit a proposal by Wednesday, January 2, 2019.
Calling All Champion Volunteers!
If you will be joining us in Pittsburgh for the 47th Annual NDSC Convention, or have connections in the Pittsburgh area, we would like to talk with you about the exciting volunteer opportunities available June 27 – 30. Visit the NDSC Volunteer Registration Website to explore all of the volunteer opportunities and to sign up.Bilingual (Spanish) volunteers are needed in all areas. We ask that volunteers are age 18 or older (age 16 for Kids' Camp).
Questions? Contact Janice Troy, Convention Volunteer Coordinator, at janice@ndsccenter.org.
NDSC Convention Sponsorship Opportunities
One of the best ways to garner exposure in the Down syndrome community is to support the NDSC Annual Convention. NDSC Convention sponsors reach thousands of families, professionals, and service providers from the Down syndrome community. Be in front of the 3500+ convention attendees, get social with our more than 120,000 followers with exposure pre and post-convention, as well as live social media campaigning during the event. Catch the attention of the world on our the NDSC website and in our digital and print communication.
The 2019 Sponsorship Proposal includes sponsorship levels and opportunities for every budget and packages are customizable to suit the needs of your organization.
If you would like to discuss sponsorship options, contact NDSC Development Director, Kathy Edwards, at kathy@ndsccenter.org.
Thank you to the Early Bird Sponsors who will be joining us in Pittsburgh!