Policy & Advocacy Newsline ~June 2020
Addressing Systemic Racism
In response to the killing of George Floyd and other black individuals in recent weeks and the impact of systemic racism on our society, NDSC released a statement that condemns systemic racism and recognizes that as an organization, we need to do more.  The statement was followed by a video from Executive Director, David Tolleson pledging NDSC's support of the Black community, stating our commitment to stand by all who are calling for an end to systemic racism in our society, our re-commitment to serve all families that need us, and for our leadership to reflect our community.
On June 15, 2020, NDSC held a town hall meeting, which brought together a panel of NDSC leaders, law enforcement, and community members to have an open discussion on race relations and systemic racism. The recording of the Town Hall Meeting can be viewed on the NDSC YouTube channel. In order to create a change, we must keep talking. We hope that you will mark your calendars and join us on Thursday, July 16, as we Continue The Conversation. To register to Continue The Conversation, please visit our website. You can also listen to a podcast on race and healthcare for people with Down syndrome, which was led by NDSC President Kishore Vellody and NDSC Board Members Valerie Williams and Shauntel Neal-Howe.
Our policy work has long been focused on addressing systemic racism, and the increased impact racism has on individuals who also have disabilities. NDSC has worked on this issue as part of the Consortium for Citizen with Disabilities (CCD) for decades and has also been a member of the Leadership Conference on Civil and Human Rights (LCCHR) for more than five years. NDSC recently joined over 400 civil rights organizations in signing an LCCHR letter to Congress on police reform. NDSC also recently signed the LCCHR Civil Rights Principles on Safe, Healthy and Inclusive School Climate and the LCCHR Civil Rights Principles for Higher Education (NDSC will be added to the documents as they are updated). However, the policy team recognizes there is so much more we need to do in the future.
Invitation to Attend NDSC Advocacy Training Boot Camp
NDSC's 3rd annual Advocacy Training Boot Camp has gone virtual this year as part of Convention From Your Couch so you can view it from the comfort of your own home!  This Boot Camp, planned by the NDSC Policy & Advocacy Team and Grassroots Advocacy Consultant Jawanda Mast, is aimed at beginner advocates. This two-hour LIVE session, to be held on Saturday, June 27, from 1:00 PM ET – 3:00 PM ET will feature presentations from effective self-advocates, parent advocates, and advocacy professionals. Learn what advocacy is, the basics of the legislative process, how to engage and build relationships with elected officials, how to utilize social media in your advocacy efforts, and other important resources and tips.
NDSC's Advocacy Training Boot Camp is FREE TO EVERYONE; you do not have to be registered for Convention From Your Couch to attend. You can find more information about Boot Camp HERE.
Please RSVP for Advocacy Training Boot Camp.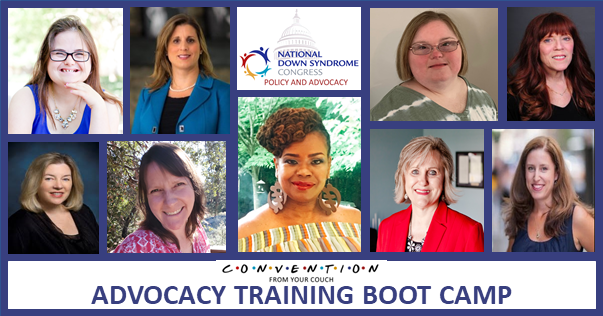 Senate Developing a 4th COVID-19 Relief Package
After passing three large packages and several smaller bills to address the Coronavirus pandemic, the Senate is currently negotiating terms for the fourth (and likely final) COVID-19 relief bill. To date, the needs of people with disabilities have been largely unmet, so we continue to push for increased federal funding for home and community-based services (HCBS) under Medicaid. We are also advocating for expanded eligibility for economic impact payments to adult dependents and paid leave eligibility for family caregivers, such as siblings and grandparents, of adults with disabilities. Finally, we are emphasizing to the Senate that waivers under the Individuals with Disabilities Education Act (IDEA) are not warranted, but additional and dedicated funding for IDEA is much needed. NDSC has signed onto a new letter through the Consortium for Citizens with Disabilities, and we will be sending out a new Action Alert later this week. Please make sure that you are registered to receive Action Alerts.
Extending COVID-19 Stimulus Payments to Adult Dependents
Under the Coronavirus Aid, Relief and Economic Security Act, which was passed in late March, the federal government made payments (called "Recovery Rebates" or "Economic Impact Payments") available to many people whose adjusted gross income was less than $75,000 for a single individual or $150,000 for married filing jointly. The full payment is $1,200 for individuals and $2,400 for married couples who file jointly.
Unfortunately, families with adult dependents with disabilities were excluded from receiving these supplemental payments under the CARES Act. NDSC has been working with other groups and allies on the Hill to expand the limited definition of "dependents" specified in the CARES Act so that more families are eligible to receive payments for dependents over the age of 17.
You can find more information about these payments at www.irs.gov/coronavirus. NDSC has signed onto an advocacy letter through the Consortium for Citizens with Disabilities, where you can find more information about this issue.
Hospital Visitor Policies During COVID-19
The U.S. Department of Health & Human Services recently announced a resolution affirming that federal law requires hospitals and state agencies overseeing them modify their policies to ensure that patients with disabilities can have a support person with them in the hospital during the COVID-19 pandemic. This resolution addressed a complaint against the State of Connecticut filed by several national disability organizations alleging that denial of in-person supports denies people with disabilities equal access to medical care and effective communication and results in unnecessary harm. For more information on hospital visitor policies, as well as a framework stakeholders can use to evaluate these policies, see here.
Section 1557 of the Affordable Care Act Weakened Under Finalized HHS Rule
Earlier this month, the U.S. Department of Health and Human Services (HHS) finalized a rule under Section 1557 of the Affordable Care Act (ACA) that weakens the non-discrimination provisions of the ACA. NDSC had signed onto joint comments from the Consortium for Citizens with Disabilities opposing these proposed regulations in August 2019. Section 1557 of the ACA prohibits health programs or facilities that receive federal funds from discriminating on the basis of race, color, national origin, age, disability, or sex. This new rule narrows the application of all protections under Section 1557 by exempting certain types of activities and insurance coverage from the rule and weakens compliance and accessibility provisions. For a summary of the changes made by this final rule, see HERE.
Education Grants Would Allow Waiving IDEA Requirements
The U.S. Department of Education on May 29, 2020, announced in the Federal Register an opportunity to comment on a proposed grant program "IDEA Paperwork Reduction Planning and Implementation Program that would allow up to 15 states to waive IDEA regulations and requirements. By way of background, the reauthorization of IDEA in 2004 allowed the Secretary to permit these waivers. However, only one state applied when offered the opportunity to do so in 2007 and 2019, and that state was not approved.
Given the lack of interest by states in applying for these waivers previously, and the potential to waive federal special education regulations in a way that could be harmful to students, NDSC opposes the Department implementing these grants. Instead, the available funding should be targeted at providing technical assistance regarding educating students with disabilities during the pandemic and addressing issues regarding school reopening for these students. NDSC is working with the Consortium for Citizens with Disabilities on developing public comments to submit to the Department.
 
State of the Art Conference Cancelled
We regret to share the news that the 2020 State of the Art Conference on Postsecondary Education and Students with Intellectual Disability has been cancelled. The conference was scheduled to take place in October at Syracuse University. However, the university has had to cancel all conferences this Fall due to the COVID-19 pandemic. NDSC is proud to be an ongoing cosponsor of the event, and we look forward to the next conference that will take place in the Fall of 2021 at Syracuse University.