Policy & Advocacy Newsline ~ June 2022
Advocacy Matters  
June's Advocacy Matters features a powerful threesome: Liz Gary, Denise Gehringer, and Tony Zanfordino. These three are panelists for the NDSC Advocacy Training Boot Camp "Voices of Parents: Successful State and Local Advocacy" segment.  All three are parents of individuals with Down syndrome, NDAC members, and have experiences and expertise to help participants learn how to effectively advocate at any level.  
Liz Gary, Parent Advocate is the LEND Policy and Advocacy Coordinator at Louisiana State University (LSU) Human Development Center. Liz says, "Advocacy is a slippery slope. It is not always easy to maneuver and conquer. But, it is something that must be done to ensure that change is made!!" Liz is mom to Dustin who is 19 and has Down syndrome. Drawing from her professional and personal experiences, Liz will be sharing how to utilize state trainings and resources.
Like all of the "Voices of Parents" panelists, Denise Gehringer wears many hats. She is mom to an adult son Jake who has Down syndrome, President of the Down Syndrome Association of the Midlands Board, Executive Director of the Sheltering Tree, and a new grandma! Denise says, "Legislators need information to make informed decisions and votes. They are not experts on every topic. It is highly important that they hear about the lived experience of advocates. I believe everyone can impact change, so find a way to make your voice heard!" She will help participants achieve this goal with her presentation, "Solving Issues Through State Legislation:  The Path from Concept to Reality."
Tony Zanfordino is a repeat panelist for Advocacy Training Boot Camp. Last year, Tony led an excellent session, "Engaging People of Color in Advocacy." In addition to serving as President of Down Syndrome Association of Southern Maryland (DSASMD), he is part of the Maryland Down Syndrome Advocacy Coalition (MDAC). He will be sharing about "Building and Engaging in State Coalitions."  Tony's advice to advocates is, "Be the voice for change for those who may still be learning to speak for themselves." Tony's 15-year-old son Stormie will be participating in his first NDSC Youth and Adult Conference is also one of the actors in the "Model and Not-So-Model Meetings" skit.
If you are attending the convention, you will want to hear these Voices of Parents at Advocacy Training Boot Camp, Sunday, June 26, 8:30 AM – 12noon. If you cannot make it to boot camp, all boot camp presentations and resources will be housed on the NDSC website under the Policy and Advocacy tab.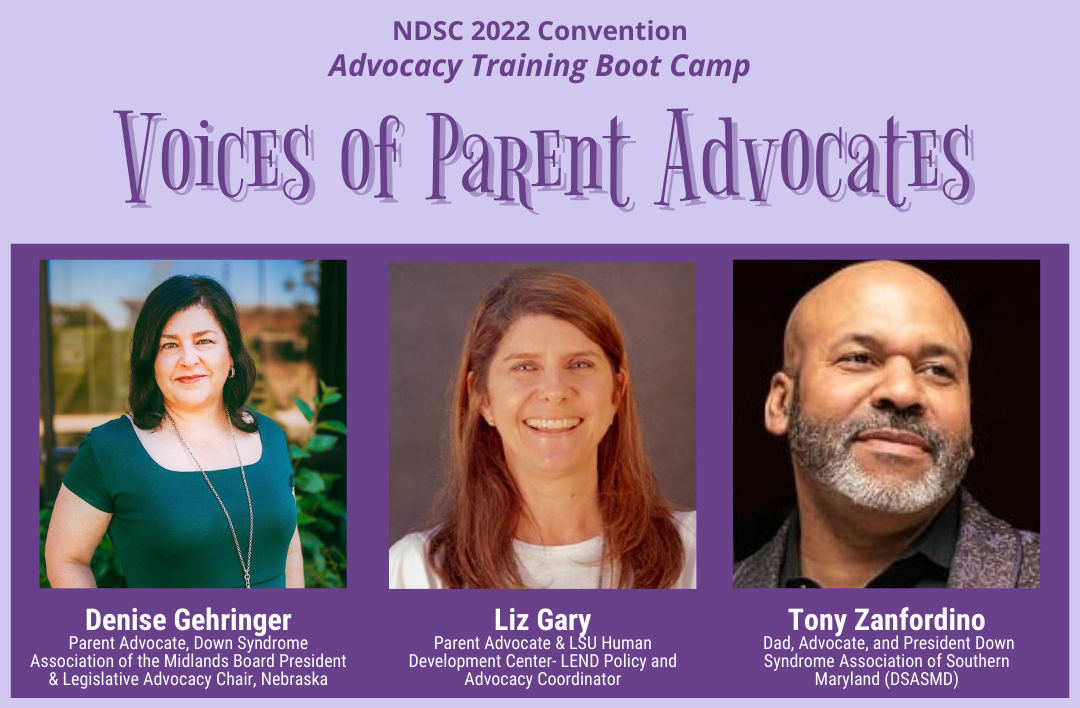 Policy & Advocacy Director to step down to join Public Policy Council  
NDSC is sad to announce the upcoming departure of Policy & Advocacy Director Heather Sachs, effective July 15, 2022 after the NDSC Convention. Heather has served as NDSC's Policy Director since 2017 and has been an advocacy leader in the national Down syndrome community for over a decade at the national, state, and local levels. As NDSC's Policy & Advocacy Director, Heather founded NDSC's Advocacy Training Boot Camp and NDSC's nationwide grassroots advocacy program, the National Down Syndrome Advocacy Coalition (NDAC), which helps to educate and mobilize advocates from all over the country and is now over 500 advocates strong. Heather has been responsible for restructuring NDSC's policy team and overseeing NDSC's policy agenda in the areas of community integration, education, employment, financial empowerment, healthcare, housing, transportation, and Medicaid. On behalf of NDSC, she has also served as a leader of the Collaboration to Promote Self-Determination and longtime Co-chair of the Financial Security Task Force for the Consortium for Constituents with Disabilities.
Upon stepping down from the Policy Director role, Heather will immediately join NDSC's bipartisan Public Policy Council, so will continue to play a role in developing and implementing NDSC's policy agenda. In explaining her departure, Heather explained, "It is time for me to step back and focus on my family as well as some projects to serve my local community." She continued, "NDSC is an amazing organization with the best Policy Team in the country, and I will continue to support it for many years to come."
NDSC is grateful to Heather for her many years of service. We have already begun our search for a new Policy Director. Please consider applying if you have experience in policy/advocacy work and live in the Washington DC area.
Update on Funding for Home and Community-Based Services (HCBS) 
Home and community-based services (HCBS) provide a variety of opportunities for Medicaid beneficiaries to receive services in their own home or community rather than in institutions or other isolated settings. These critical services range from personal care assistance, to job coaching, to home cleaning and maintenance. Unfortunately, there are over 800,000 people in the U.S. currently on waiting lists to receive HCBS, reflecting decades of underinvestment in this program and the direct care workforce that supports HCBS beneficiaries.
In March 2021, the American Rescue Plan Act (ARPA) was signed into law with Medicaid HCBS funding included to enhance and expand HCBS. ARPA offered states the option to claim an additional 10 percentage point increase in federal match (FMAP) for a three-year period from April 1, 2021 to March 31, 2024, which is roughly $12.7 billion. This period of time for states to use the funds has recently been extended by the Centers for Medicare & Medicaid Services (CMS) to March 31, 2025. This funding must be used to supplement, not supplant, the level of state funding on HCBS and implement, or supplement the implementation of, one or more activities to enhance, expand or strengthen HCBS. It will also help expand states' capacity to provide critical services and meet the needs of family caregivers and people on HCBS waitlists. Moreover, states can use these funds to tailor HCBS activities based on the needs and priorities of their residents. CMS has provided guidance on the usage of these funds as states design their plans.
In addition to the HCBS funding in ARPA, the Biden Administration has proposed significant additional investments in HCBS through the President's budget request of $500 million and $400 billion in the American Jobs Plan, and Congress has been working on securing additional funding through the Build Back Better Act, which proposed $1.75 trillion for HCBS. Unfortunately, the Build Back Better Act (also known as the "reconciliation bill") has been stalled in the Senate and is unlikely to move.  Although the Build Back Better Act is stalled, NDSC's advocacy for increased HCBS funding continues. NDSC is working with its national disability partners to advocate for the inclusion of HCBS funding in a different bill this session. NDSC encourages its members to call their U.S. Representatives and Senators at 202-224-3121 and ask them to support funding for HCBS.  
SSI Savings Penalty Elimination Act
NDSC continues to advocate for the passage of the SSI Savings Penalty Elimination Act (S. 4102), a bipartisan bill that has been introduced in the Senate that would raise the asset limits for Supplemental Security Income (SSI) to $10,000 for individuals and $20,000 for couples. Since 1989, the SSI asset limitation has been $2,000 for individuals and $3,000 for married couples. By raising the SSI asset limits, this new bill will enable SSI beneficiaries to save more money without jeopardizing their benefits. The SSI Savings Penalty Elimination Act will also eliminate the marriage penalty on asset limitations for SSI recipients since the amount for a married couple is double the amount for an individual instead of a reduced amount (unfortunately, the bill does not address other aspects of the marriage penalty besides the asset limitation). This bill would index these limitations to inflation annually so increases in asset limitations would occur more regularly. NDSC strongly supports this bill and has issued an Action Alert. We encourage you to contact your legislators and ask them to support this bill.
Opportunity to Comment on 504 Civil Rights Regulations 
The US Department of Education Office of Civil Rights (OCR) has announced that it intends to propose amendments to the Department's regulations that implement Section 504 of the Rehabilitation Act of 1973, a landmark civil rights law. These regulations prohibit discrimination on the basis of disability in all programs or activities that receive Federal financial assistance. OCR is seeking written suggestions from the public about how best to improve the current regulations. This includes plans to gather public input on possible amendments to those regulations in order to strengthen and protect the rights of students with disabilities. Comments may be made following the instructions (and are requested by end of June). NDSC is working with other national organizations to analyze how the current 504 regulations could be improved.
State of the Art Conference 
Register now for the State of the Art Conference on Inclusive Postsecondary Education and Individuals with Intellectual Disability that will take place on October 19-20, 2022 at Syracuse University. The theme this year is A Decade of Progress at State of the Art: Exploring the Next Frontier of Inclusive Higher Education. NDSC is pleased to be a long-time member of the organizing committee and sponsor of this conference that brings together colleges, universities, researchers, program staff, parents and self-advocates to learn about the current state of research and practice in the field of inclusive higher education, and to network with each other. The parallel Student Leadership Conference brings current and prospective college students into the conversation with opportunities to learn useful tools for the transition to college life, expand their skills as student advocates and leaders, and meet peers from across the country. The State of the Art Conference (SOTA) provides opportunities for Conference speakers include faculty and staff from postsecondary education initiatives, parents, self-advocates, and other experts—sharing effective practices and leading group discussions. Learn more and register.
NDSC Compensatory Education brief 
NDSC's policy team recently released a brief on compensatory instruction due to lost instruction or services during the COVID pandemic. The brief explains this issue in clear terms and provides links to important U.S. Department of Education (ED) guidance, a policy letter, and a press release on a recent ED Office of Civil Rights settlement on this issue. Read the brief.
New TIES Parent Brief on Accessing Communication Supports 
The TIES National Technical Assistance Center on Inclusive Practices and Policies  recently released the latest parent brief  co-authored by NDSC's Ricki Sabia, called Communication Supports for Students with Significant Cognitive Disabilities: What Parents Need to Know  Find all the Parent Briefs HERE. TIES staff will be presenting a workshop at the NDSC Convention, TIES Center: Federally Funded Inclusion Toolkits and Resources for Parents and Educators, at 9:30am on Saturday June 25. You can check out all the TIES resources at https://tiescenter.org/.
Ending Corporal Punishment in Schools 
A recent article describes the current use of corporal punishment in schools, including a map showing where it is still permitted. We know that students of color, especially those with disabilities, are more often the victims of these practices and that the harm is psychological in addition to physical. That is why NDSC supports the Protecting Students in School Act, which would ban corporal punishment in schools that receive federal funding. Senate bill House bill
CDC Update School Guidance 
The Centers for Disease Control (CDC ) released updated guidance for K-12 and early care and education programs. As part of this guidance the issue of reasonable accommodations regarding masking is raised, and there is also a statement that students who need these accommodations should not be segregated. "Students with immunocompromising conditions or other conditions or disabilities that increase risk for getting extremely sick with COVID-19 should not be placed into separate classrooms or otherwise segregated from other students." There is also a "Frequently Asked Questions" section and guidance for overnight camps. For more information on disability rights during COVID, visit U.S. Department of Education's Disability Rights page.