Policy & Advocacy Newsline ~ March 2022
Congress Passes Spending Package 
Nearly halfway through the fiscal year, Congress has finally passed, and President Biden has signed, a $1.5 Trillion omnibus spending package for the fiscal year 2022, as well as a four-day stopgap measure (continuing resolution) extending current funding levels through March 15 to ensure there's no government shutdown. Although a $22.5 billion measure to provide more COVID relief was removed last-minute over disputes regarding how it would be funded, the appropriations package does include increases for special education, respite care, and home and community-based services. Some noteworthy increases include:
$2.9 billion for Workforce Innovation and Opportunity Act State Grants, an increase of $34 million above the FY 2021 enacted level 

 
$235 million for Registered Apprenticeships, an increase of $50 million above the FY 2021 enacted level. 

 

$399 million for Home and Community-based Supports and Services (HCBS), an increase of $6 million above the FY 2021 enacted level 

 

$42.6 billion, an increase of $2 billion over the fiscal year 2021 enacted level for K-12 Education, including Individuals with Disabilities Education Act programs

 
Bill to End Medicaid Estate Recovery 
A bill to prohibit Medicaid estate claims, except in the rare cases where benefits were incorrectly paid, has been introduced in the House by Representative Jan Shakowsky (D-IL). The Stop Unfair Medicaid Recoveries Act (HR 6698) would repeal the current federal requirement that state Medicaid programs seek reimbursement from Medicaid long-term services and supports (LTSS) from the families and estates of disabled individuals after they die. Although rarely enforced, this Medicaid reimbursement law can discourage people from enrolling in Medicaid and threaten the financial stability of families. NDSC has signed a letter of support for this bill. 
White House Announces New Actions to Address Needs of People with Disabilities during COVID-19 Pandemic and Recovery 
The White House recently released a Fact Sheet describing previous steps and new actions the Administration is taking to protect people with disabilities who are more vulnerable to contracting COVID and whose illness tends to be more severe. These actions include guidance to schools to help students with disabilities safely return to classrooms, expanding the Disability Information and Access Line (DIAL) (1-888-677-1199) to support disabled individuals who need assistance using at-home tests distributed by the Administration and support in finding alternatives to at-home testing, making COVID-19 tests more accessible, and distributing N95 masks to people with disabilities through state and local organizational partners. Additionally, the Centers for Disease Control (CDC) finally added intellectual and developmental disabilities to the list of medical conditions at higher risk of contracting COVID and getting more severely ill from the disease. 
Introducing Advocacy Matters  
My name is Jawanda Mast, and I am excited to join the NDSC Policy & Advocacy team as the Grassroots Advocacy Manager. I have been involved with disability policy advocacy as a parent, volunteer, board member, executive director, staff member, and consultant since my daughter Rachel was born with Down syndrome almost 23 years ago. I have worked alongside many of you and look forward to meeting new advocates and collaborating with you to make positive policy changes for people with Down syndrome. If you want to learn more about me, see my bio on the NDSC website. 
 I am also excited to introduce our new Policy & Advocacy Newsline feature, Advocacy Matters. Each month, we will feature a National Down Syndrome Advocacy Coalition (NDAC) member or group and some of the grassroots work being done across the country. Please feel free to tag us on social media or drop me an email at jawanda@ndsccenter.org to alert us to the work you are doing. I hope this feature will be an educational and encouraging space for advocates.  
This month we proudly feature NDAC member: Cara Bledsoe Sims. Cara lives in Bay Springs, Mississippi, with her husband Jeff, son Ryan, and younger son Cole who has Down syndrome.  
Shortly after Cole's birth, Cara came across an article about organ transplant nondiscrimination legislation. Cara, a former Special Education teacher, said she had no idea this was a thing until she read about it on social media. Of course, her immediate thought was, could Cole be denied an organ transplant because he has Down syndrome? What about the students she had worked with as a special educator and other friends who had intellectual disabilities? She wanted to learn more, and she wanted to do more.  
Cara admits she was afraid and was not confident in her ability to help get legislation passed, but she took a leap of faith, started educating herself, and connected with other advocates and policy experts. One advocate who had passed similar legislation provided her with the draft legislation to use. Mississippi State Representative Lee Yancey (R) was a friend and agreed to sponsor Cole's Law. Cole's Law, named for her son Cole, would prohibit medical providers from denying individuals access to organ transplants solely based on disability. That was in 2020. Then, COVID-19 hit, and Rep. Yancey (R) was diagnosed with cancer and was undergoing treatments. Cole's Law did not make it out of committee. 
Cara did not give up and tried again in 2021. This time, Cole's Law passed the House unanimously but was never brought up in the Senate. Cara believes this was in large part due to other issues dominating the state legislative agenda.  
By this point, Cara was very discouraged and began to take the lack of passage of the bill personally. Despite the previous results, she tried again. She sought input from policy experts including, NDSC Policy and Advocacy Director Heather Sachs and more advocates who had passed similar legislation in their states including, NDAC member Lindsay Robertson. Again, Representative Yancey (R) introduced the legislation.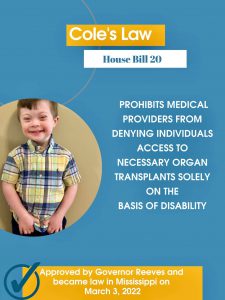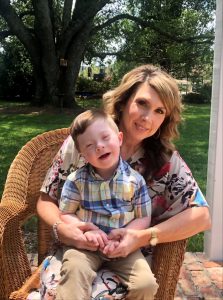 The third time was the charm. Cole's Law made it out of the House and Senate committees and passed with the overwhelming support of the full Mississippi Legislature. Just a few weeks ago, Governor Tate Reeves officially made Cole's Law the law in the State of Mississippi. 
Cara gives credit to everyone who offered their assistance for pushing this law across the finish line. In addition to guidance from professionals and parent advocates, she says utilizing social media to help with the advocacy efforts was key. She launched the Cole's Law social media page and used the Mississippi Moms of Children with Down Syndrome Facebook group she moderates to educate and involve people from across the state. In the end, she believes the key was all the advocates from the Facebook group reaching out to state legislators with their personal stories and getting them to support the bill.  
Cara's story is a great illustration of persistence and the key aspects of grassroots advocacy. Personal stories matter and impact change. Kudos to Cara for staying the course.  
This is a win for Cara, families, and all Mississippians with disabilities. #advocacymatters 
TIES Center on Inclusive Practices and Policies: Update 
NDSC Senior Education Policy Advisor and TIES Center Parent Liaison, Ricki Sabia, is the co-author of a new parent brief recently released by the TIES Center that debunks 6 myths about including students with the most significant cognitive disabilities in general education classrooms. We thank the NDSC advocates who shared the myths they confront daily with Ricki Sabia for this document. Many of the issues raised by the advocates are discussed in the context of these six myths. There are also several other TIES parent briefs co-authored by Ricki on inclusive practices and policies. If you are attending the NDSC Convention in June, the TIES Center will be presenting on Friday at a Deep Dive session on inclusion and belonging, as well as at a workshop on Saturday morning that will discuss the parent briefs and other important resources, including an inclusive IEP planning tool. 
Article on Diplomas and Curriculum for Students with Significant Cognitive Disabilities 
Ricki Sabia was interviewed for an article explaining the federal laws and policies that impact decisions regarding diplomas and curriculum for students with significant cognitive disabilities. There is also a focus on California's policies. 
Revised Fact Sheet on Students with Disabilities in Private Schools 
The U.S. Department of Education recently released a revised guidance called, Questions and Answers on Serving Children with Disabilities Placed by Their Parents in Private Schools. Disability Scoop also published an article on the guidance. Disability Scoop offers two free articles per month.  
NDSC Signs on to Civil Right Principles for Early Care and Education 
The Leadership Conference on Civil and Human Rights, (LCCHR), along with 46 civil rights and education organizations, recently released their Civil Rights Principles for Early Care and Education. NDSC is one of the 46 organizations that signed this important document. These principles are part of the LCCHR Coalition's efforts "to engage and educate diverse stakeholders and policymakers in pursuit of an early care and education system that offers meaningful equal opportunity and success for all children, especially those who have been historically marginalized." These principles can be read in English or Spanish.