Policy & Advocacy Newsline ~ September 2022
Please Welcome NDSC's New Policy & Advocacy Director! 
The NDSC is excited to welcome Cyrus Huncharek as the new Policy and Advocacy Director this month. Before joining NDSC, Cyrus was a Senior Public Policy Analyst at the National Disability Rights Network (NDRN) where he oversaw several policy areas impacting people with disabilities. Prior to his work at NDRN, Cyrus worked as a Government Affairs Coordinator for the National Parent Teacher Association (National PTA), taught high school English in South Dakota through Teach For America, and served as a Learning and Development intern for the White House Office of Administration where he developed e-learning courses for executive office employees. He holds a B.A. in Government from the University of Texas at Austin. Cyrus' experience as a classroom teacher and prior work on special education policy motivates him to now work toward an improved world for individuals with Down syndrome.
Advocacy Matters  
Family:
Husband John and children Ed (27), Jovie (16), and Ron (13) who has Down syndrome  
How did you get involved in advocacy efforts? When my son Ron was born with Down syndrome, I quickly learned if he was going to be included, I would have to lay the groundwork. I started getting involved and learning everything I could.  
You are an NDAC member, and your group has an NDAC membership. Why do you believe it is important to be a part of NDAC and NDSC's policy advocacy efforts? Advocacy is not just local. Helping others advocate is part of the learning and self-discovery process. National efforts impact local and state policy and can be even more important to an individual family in the long-term.  
In your role as the DSAMT ED, you emphasize policy with your local members. You collaborate with a host of other organizations and people in Middle Tennessee to advocate for policy changes and have had some successes. What is the most creative advocacy project you have done? We partnered with Autism Tennessee, and with support from the Tennessee Developmental Disabilities Coalition, to do a project called "Our Stories." We trained advocates, mostly individuals living with Autism and/or Down syndrome, on how to tell their stories. We compiled these stories and made a video that was shown at a dinner we co-hosted for Tennessee legislators. The response was unbelievable. At the end, legislators stood up and offered to help address some of the issues that were illuminated in the video. It was powerful.  
You were able to pass the Down Syndrome Information Act in Tennessee. What are other bills you have helped to pass?  
Organ Transplant Nondiscrimination 

Katie Beckett Waiver 

ABLE  

Elimination of sub-minimum wages 

Step Up Legislation (to include postsecondary program scholarships) 

Down Syndrome License Plate – The revenue from the license plates funds our state-wide advocacy programs and our Sunshine program (support for members who are hospitalized) 
Personally, what advocacy related achievement or project are you most proud of? My daughter, Jovie, is Autistic. Seeing her become an incredible self-advocate and advocate for her brother and others is the best.  
What advice do you have for beginner advocates? Just do it. Do not be scared. Tell your story as only you can. You will be shocked at how influential you can be. 
What is a fun fact about you? I quilt a lot. It is a stress reliever for me, and we all need a little self-care. 
Alecia Talbott advocating with Will McMillan, Self-advocate & graduate of Vanderbilt Next Steps program.
Save the Date!
NDAC is the Grassroots Advocacy program of the National Down Syndrome Congress. NDAC members are advocates of all abilities and levels of advocacy experience. Learn more and/or join at NDAC FAQ.
Congratulations Stephanie Smith Lee! 
NDSC Senior Policy Advisor, Stephanie Smith Lee, was honored at the Big Game Ball as the "Individual of Impact" for her long-standing and successful leadership in promoting inclusive higher education for students with intellectual disability (ID). Inspired by her late daughter, Laura, who had Down syndrome and wanted to go to college, Stephanie has been instrumental in expanding inclusive higher education through changing laws, obtaining federal funding, creating state-wide coalitions, and leading the development of model standards for programs for students with intellectual disability.  
Stephanie is an expert in disability policy with over thirty-five years of experience, including serving in senior Congressional staff positions. Since her daughter was born in 1982, she has led many successful disability advocacy efforts at the local, state and federal levels, including playing a key role in the reauthorization of IDEA, the federal special education law. As the Director of the Office of Special Education Programs in the US Department of Education, Stephanie was responsible for IDEA implementation.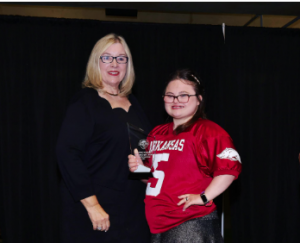 Award winner, Stephanie Smith Lee, and presenter, Rachel Mast, at the Big Game Ball. 
Resources for New School Year
With the new school year beginning, it is an excellent time to review all the resources for parents, educators and administrators developed by the TIES Center on Inclusive Practices and Policies for Students with Significant Cognitive Disabilities. You can find specific information for all these groups under the Stakeholders Section of the "About Tab." A few examples are below. NDSC partners with the TIES Center in a parent liaison role. 
Resource to understand how the Least Restrictive Environment provisions of IDEA are interpreted in your state.
Parent brief debunking popular myths that create barriers to inclusion.  
Report that serves as a guide for local school districts and state education agencies to consider whether the present level of educational inclusion of their students with the most significant disabilities is fully consistent with what the law requires.
NDSC is also a partner in the Educating All Learners Alliance (EALA). The EALA website provides many helpful resources for families and educators.  
 "The Inclusive School Spotlight Series," brought to you by the EALA and the Center for Learner Equity, which highlights schools that are using innovative and promising practices to improve learning opportunities and outcomes for students with disabilities.  
Article on the use of Universal Design for Learning to address the variability in how everyone learns.
The U.S. Department of Education recently released a back-to-school checklist for parents and families to use to engage school leaders about how they are supporting students with American Rescue Plan (APR) funds. This checklist elevates key evidence-based practices for supporting students' learning and mental health, and ensuring the safety of students and staff, which districts are encouraged to implement using APR and other COVID relief funds. Examples of states and schools who are using these funds are included. NDSC encourages families to discuss using some of these funds to assist in addressing staffing shortages that impact students with disabilities.
NDSC and Think College Call on US Department of Education to Improve Title XI Protections for Postsecondary Students with Intellectual Disability
NDSC and our colleagues at the Think College National Coordinating Center submitted joint public comments to the U.S. Department of Education on proposed changes to the regulations that implement Title IX of the Education Amendments of 1972 (Title IX). The purpose of the proposed regulations is to better align the Title IX regulatory requirements with Title IX's nondiscrimination mandate, and to clarify the scope and application of Title IX and the obligation of all schools.  
In our comments, we highlight challenges that students with intellectual disability (ID) in college programs often face if charged with a Title IX infraction or when needing to file a charge. The joint recommendations support proposed changes to Title IX that would allow a student to have assistance from someone in an advisory role throughout the process. We also recommend that the Title IX Coordinator be permitted to consult with staff for programs for students with ID, so that the staff may be of assistance to the student, if the student wants assistance. We also recommend that any auxiliary aids or other reasonable accommodations be provided to the student. As opportunities for inclusive higher education expand, it is important that the Title IX regulations be improved to meet the needs of these students.