Policy & Advocacy Newsline ~ February 2021
Update on COVID-19 Relief Legislation
Congress is currently negotiating a new COVID-19 relief package through the budget reconciliation process, allowing lawmakers to pass a relief package with only a simple majority. This process does not allow for policy changes but does allow increases to existing funding lines. We were pleased to see a 7.35% Federal Medical Assistance Percentage (FMAP) bump for Medicaid to support HCBS included in the House Energy & Commerce Committee mark-up of the COVID-19 relief budget reconciliation bill; the House Budget Committee is completing their own markup now, and then the entire budget package will be brought to the House floor for a vote. It is expected that the Democratic-led House of Representatives will pass this budget reconciliation within the next week, and then it will go to the Senate. We anticipate a COVID relief package to be finalized by March 2021.
NDSC is strongly advocating for priorities such as dedicated funding for Medicaid Home and Community Based Services (HCBS) and increased funding for education as well as other benefits to support individuals with disabilities and their caregivers during the pandemic. One such mechanism to address these priorities is the COVID HCBS Relief Act of 2021 (S. 151, H.R. 525), which NDSC has urged Congress to include in whatever package ultimately becomes law. NDSC recently sent out an Action Alert to encourage advocates to call their Members of Congress to urge them to include dedicated funding for HCBS and IDEA implementation during COVID-19. Please continue to contact your Senators and Representatives through this Action Alert to join in our advocacy efforts so that our priorities (particularly HCBS funding) are included in the final COVID relief package.
COVID-19 Vaccine Distribution
NDSC has been advocating for all people with Down syndrome and other intellectual and developmental disabilities (IDD), their caregivers, and support personnel to be given priority in vaccine allocation and ensure that vaccine allocation is done in an equitable, accessible way. Despite Down syndrome being included by the Centers for Disease Control and Prevention (CDC) in its list of underlying medical conditions that pose an increased risk of COVID-19, it is ultimately up to the states to develop individual plans. You can track the inclusion of people with disabilities in state vaccine prioritization plans through this COVID-19 Vaccine Prioritization Dashboard created by The Johns Hopkins Disability Health Research Center and Center for Dignity in Healthcare for People with Disabilities.
States are still adjusting their plans, so it is not too late to advocate to give people with Down syndrome, their caregivers, and support personnel priority in vaccine distribution. You are advised to reach out to your Governor's office and state Department of Health to make this request. We also suggest that you contact your local Down syndrome groups, your state chapter of The Arc, Developmental Disabilities Council, and disability rights network to inquire about vaccine advocacy efforts already in progress so that you can amplify existing efforts. Advocacy efforts by disability groups across the country have been successful.  States such as Ohio and Connecticut have recently placed people with Down syndrome into a higher priority phase for vaccine allocation as a result of these efforts.  Advocates in California were integral in the state's recent decision to extend priority vaccination to both paid and unpaid caregivers.
Including Adult Dependents in Stimulus Payments
NDSC has been advocating for the inclusion of adults with disabilities claimed as dependents to be eligible for economic impact payments under COVID-19 relief bills. Despite bipartisan support for such inclusion and the increasingly dire economic crisis facing many people with disabilities and their families, COVID-19 economic impact payments thus far have been limited to dependents under age 16. President Biden made clear in his American Rescue Plan that he supports expanding economic impact payment eligibility to adult dependents who have been left out of previous rounds of relief. NDSC sent a letter to Congress strongly supporting this provision of the President's plan and urging Congress to include it in the upcoming COVID-19 relief legislation. Not only is NDSC advocating to include adult dependents for future recovery rebates, but we are also advocating to provide dependents with the $500 retroactive payment they did not receive in the May 2020 CARES Act.
NDSC Policy Positions for the 117th Congress
We are pleased to release the new document NDSC Policy Positions for the 117th Congress (2021-2023). This robust policy agenda was developed by the NDSC Policy & Advocacy Team, NDSC Executive Director, and our bipartisan NDSC Public Policy Advisory Council. The document was approved and adopted by the NDSC Board of Directors at its January 2021 meeting.  It outlines NDSC's positions in the areas of COVID-19 Relief, Civil Rights, Direct Support Professionals, Education (including Postsecondary Education), Employment, Family Support, Financial Security and Poverty Benefits, Healthcare, Housing, Medicaid & Long Term Supports and Services, Research, Social Security, and Transportation. This document also designates NDSC's top tier priority areas of advocacy work for this Congress as: (1) COVID-19 Relief; (2) Education (both K-12 and Postsecondary); (3) Employment; and (4)  Medicaid Long Term Services and Supports.  We encourage you to read through the NDSC Policy Positions document and use this as a tool when speaking with policymakers.
The NDSC Policy team needs your help advocating for these positions. If you are not already a member, please consider joining the National Down Syndrome Advocacy Coalition. Joining this no-cost grassroots group of more than 400 members enables you to receive access to the policy team, attend quarterly webinars, receive access to our private Facebook group, as well, you will be provided with the tools to advocate effectively and effectively.
Healthcare
As a result of the COVID-19 pandemic, record numbers of people have lost their jobs and health coverage. President Biden has issued an Executive Order on Healthcare requesting the incoming Secretary of Health and Human Services to consider establishing a second Enrollment Period for Americans to obtain health insurance through the Federally Facilitated Marketplace. The Biden Administration has also informed the U.S. Supreme Court that it favors upholding the Affordable Care Act, reversing the position of the previous administration that had urged the justices to strike down the entire law amid the coronavirus pandemic. This spring, the Supreme Court is expected to rule on the constitutionality of the ACA in the California v. Texas case.
NDAC Group Member Spotlight: Down Syndrome Association of Connecticut (DS ACT)
While the Down Syndrome Association of Connecticut (DS ACT) represents families across the state, we are a small organization.  We try to amplify our political impact through collaboration with other disability rights organizations.  Recently though, we found we needed to act on our own.
Normally, we work closely with the Arc of Connecticut on legislative and policy advocacy.   The director of public policy provides us with information.  In turn, we share action alerts with our members and occasionally provide written or in-person testimony to legislative committees.  This year, however, due to the pandemic and timing, we had an opportunity to flex our advocacy muscles on our own.
A little background: in Connecticut, most individuals with Down syndrome live with their families, or, sometimes, on their own in the community.  There is very little funding for residential supports.  There are some "legacy" group homes run by the state, as well as a small number of homes run by non-profit agencies.  Our system sometimes results in discrepancies in treatment between those with residential supports and those without.
When the pandemic started, for example, we faced a situation where individuals with residential funding who were hospitalized were allowed to have a support person with them (either family or staff) while those who lived with their families were hospitalized alone.  The policy was only changed after a federal complaint was filed.  When news of the first vaccine came out, DS ACT feared that our families would be faced with the same dual access policy, so we started asking questions to see if we could head off trouble.
Two unusual things happened in December that pushed us into action on our own:  first, the U.K. study showing the very serious risk adults with Down syndrome faced from COVID-19 became available.  Second, our advocacy guide, the Arc policy director, left her position for a job with another organization.
The Governor had convened an advisory group of stakeholders to determine how vaccines would be distributed, consisting of three subcommittees:  science, to review scientific information; communications, to determine channels for getting facts to the public; and allocations, to determine how the population would be segmented and in what order the vaccine would be distributed.  The first problem we faced was that the stakeholder group representing people with disabilities, ostensibly our "voice" in the group, had been assigned to the communications subcommittee.  There would be no one speaking for us about our position in allocations or the need to address both those with D.S. in congregate settings AND those in the community.  In fact, the advisory group had established a three-phase framework for allocating vaccines, and people with Down syndrome were reportedly in phase 1c, expected to begin in May or June.  We went to work.
We started by reaching out to NDSC for background information, and to our connections in Connecticut government for information about the advisory committee.  Then we gathered permanent online links to scientific studies showing that adults with Down syndrome were at high risk, so that we could share the information directly.  We composed a letter laying out the data and sent it to the Acting Commissioner of the Department of Public Health, requesting that she share it with the advisory committee.
The CT Department of Public Health does not have a history of acting vigorously on behalf of people with disabilities, so we decided to call our members to action, as well.  With some serious internet sleuthing, we turned up a list of members of the allocation subcommittee, along with email contacts for them.  We sent our letter to each subcommittee member directly, and then we asked everyone on our mailing list to email in support.  In our call to action, we provided a copy of the letter we had sent, as well as a suggested outline and two simple examples of emails people could send.  We asked people to either cc us on the email or let us know when they sent their email.
The response was immediate!  Within hours we were getting copies of emails that had been sent to the committee, and fielding questions from people who wanted to help, but had never advocated on this level before.  The allocations subcommittee met via zoom just before Christmas, mentioning the many emails they had received from "the Down syndrome group." They voted to move people with Down syndrome – both those in the community and those in congregate care – up from phase 1c to phase 1b.  Shortly afterward the CDC added Down syndrome to its list of at-risk medical conditions, underscoring the importance of our effort.
It was an exciting and energizing moment for us.  Our "tagline" is, Many Hearts, One Voice.  We are proud of the way our community embodied that phrase and hope we can build on it for future advocacy work.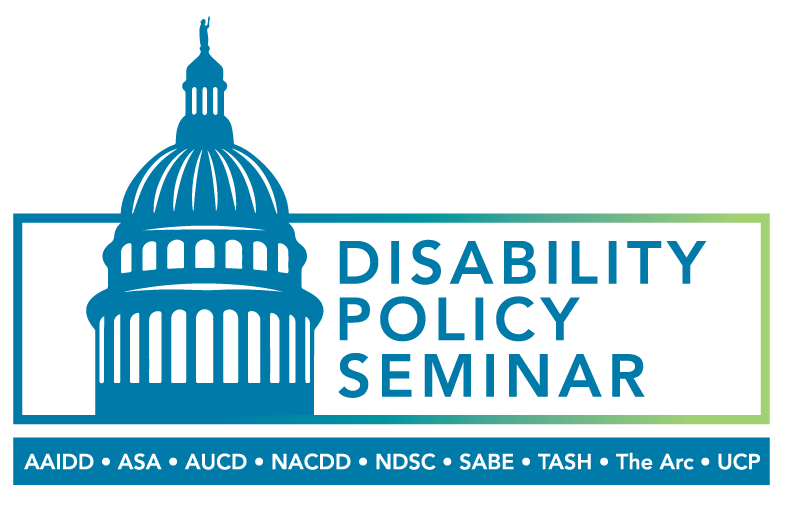 Registration is Open for the Virtual 2021 Disability Policy Seminar
With a new Administration, new Congress, and renewed calls for equity and progress during a continuing pandemic, advocacy is more important than ever! NDSC has partnered with The Arc, AUCD, AAIDD, NACDD, SABE, TASH, the Autism Society of America, and UCP to host the 2021 Disability Policy Seminar (DPS), which will be virtual this year. To be held April 19-22, DPS features three days of informative sessions led by policy experts and offers opportunities for participants to network virtually with other participants from around the country. On the fourth day, attendees will participate in a Virtual Hill Day where they can meet with Members of Congress and their staff to speak about the high-priority issues that affect them most from the convenience of their own computers. Registration is now open; we hope to "see" you there!
Secretary of Education Nominee Dr. Miguel Cardona
NDSC submitted questions for the hearing for the nomination of Miguel Cordona as Secretary of Education. Although none of the submitted questions were asked at the hearing, we believe these questions may have been used in private meetings. NDSC also referred to these questions in numerous meetings with education staff for key Senators on the Health, Education, Labor and Pension (HELP) committee arranged by the Leadership Conference for Civil and Human Rights.
The committee approved Dr. Cardona's nomination by a 17-5 vote. Next, the full Senate will vote on this nomination.
Watch the archived hearing and download Dr. Cardona's written testimony 
IDEA Funding
NDSC recently endorsed the Keep Our Promise to America's Children and Teachers (PACT) Act, introduced by Sen. Chris Van Hollen (D-MD) and Rep. Susie Lee (D-NV). This legislation was designed to put Congress on a fiscal path to fully fund Title I and the Individuals with Disabilities Education Act (IDEA) on a mandatory basis. The Advocacy Institute's IDEA Money Watch reported that in Fiscal Year (F.Y.) 2020, the Federal government provided only $12.76 billion to states to help offset the additional cost of providing special education and related services to students with disabilities nationwide. This represents just 13.2% of the additional cost, instead of the 40% of additional cost authorized for appropriation under IDEA,  leaving states with a $23.6 shortfall. IDEA Money Watch also posted an updated chart of state by state shortfalls.  
NDSC also signed a letter with the Consortium for Citizens with Disabilities (CCD) Education Task Force asking Congressional leaders to put forward an emergency COVID relief package that includes the Supporting Children with Disabilities During COVID–19 Act as introduced by Senators Chris Murphy (D-CT), Maggie Hassan (D-NH) and Chris Van Hollen (D-MD). This bill would provide $11 billion for state grants under IDEA (k-12), $900 million for early childhood education programs, $300 million for personnel development, $55 million under the Assistive Technology Act of 1998, and requires recipients of funds to report to Congress how this money is spent.  Congressman Schiff (D-CA) and Congresswoman Johnson (D-TX) also introduced a companion bill in the House.
2020 CARES Act education funding by State 
School Reopening Recommendations
The Centers for Disease Control and Prevention (CDC) recently released new guidance regarding the reopening of schools, including an executive summary. The U.S. Department of Education also released a companion piece of guidance titled COVID-19 Handbook Volume 1: Strategies for Safely Reopening Elementary and Secondary Schools.
New TIES Parent Brief on Standards-Based Grading
The TIES Center on Inclusive Practices and Policies for Students with Significant Cognitive Disabilities recently published a new parent brief on standards-based grading, co-authored by Ricki Sabia and Martha Thurlow. The purpose of this brief is to (a) identify the IEP team's role in grading and report cards, (b) provide ideas for how to talk to your child's teacher about grades and their meaning, and (c) suggest what to do if your child's school or district has not yet identified grading and report card considerations for students with significant cognitive disabilities in inclusive classrooms.