NDSC E-News ~ March 2022
Mission Moment
with NDSC Executive Director Jordan Kough
Donate to prioritize people with Down syndrome. Your gift will help ensure that NDSC's top Down syndrome self-advocates are headline sponsors of the 2022 convention.
Disability Scoop Feature: CDC, WHO Criticized for Perpetuating Down Syndrome 'Misinformation'
Earlier this month, The National Down Syndrome Congress released a statement criticizing the World Health Organization, the Centers for Disease Control and Prevention, and March of Dimes for categorizing Down syndrome as a birth defect.
Down syndrome is not a disease, illness, or birth defect. It is a genetic condition. Its causes are unknown and cannot be prevented, as these organizations in national and global positions of authority suggest, by prenatal or newborn care. Individuals with Down syndrome benefit from loving and supportive homes, early intervention, therapies, medical care, high-quality education, positive public attitudes, and welcoming communities. 
NDSC Statement                                  Disability Scoop Article
National Down Syndrome Congress Celebrates 50 Years of Serving the Disability Community and Gives Away $50,000.00!
On March 21, National Down Syndrome Congress hosted our 5th annual All Kinds of Heroes Golf Classic on World Down Syndrome Day at Bear's Best Atlanta Golf Course in Suwanee, GA.
World Down Syndrome Day, celebrated each March 21, is a global awareness day officially observed by the United Nations since 2012. The date March 21 is significant as it was selected to denote the uniqueness of the triplication (3) of the 21st chromosome which causes Down syndrome.
In the United States, the likelihood of a woman giving birth to a child with Down syndrome is 1 in 700.  NDSC Golf Committee chair, Brad.
Altone, would say he and his wife "hit the jackpot" when their 1 in 700 daughter was born. An amateur golfer has a 1 in 12,500 chance of hitting a hole in one.  Brian Michels beat the odds at the 2022 NDSC All Kinds of Heroes Golf Classic when he sunk an "ace" on the 11th hole at Bear's Best Atlanta Golf Course to win $50,000.00!
NDSC Golf committee member Kyle Mansfield and event volunteer, Tony Walls, were witnesses to the hole-in-one.  They expressed their excitement to complete affidavits to complete the claim submitted to American Hole 'n One, a national company located in Buford, Georgia that insured the winnings.
As National Down Syndrome Congress celebrates 50 years of serving the disability community we are thrilled to give Brian Michels $50,000.00  Proceeds from this tournament support NDSC outreach and education programs for people with Down syndrome, their families, and the professionals who serve them.  Additionally, the proceeds provide the means for NDSC to continue to advocate for the rights and proper treatment of those with Down syndrome with a priority focus on education, both k-12 and postsecondary, and employment. NDSC is committed to increasing inclusive opportunities for students with Down syndrome and other cognitive disabilities and advancing policies that have been shown to help people work. The 2022 NDSC Golf Classic Grand Marshal, David Saville, ClemsonLIFE graduate, and football team equipment manager exemplifies the priorities of NDSC's work.
Early Bird Registration Ends April 11th
Are you joining us in New Orleans, on June 23-26?  We hope the answer is YES!  If you've already registered, thank you.  If you haven't, what are you waiting for?  Early Bird pricing ends on April 11th, which means on April 12th conference prices will increase.  Visit the "Annual Convention" tab on our website to learn more about the 3 types of conference registrations, what's included, and what you can add on.  You can view the General Conference workshop schedule and Youth & Adults workshops and spotlights too. 
All convention happenings are under one roof at the Hyatt Regency New Orleans on Loyola Avenue.  Once you complete your registration, you will receive access to the hotel block. 
Take the Plunge With a Deep Dive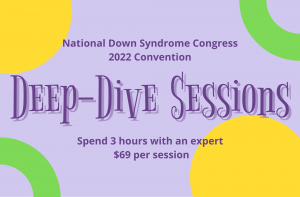 Are you interested in taking a deeper dive into a topic and the opportunity to engage more with the presenters?  Deep Dives are 3-hour sessions that are an optional add-on to your General Conference or Youth & Adults registration. There are two cycles available.
If you've already registered for the convention, but are interested in adding a Deep Dive, please call the NDSC Center to request a modification to your registration.
Learn More About Deep Dive Sessions
Calling all teachers, paraprofessionals, and administrators!  Are you looking for tips, tools, and strategies to support students with Down syndrome or other intellectual disabilities in your general or special education classrooms? Read about the schedule, presenters, and sessions.
June 23, 2022: 8:15 AM – 3:30 PM, Hyatt Regency New Orleans
Join us for a full day of learning, including materials, lunch, and a certificate to submit for CEUs for just $150.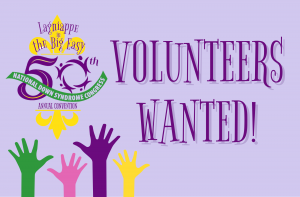 National Down Syndrome Congress 50th ANNUAL CONVENTION
June 23 – 26, 2022
Hyatt Regency New  Orleans
601 Loyola Avenue  New Orleans, LA 70113
The 50th Annual National Down Syndrome Congress Convention is coming to New Orleans where we require the support of more than 400 volunteers to make it a success.
We are recruiting volunteers for a fun and rewarding weekend.  No previous experience is necessary, just a desire to interact directly with people with Down syndrome and a willingness to have fun!
Questions, please email Nichole@ndsccenter.org or kidscamp@ndsccenter.org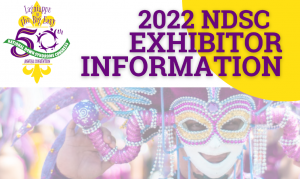 Convention Exhibitor and College Fair
Are you interested in having your products, services, or organization featured at the largest annual gathering of people with Down syndrome, their families, and professionals who serve them?
Register as an exhibitor at our 50th Annual Convention!
Our exhibit hall will be open Thursday, June 23 through Saturday, June 25.
The College Fair, presented by Think College, will be held on
Friday, June 24 from 3:00 PM – 6:00 PM
If you have any questions, email emily@ndsccenter.org.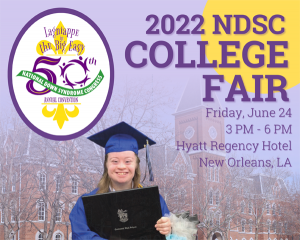 Register – College Fair                         Register – Exhibitor

The Annual Advocacy Training Boot Camp is Back in Person in 2022!
We can't wait to see our friends and meet new ones at the 5th NDSC Advocacy Training Boot Camp at the NDSC Convention in New Orleans.  Advocacy Training Boot Camp is scheduled for Sunday, June 26, 8:30 AM – 12:00 PM.
Aimed at beginner advocates, but open to any advocates from all stages of the journey, this year's focus is Local and State Advocacy. We are assembling a great agenda full of self-advocates, parent advocates, professionals, elected state legislators, and a collaboration with the Improvaneers. Boot Camp is free with NDSC Convention and Youth & Adult Conference registration. Separate RSVP is encouraged but not required. Watch for more information on specifics on social media and on the NDSC Website.
Presentation Sneak Peak:
Advocacy 101
How Families and Advocates Saved Individuals with Disabilities Education Act
Winning One Pagers
Model and Not So Model Meetings
State Legislator interviews by self-advocates
Voices of Parents: Successful State and Local Advocacy
Building and Engaging in a State Coalitions
Up Your Advocacy Game by Utilizing State Trainings & Resources
Solving Issues Through State Legislation- The Path from Concept to Reality
Take Home Your Action Plan!