NDSC E-News ~ October 2022
Mission Moment
with NDSC Executive Director Jordan Kough
---
Register to Vote! 
It is almost time to cast your vote! Election Day is November 8th. Disability voting is important. The late Justin Dart, often regarded as the "father of the Americans with Disabilities Act," famously reminded others, "The disability vote is extremely powerful, and people should vote as if your life depends on it – because it does!" If you need to vote early by mail or need to register to vote, check out these deadlines in your state.
---
Celebrating National Down Syndrome Awareness Month & National Disability Employment Awareness Month
NDSC is proud to kick off National Disability Employment Awareness Month (NDEAM) with this incredible employment success story featuring Precious Dodson, 51, of Memphis, Tennessee. Thirty-one years ago, she was part of an employment training program through the Duration Club of Memphis. After she completed the training in 1992, she was hired to work at Pizza Hut in Horn Lake, Mississippi. She continues to work there today, 30 years later!
Precious is a box cutter, and this requires her to prepare boxes for the pizza including placement of discount coupons and information on upcoming new pizzas. Being at Pizza Hut for over 30 years, she has seen many employees come and go. Many of them come back to visit and talk about their "happy times" working at Pizza Hut.
Precious' mom, Marie Dodson, says that she is "frugal" with her money. Precious says, "I buy my necessities like mouthwash, ranch dressing, cards for special occasions for my friends, and sometimes clothes. I have a debit card so my spending can be tracked. This helps protect my account."
According to the Horn Lake Pizza Hut manager, "Precious is a dedicated employee and doesn't like to miss work.  She will choose work over attending parades, dinners, or any other activity. Her heart is at Pizza Hut."
Precious and her parents Marie and Larry Dodson are longtime participants, supporters, and leaders in their local Down syndrome group, the Down Syndrome Association of Memphis and the Mid-South.
NDSC congratulates Precious on her 30 years with Pizza Hut. Thanks, you for sharing your employment success story as part of National Disability Employment Awareness Month.
During NDEAM, NDSC will be featuring employment stories of people with Down syndrome who are working in competitive, integrated employment. Watch for these on social media
---
Convention 2023 Call for Speakers
The 51st Annual Convention Call for Speakers is open!
General Conference speakers will have an opportunity to speak in a variety of different formats including Deep Dive Presentations, Interactive Workshops orPanel Discussions. Learn more about these formats here.
Youth & Adults Conference Team is also seeking proposals to build an engaging, educational and enlightening program for self-advocates (individuals 15 and older with DS) attending the Y&A Conference. This year, the Y&A Team has curated a list of workshop topics that we would like to incorporate into the conference. Learn more about this opportunity here.
---
Thank you and Farewell to Tamara
It is with great sadness that we announce that as Tamara has decided to step away from the NDSC. Please join us in thanking her for her service and time with the organization. Tamara embodies all that the NDSC stands for; as an advocate, as a Mom, as a Director, and as a person. She leaves us with a deep history of supporting many families and will leave behind many partnerships that we can only hope to sustain and replicate with future partners.
Tamara will leave behind a great number of friends and the NDSC family who have been helped and served by her, all of whom are deeply appreciative of her efforts. We know she will continue to do tremendous work in whatever she does next and we wish her all the best of luck in her future ventures (though for the moment, she plans to just take some time off). Thank you, Tamara! You will be missed.
---
Introducing NDSC's Newest Team Members
Erin Schmitz joins the team as the Convention Director.
Erin is a Certified Meeting Planner and a Certified Travel Industry Specialist. Erin has served as a Meetings / Conventions Director and a Catering Director for a 4-Diamond property in Scottsdale, AZ. She has also served a Director of Convention Sales and a Director of Group Sales for a Convention and Visitors Bureau. Erin is a graduate from the University of Northern Iowa, with a degree in Leisure Services, and a minor in Marketing.
Erin and her husband, Bruce, live in Iowa with their three children, Hayden, JD and Jacob, who happens to have Down syndrome. Erin and her husband are also co-founders of the FIRE Foundation of Northeast Iowa.
Erin has a true passion for meeting planning and tourism, as well as a great appreciation for the Down syndrome community.
Ashley Barlow joins our team as the Director of Education.
Before joining NDSC, Ashley worked as an attorney, representing families in special education and estate planning matters. Prior to going to law school, Ashley was a K-12 and university teacher. Ashley holds a degree in German Education from Miami University and received her JD from Salmon P. Chase College of Law. Ashley is on the State Advisory Board for Exceptional Children in Kentucky, as well as the Education Advisory Board and the Government Affairs Committee at the Down Syndrome Association of Greater Cincinnati, where she is also past president. She has presented on special education topics to parents, teachers, attorneys, and advocates with many organizations such as NDSC, Wrightslaw/ Institute of Special Education, and International Dyslexia Association. She also holds an Advanced Advocacy Certificate from the Council of Parents Attorneys and Advocates. Ashley and her husband live in Kentucky with their two boys, Griffin and Jack, who happens to have Down syndrome.
---
NDSC Website Highlight
NDSC is proud to be a leading national resource of support and information for anyone touched by or seeking to learn about Down syndrome, from the moment of diagnosis, whether prenatal or at birth, through adulthood. We have built a reputation as a leader through years of fostering a network of local and regional groups across the country to reach out and embrace thousands of people with Down syndrome, their families, friends, and the professionals who support them.
For parents and family members of individuals with Down syndrome, local organizations play a critical role in offering support, information, and resources to the families and individuals with Down syndrome, providing on-the-ground support in all corners of the United States. Did you know that we have an Affiliate Directory on our website to help you find a local Down syndrome organization close to you?
If you are a leader of a Down syndrome organization who would like us to consider adding your organization to our list, please email ndsc@ndsccenter.org.
---
Upcoming Events
Ages & Stages Webinars
English series will begin next month.
The Spanish Ages & Stages Series schedule is as follows: 
October 12, 2022 – 7:00 pm ET: "Sexualidad y síndrome de Down; lo que los padres deben saber". By: Ginecologa Teresa Aguilasocho Montoya
October 24, 2022 – 7:00 pm ET: "Identidad y Autoestima". By: Patricia Vidal Rojo
November 7, 2022  –  7:00 pm ET: "Como estimular habilidades comunicativas, de lenguaje y cognitivas a través del juego desde los 0 a los 6 años".  y: Fabiana Sevilla.
November 23, 2022 –  10:00 am ET: "Lactancia materna en niños con síndrome de Down. ¿Es posible?". By: Catalina Correa Allend
December 6, 2022 – 7:00 pm ET: "Cuidados de salud de personas adultas con síndrome de Down". By: Sebastian Valderrama Chan
January 14, 2023 –  10:00 am ET: "Estrategias de apoyo a funciones cognitivas y ejecutivas de primera infancia a edad adulta. Una mirada educativa" By: Andrea Lisboa.
…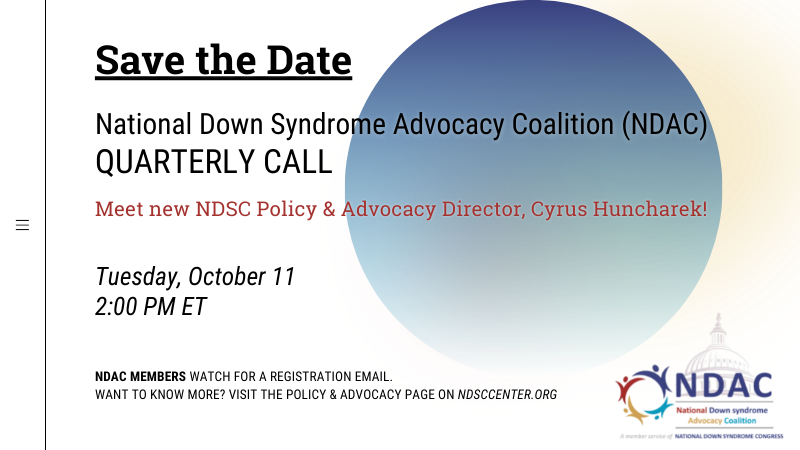 Want to join other advocates and use your voice for change for people with Down syndrome? Join the National Down Syndrome Advocacy Coalition (NDAC). Learn more or apply online at NDAC FAQ.
…
---
The above number is only available on the application, WhatsApp. It will not send using regular sms or imessage.