Policy & Advocacy Newsline ~ November 2021
Update on Infrastructure and Reconciliation Bills
After months of negotiations, the U.S. House of Representatives passed the $550 billion Infrastructure Investment and Jobs Act, strengthening the nation's infrastructure and making other improvements such as making public transportation more accessible and increasing access to broadband internet. This bipartisan bill, which passed the House by a vote of 228-206, had already been passed out of the U.S. Senate in August by a vote of 69-30, so no further action is needed by Congress. President Biden is expected to sign this bill into law today.
The House has not yet held a vote for the $1.75 trillion Build Back Better Act, also known as the "Reconciliation Bill," which is currently being scored by the Congressional Budget Office and is expected to be voted on the week before Thanksgiving.  If this bill passes the House, it will go to the Senate, where more changes may be made.
The Build Back Better Act contains a substantial number of provisions that would greatly benefit people with disabilities and their families, such as:
Home and Community Based Services: The bill contains $150 billion (over 10 years) for Medicaid Home and Community Based Services (HCBS), unprecedented for HCBS. States could use this funding to eliminate waiting lists for services and bolster pay for direct care workers. It would also permanently authorize the Money Follows the Person (MFP) program to help people with disabilities who want to leave congregate care settings like institutions and transition to living in their own home and community with appropriate supports.
Employment: The bill allocates $300 million to encourage states to build their capacity to provide competitive integrated employment for people with disabilities.
Education and Child Care: The bill contains $275 million for special education teacher training under Part D of the Individuals with Disabilities Education Act (IDEA). It also provides money for universal preschool, inclusive childcare programs, and behavioral health needs for people with intellectual and developmental disabilities.
Housing: The bill provides $150 billion for affordable housing, including rental vouchers and rental assistance.
Help for Families: The bill also contains numerous other provisions such as paid leave, extending the child tax credit (CTC), the earned income tax credit (EITC), nutrition assistance. and other forms of family support to help low and middle-income families.
Thank you for your advocacy thus far to get these provisions into the Build Back Better plan. Please use NDSC's Action Alert to contact your Members of Congress to advocate for the priorities listed above, particularly for HCBS.
Important Resources on Inclusion from the TIES Center
NDSC Senior Education Policy Advisor, Ricki Sabia, is the parent liaison to the TIES Center and a co-author of all the TIES parent briefs. The TIES Center recently published a new parent brief addressing the use of paraprofessionals in inclusive classrooms titled Inclusive Practices and Policies for Students with Significant Cognitive Disabilities.
More Resources From TIES
Special education has its fair share of myths and facts about inclusion for students with significant cognitive disabilities. In a  collaborative effort with the WA State Department of Public Instruction, the Myths and Facts About Inclusionary Practices document challenges those myths and highlights the facts of why inclusionary practices work for every student.
Myths and Facts About inclusion
A resource by Erik Carter and Elizabeth Biggs titled Creating Communities of Belonging for Students with Significant Cognitive Disabilities directly addresses the creation of school communities in which every student is included in all aspects of everyday school life. The resource describes ten dimensions of belonging. This "ready to use" resource includes a mini-guide that defines each dimension of belonging, provides snapshots of what it would look like, presents steps schools could take to promote change, and suggests areas of reflection for school community members.
Creating Communities of Belonging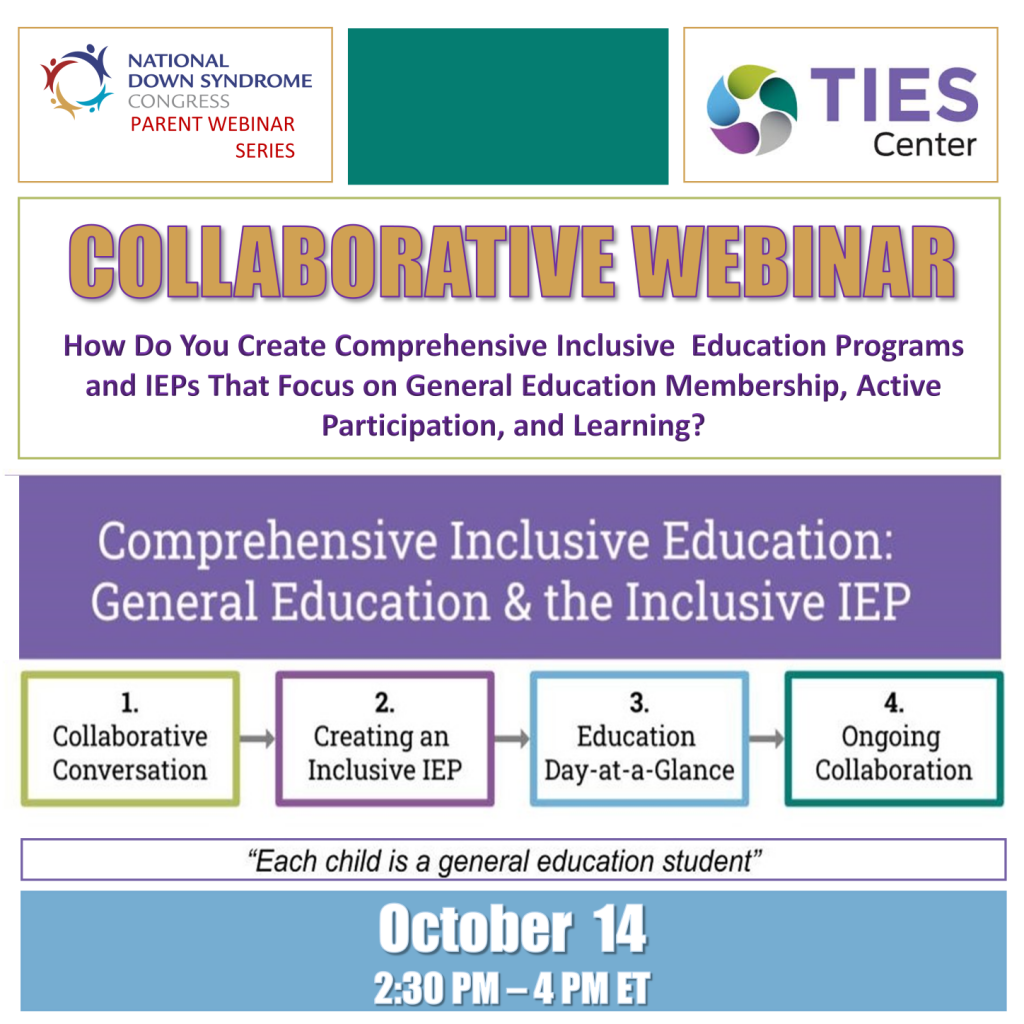 NDSC collaborated with the TIES Center to provide a webinar on inclusive IEPs. This webinar covered a TIES parent brief on developing inclusive IEPS as well as a comprehensive discussion for families and educators on planning for inclusive education programs that focus on General Education Membership, Active Participation, and Learning.
You can find the entire TIES Center library of resources on the TIES Center website. If you would like to receive notifications when new TIES Center resources are released, you can subscribe to the TIES newsletter at the bottom of the website homepage.
Senate Appropriations Bill for Education
The Senate appropriations bill for the Department of Education would increase IDEA funding. However, recently unveiled by Senate Democrats, the bill has a slightly smaller overall total for the Education Department than a House proposal from earlier this year. Highlights from the bill include:
An increase of $16.6 billion for a total of $33.1 billion for Title I aid for disadvantaged students under the Every Student Succeeds Act;
an $820 million boost to the number of mental health professionals in schools;
an increase of about $70 million, bringing the total to $270 million for Education Innovation and Research State;
an increase of $50 million, for a total of $58.8 million, for grants to improve the quality of their academic assessments,
an increase of $13 million for a total of $144 million to the Education Department Office for Civil Rights, and
an increase of $175 million in spending on Preschool Development Grants, for a total funding level of $450 million.
New U.S. Department of Education Resources
The U.S. Department of Education (ED) released a new resource, Supporting Child and Student Social, Emotional, Behavioral and Mental Health, which provides information and resources to promote mental health and children and students' social and emotional well-being. This resource highlights seven key challenges to delivering school or program-based mental health support across early childhood, K–12 schools, and higher education settings and presents seven corresponding recommendations. Students with disabilities are specifically included in this resource.
As part of its Return to School Roadmap guidance, the ED also released two new Q&As under IDEA Part C relating to the COVID-19 pandemic. The first Q&A affirms that state lead agencies and early intervention service providers are responsible for implementing a child find system that identifies, locates, and evaluates all infants and toddlers with disabilities (birth to age 3) who may require early intervention services.  The second Q&A addresses the provision of Early Intervention Services and focuses on developing and implementing Individualized Family Service Plans (IFSP). Both documents make clear that, regardless of the COVID-19 pandemic, or the mode of intervention or instruction, children with disabilities are entitled to FAPE, and infants & toddlers with disabilities and their families are entitled to appropriate IDEA Part C services.
Rights of Students with Disabilities to Receive Accessible Materials
The National Center on Accessible Educational Materials released a brief entitled, "The Right of Students with Disabilities Who Need Accessible Educational Materials to Receive These Materials in a Timely Manner." The purpose of this brief is to educate families and educators on the rights of students with disabilities to accessible educational materials and the timeliness of receiving these materials. This right is based on provisions in the Individuals with Disabilities Education Act (IDEA), as well as in the disability civil rights statutes Section 504 and Title II of the Americans with Disabilities Act (ADA).
Waiver of 1% Cap on the Percentage of Students Taking an Alternate Assessment
The Every Student Succeeds Act (ESSA), passed at the end of 2015, requires only students with the most significant cognitive disabilities to take an alternate state assessment.  It also limits the number of students that a state may assess with an alternate assessment to no more than 1 percent of all students in the grades assessed.  The law permits the U.S. Department of Education to grant a waiver to a state to assess more than 1 percent of students with an alternate assessment if it meets specific statutory and regulatory requirements.
 For those of you following your state's request for a waiver with respect to the 1% cap on the percentage of students who can take an alternate assessment, it is important to know the changes in the waiver requirements being permitted for the 2021-22 school year. The U.S. Office of Elementary and Secondary Education sent a memo to the states providing background on the waiver requirements and sharing changes for this school year.
You can learn more about your state's past waiver submissions and requests on the Advocacy Institute webpage.  This site also shows the steps each state has promised to take to meet the cap in the future.
State of the Art Conference
The 2021 State of the Art Conference on Inclusive Postsecondary Education and Individuals with Intellectual Disability (SOTA), held on November 8 and 9, was a success.  Over 500 students, parents, program staff, college,  university, and other professionals attended SOTA, the Student Leadership Conference, or College Fair.
The opening keynote of student leaders, moderated by Rebecca Cokley of the Ford Foundation, provided the students' unique perspectives on this year's theme of Inclusive Higher Education: Disability, Equity, and Social Justice. In addition, Nick Harmon, son of NDSC former Board member Julie Harmon, received the Laura Lee Leadership Award for his contributions to paving the way for inclusive higher education in Colorado.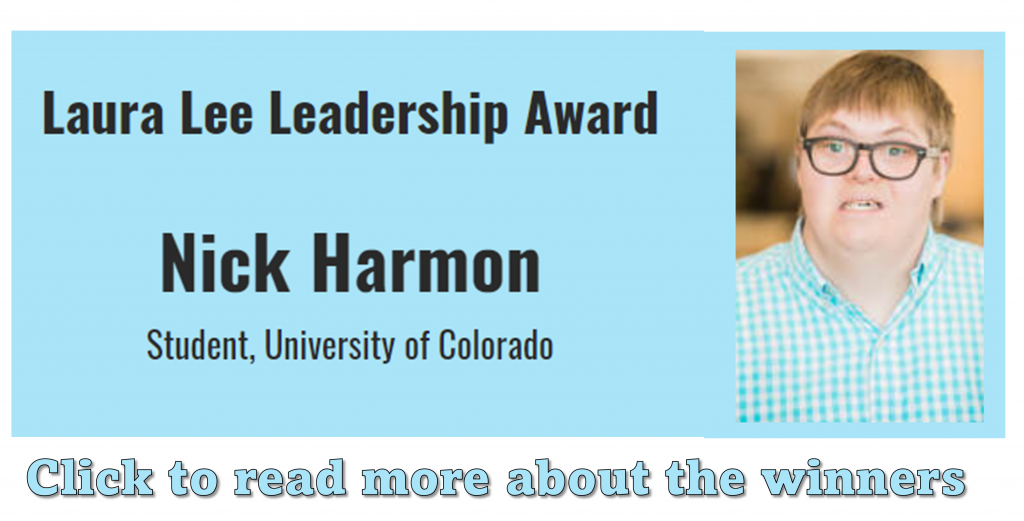 NDSC Senior Policy Advisor Stephanie Smith Lee presented at a plenary on State and Federal Policy and Needed Action and Progress on the Pathway to Accreditation. Visit the SOTA website for videos of the presentations. The SOTA College Fair is open (and free) through January, but you must register by November 23 to access the booths.
Register For the SOTA College Fair Now
NDSC is a long-time proud supporter of the SOTA Conference. We are pleased with this year's success and send our congratulations to all who made this event possible.