NDSC E-News ~ February 2022
Mission Moment
with NDSC Executive Director Jordan Kough
The NDSC Statement Regarding the Situation in Ukraine

The National Down Syndrome Congress (NDSC) is the country's oldest national organization for people with Down syndrome, their families, and the professionals who work with them.  We provide information, advocacy, and support concerning all aspects of life for individuals with Down syndrome and work to create a national climate where all people will recognize and embrace the value and dignity of people with Down syndrome. 
NDSC strongly condemns the atrocities occurring in Ukraine as inexcusable crimes against humanity.  We are particularly concerned about the disproportionate risk that those living with Down syndrome and other disabilities in Ukraine are facing at this time and during any time of crisis.  Due to the inaccessibility often involved with situations such as this, these populations are at a greater risk of violence and death, as well as the inability to access vital information regarding safety and evacuation. Additionally, those living apart from support systems in institutions and orphanages are increasingly cut off and under threat of abandonment during times of crisis. NDSC, along with international organizations, calls on the world's political leaders to ensure that those living in orphanages and institutions are considered and taken responsibility for during these uncertain times and that people with disabilities have access to the following: 
Humanitarian aid

Protections from violence, abuse, and ill-treatment
Information about safety protocols and evacuation procedures
Basic services including water and sanitation, social support, education, healthcare, transport, and information
We recently received news that a man who has been instrumental in many adoptions of orphaned Ukrainian children with Down Syndrome died while fighting the Russians over the past weekend.  Serge Zevlever was considered an adoption ambassador and helped dozens of families from the United States and Canada adopt children from Ukraine in the last decade. He was a cherished member of his communities, both in the United States and Ukraine, and he will be dearly missed. 
The loss of life, such as this, continues to grow each day, and we cannot abandon these most vulnerable communities.  We must act now to ensure those with Down syndrome, other disabilities, and all at-risk communities are not forgotten.
2022 NDSC Convention Registration Opens March 14 at 9 AM Eastern
Are you joining us in New Orleans, June 23-26?  We sure hope the answer is YES!
To get ready for registration, you will want to visit the Annual Convention tab on our website.  From the dropdown menu, learn more about the 3 types of conference registrations and what's included with each one.  Attendees will choose one (General Conference, Youth & Adults Conference, or the Siblings Conference) of three conferences to attend.
During registration, you can choose your add-ons like Deep Dives, register your little ones for Kids' Camp, and get your tickets for the Saturday evening banquet.
We will continue to upload more information about workshops and other important information to the website as it becomes available, so check back often.All of this year's convention is happenings are under one roof at the Hyatt Regency New Orleans on Loyola Avenue.
Once you complete your registration, you will receive access to the hotel block.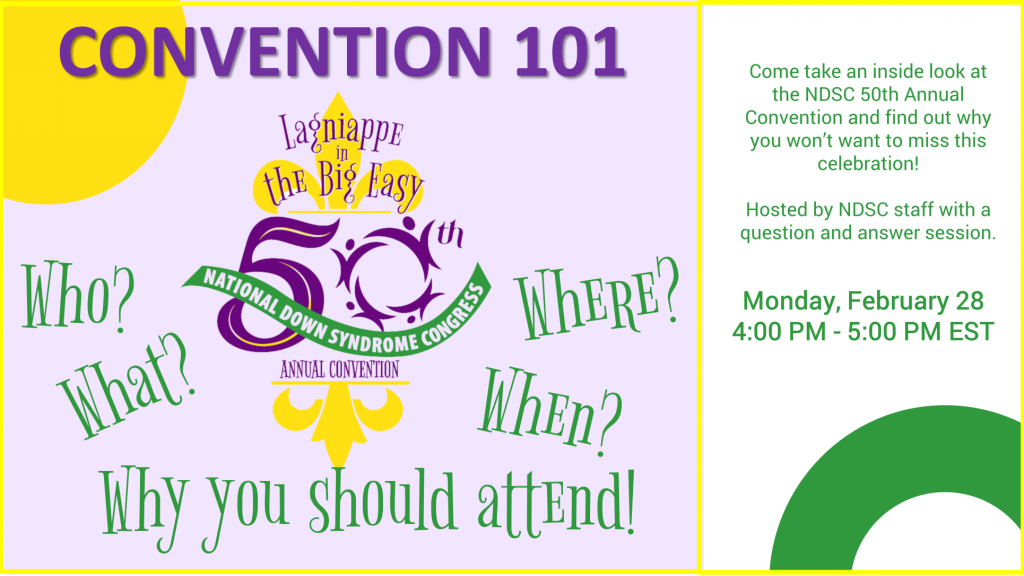 Did you miss our Convention 101 webinar?  You can catch up with the recording now!
Calling all teachers, paraprofessionals, and administrators!  Are you looking for tips, tools, and strategies to support students with Down syndrome or other intellectual disabilities in your general or special education classrooms? Join us for a full day of learning, including materials, lunch, and a certificate to submit for CEUs for just $150.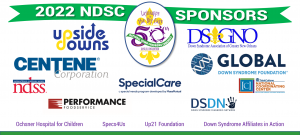 Get in on the Fun of the NDSC All Kinds of Heroes Golf Classic
We are less than three weeks away from the 5th Annual NDSC All Kinds of Heroes Golf Classic to be held on World Down Syndrome Day, Monday, March 21.
Not in Atlanta?  You can still get involved when you purchase Fireballs, our version of a 50/50 raffle.  You can purchase your Fireballs for just $10 each for chance(s) at a cash prize. The more we sell – the more you win!
Join us on Facebook Live to watch the Fireballs hoisted up and dropped to the green below.  The first ball in the hole, or closest to the hole, will win a cash prize!
Thank you to all of our sponsors and partners supporting the event
Debunking Myths About Inclusive Education for Students with the Most Significant Cognitive Disabilities
Controversy often surrounds the inclusion of students with the most significant cognitive disabilities in the general education classroom and curriculum.  In the newest Parent Brief Debunking Myths about Inclusive Education for Students with the Most Significant Cognitive Disabilities, Ricki Sabia and Martha L. Thurlow address common misconceptions in general education classrooms and curriculums debunking six myths surrounding the involvement of students with cognitive disabilities in general education.
Welcome to the Team!
We have three exciting new additions to our team this month. Please join us in welcoming Jawanda Mast, Emily Ajello, and Emily Artner.
Jawanda Mast is a national grassroots advocacy speaker and consultant, host of the disability blog The Sassy Southern Gal, and founder of the #321Advocate Social Media Advocacy Group.  She is a member of the National Down Syndrome Congress Advocacy Coalition and has been involved in disability policy advocacy since her daughter Rachel was born with Down syndrome almost 23 years ago.  Jawanda holds a Master's Degree from the University of Arkansas and was honored with the 2017 University of Arkansas Alumni Community Service Award for her body of advocacy work.
Emily Ajello is a nonprofit development professional with experience in event planning, social media content creation, and donor prospecting.  She has an undergraduate degree from Penn State University and is currently taking graduate school courses in the evenings at the University of Denver.
Emily Artner is a nonprofit development consultant and specializes in the visual aspects of the role.  She has expertise specifically in graphic design and web development.  Emily graduated from California Polytechnic State University, San Luis Obispo, in 2019 with a BA in English and a focus in Technical and Professional Communications.
Research Study Opportunities for Families and Individuals with Down Syndrome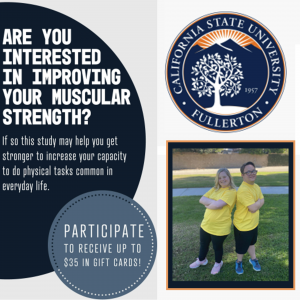 California University Fullerton is conducting a study and is looking for adults with Down Syndrome ages 18
to 45 who are:
new to exercise, willing to try a few tests, such as carrying bags or doing modified push-ups,
live with someone who is willing to help  with exercises, and
have a computer, laptop, phone or way of accessing the internet
Anyone who fits the requirements interested in participating in the study should contact Bradley Clark at B1Clark@csu.fullerton.edu.  For more information about the study call 857-278-3433 or email Sstrong@fullerton.edu. 
Massachusetts General Hospital is Seeking Volunteers with Down Syndrome for a Neuroimaging and EEG Research Study Aimed at Improving Language in Individuals with Down syndrome
Do you or a loved one have Down syndrome?  Are you interested in an experimental treatment aimed at improving language in individuals with Down syndrome between the ages of 18 and 30?
If so, you may be eligible to participate in a research study conducted at the Massachusetts General Hospital that is investigating a novel treatment using near-infrared light therapy.
The study consists of approximately 3 study visits in addition to 18 treatment sessions (3/week for 6 weeks).  During the study visits, you will be asked to complete neuropsychological testing, EEG testing, and an MRI scan.  You will receive either active transcranial photobiomodulation (t-PBM-NIR) or sham transcranial photobiomodulation (t-PBM-Sham).The study can be completed in 10 weeks. Subjects will be compensated for their participation, caregivers will receive a stipend, and travel costs will be reimbursed.
If interested in learning more, call 617-724-4539 or email pbm@mgh.harvard.edu.
The Notre Dame SPARC Project is Looking For Families Who May Benefit From Learning More About Communication and Conflict Resolution
Notre Dame SPARC is looking for families who have at least one child with an intellectual or developmental disability (IDD) of any age and one child without a disability who is between the ages of 10 and 18. Families participate by answering survey questions online, doing activities as a family via video conferencing with our team, and receive research-based information to review on their own.Families can earn up to $370 over the course of a year for being involved.We are enrolling new families into this program through May of this year.
To learn more contact the Notre Dame SPARC Project a ndsparc@nd.edu or 260-226-6363.