NDSC E-News ~ August 2021

Mission Moment
with NDSC Executive Director David Tolleson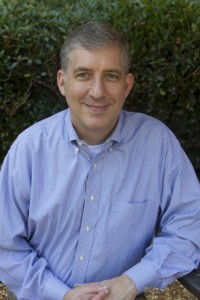 To me, back-to-school time has always felt more like the beginning of a new year than has the first of January. Whether as a child or as a parent, the start of a new school year has always signaled a time to wrap up the summer and start something new (and, hopefully, exciting!).
For the NDSC, this has been a successful summer of service, though not in-person as we had hoped. Our virtual 49th Convention was a big success, and last month's virtual Spanish Convention served families, medical and education professionals in 14 countries! Our Board and Staff have already begun planning for next year's return to live programming at our 50th Annual NDSC Convention in New Orleans. As you know, the situation with COVID-19 continues to evolve and the Board will be monitoring, adjusting and keeping you informed as the months go by. You can help ensure an in-person convention by getting fully vaccinated (which now includes 8-month boosters) and encouraging everyone you know who is eligible to do the same. By working together, we can save lives and get back to normal sooner than later!
With best wishes,
2nd Annual Soiree of Stars Virtual Gala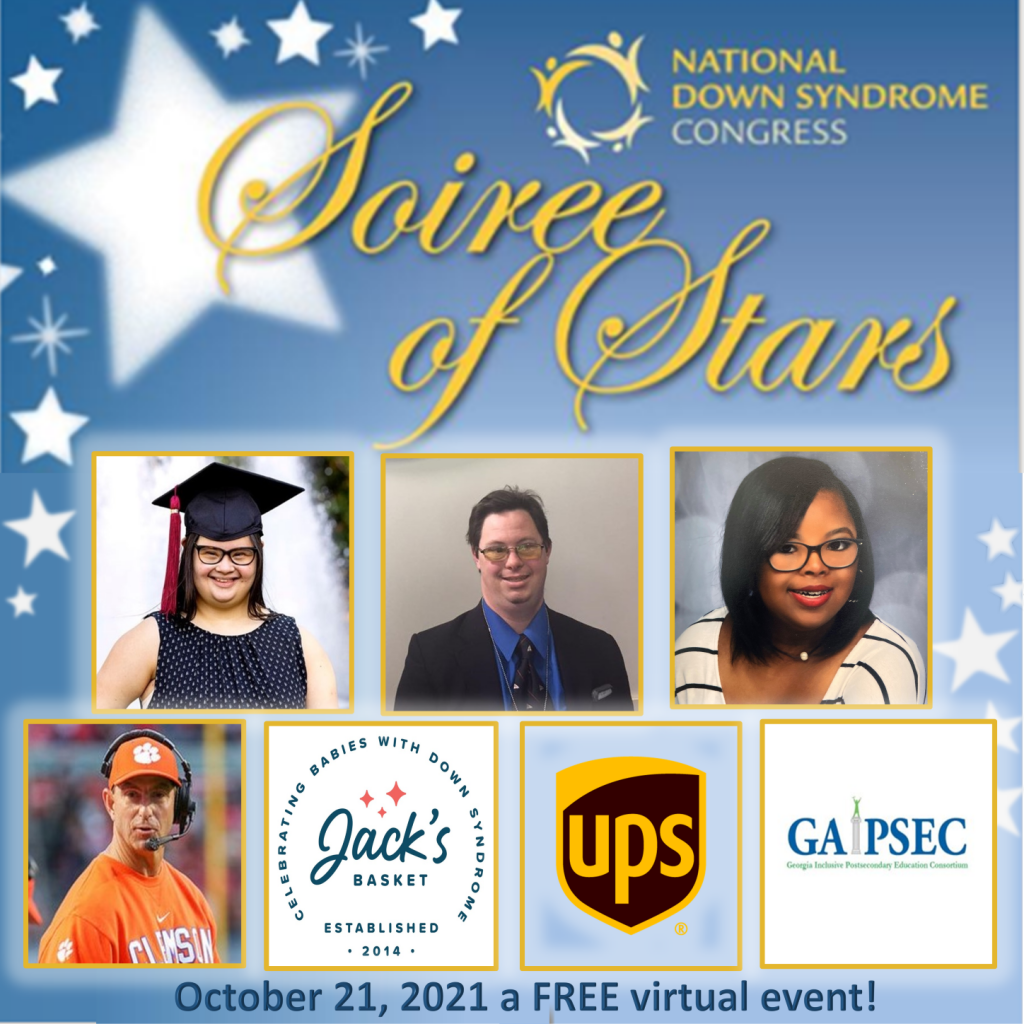 Make plans to join us for the second annual Soiree of Stars Virtual Gala on October 21, 2021, where we will honor Clemson Head Football Coach, Dabo Swinney, Jack's Baskets, UPS, and The Georgia Inclusive Postsecondary Education Consortium (GAIPSEC) for their contributions and inclusive practices affecting the Down syndrome community.  We will also honor the 2021 NDSC Self-advocate Everyday Heroes, Christopher Bennett, Marina Martinez, and Taylor Freeman.
For more information about the event and our 2021 honorees visit our website.
Register to attend the 2021 Soiree of Stars Gala at https://www.ndsccenter.org/support-get-involved/soiree-of-stars-gala/
Make Plans to Join us for the 50th Annual NDSC Convention & Celebration!
The NDSC 50th Annual Convention & Celebration will be held in New Orleans, LA from June 23-26, 2022. We can't wait to see our families and friends at the Hyatt Regency New Orleans.
The staff and Board are already busy making plans and we hope you are too. Attendee registration will open in early April, so be on the lookout for more information and updates about the convention, the Youth & Adults Conference, the Siblings Conference and much more in the coming weeks.
IMPORTANT ANNOUNCEMENT:
The Call for Speakers is now open. Visit our website for more information and submission guidelines.  Please note the deadline for submissions is earlier than in prior years.
General Conference proposals are due November 1, 2021
Youth & Adult Conference proposals are due December 1, 2021.
For more information visit our website at https://www.ndsccenter.org/annual-convention/call-for-speakers/
NDSC is proud to be a supporter of the State of the Art Conference. This popular conference of 300+ participants provides opportunities for colleges of all sizes, universities, researchers, program staff, parents and self-advocates to learn about the current state of research and practice in the field, and to network with each other. Panels that include faculty and staff from postsecondary education initiatives, parents, self-advocates, and other experts, share effective practices during break-out sessions with opportunities for group discussion.
The Student Leadership Conference is a parallel conference which brings more high school and college students into the conversation​. This virtual conference for high school and college students with intellectual disability is free to attend. Other attendees can take advantage of Early Bird pricing when they register before September 1.
The 2021 event will be held virtually, November 8-9. This year's conference theme is Inclusive Higher Education: Disability, Equity, and Social Justice.
2021 SOTA Award nominations are now being accepted for the following categories:
The George Jesien National Leadership Award: One who reflects significant work either at the federal level or across state lines, in terms of advocacy, assistance and/or research
Institute of Higher Education Leadership Award: Administrator, program director, faculty, or staff member within an institution of higher education who epitomizes leadership in the PSE field
Laura Lee Leadership Award: A trailblazing self-advocate who currently attends or has graduated from a PSE program for persons with intellectual disability and whose advocacy significantly benefits individuals with disabilities.
Nominations should be submitted by September 1.
Submit Your Nomination at https://syr.us14.list-manage.com/track/click?u=87fe5ebb78cea9e2be361530c&id=e274316929&e=3dcd11fb78 for details!
Our Search for a New Executive Director
The National Down Syndrome Congress' Board of Directors is embarking on a search for a talented and qualified leader to serve as the organization's next Executive Director. The Executive Director will report to the Board of Directors and will be responsible for providing strategic vision/leadership and executing/advancing objectives and programs based on this vision.
The National Down Syndrome Congress has retained Spencer Stuart to assist in this recruitment. The search committee is moving to our long list of candidates to consider, so please get all submissions in by September 15. Feel free to use the confidential search mailbox ndsced@spencerstuart.com.
A complete position description will be sent on request or can be found at https://www.ndsccenter.org/wp-content/uploads/NSDC-ED-Search-Announcement.pdf.