NDSC E-News ~ November 2020

Mission Moment 
with Executive Director David Tolleson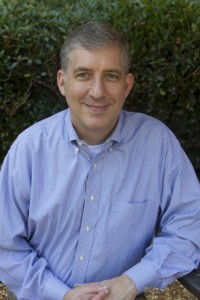 What a great time we had at our inaugural Soiree of Stars gala! It was a wonderful evening, made all the more impactful by the self-advocates who participated. I'm glad that we had the chance to share stories about our work and am especially grateful for those of you who chose to support NDSC's work with a generous gift. You are appreciated, and you and your family are the reason we do what we do…and are able to do what we do. Thank you for giving! If you missed our virtual gala, you can watch a recording of the event by clicking below.
Of course, we're already looking forward to the new year (who isn't?). We are developing new virtual programming to support your family at various Ages & Stages. Our Policy Team and bi-partisan Policy Advisory Council are identifying the top legislative priorities for 2021. And, of course, our entire staff is planning for next year's Convention at the J.W. Marriott Desert Ridge Resort & Spa  in Phoenix, Arizona. To help with that planning, we will be sending out a series of surveys over the next few months. Given the changing – and challenging – world we live in, we really need your help. The first survey will be sent out in the next few days, so please take a minute or two to answer.
Finally, as we enter November, I want to let you know that all of us here at the NDSC are thankful for you and for the opportunity to serve our wonderful, worldwide Down syndrome community. We wish you and yours a happy, healthy Thanksgiving!
With best wishes,
Soiree of Stars
Thank you to everyone who attended the NDSC Soiree of Stars Virtual Gala.  A special thanks to all who donated, our celebrity guests, honorees, Everyday Heroes, presenters, interviewers and interviewees, and especially the Host Committee, who worked so hard to make this a spectacular event. A huge thank you to Monica Pearson; we could not have dreamed of a better emcee for the gala. Thank you to our sponsors for believing in our work and to our tech support, who pulled everything together.
If you missed the gala or just want to see the fantastic show again, please click below.
We can't wait to see everyone next year for the 2nd Annual NDSC Soiree of Stars on October 21, 2021.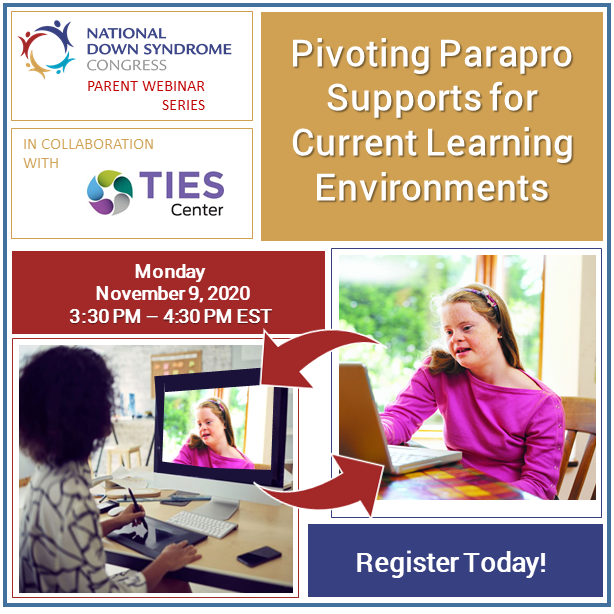 Distance learning has presented new challenges, and solutions, for students with intellectual disabilities. Join us on Monday, November 9, from 3:30 PM – 4:30 PM EST, as we explore ways to engage and support students when not in-person and identify the changing roles and responsibilities of paraprofessionals – for right now and in the future!
This session will be presented by Gail Ghere and Jennifer Sommerness, experts from the TIES Center.  Also joining the conversation will be NDSC Policy & Advocacy Director Heather Sachs, who will speak from a parent perspective and share her success story.
Convention Planning Survey
During these uncertain and unprecedented times, we continue to look ahead to forecast and plan for our next "giant family reunion,"  scheduled for July 8-11, 2021, in Phoenix, AZ.  We are asking our constituents to weigh in and share their feelings about the 2021 NDSC Convention based on current COVID-19 conditions.  All information provided is confidential and will be used for internal use only.
#GivingTuesday is a simple concept – built from the idea that everyone comes together on one day to do good – that has turned into a worldwide movement.  Each year on the Tuesday after Thanksgiving, we celebrate #GivingTuesday to inspire hundreds of millions of people to give, collaborate, and celebrate generosity.
We hope you will participate in #GivingTuesday by simply making someone smile, helping a neighbor, or giving to an organization whose cause is near you.  Every act of generosity counts, and everyone has something to give.
We invite you to join us on December 1, at 8:00 PM EST 2020, to participate in our Fundraising Zoom Dance Party.  While there is no cost to attend, we hope you will consider contributing to NDSC on #GivingTuesday. Donating is easy – text the word ZOOM to 202- 858-1233.
Shop NDSC
It is hard to believe that the holidays are almost upon us.  Or maybe for you, the holidays started with Halloween!  Thank you to all who shared their Halloween photos with us on Facebook! [https://www.facebook.com/thendsc] To help you with holiday shopping, we have launched the NDSC Self-Advocate Marketplace social media campaign, where we showcase self-advocate owned businesses.  As you shop this holiday season, we encourage you to take a look at the NDSC Marketplace page on our website and support these businesses.
If you would like to see a self-advocate owned business featured in the NDSC SA Marketplace, please submit the business information for review.
NDSC Masks
NDSC logoed, reusable face masks feature an integrated metal nose frame that adjusts to ensure proper fit, elastic straps with an adjustable toggle for a comfortable fit of adults and children, and a soft interior lining are made of 2 layers of material, with an opening to insert an additional filter.
Choose from navy blue or grey or purchase a combination of colors.
1 – $9.00          2 – $16.00          3 – $21.00
Lynch Creek Farm
We are proud to partner for the third year with Lynch Creek Farm to bring you handcrafted, beautiful Fall, Christmas, and Hanukkah decor. Lynch Creek Farm wreaths and centerpieces are made with only the finest materials, and each unique piece is handcrafted on-site, allowing for quality inspections from start to finish. All products are backed with a 100% satisfaction guarantee.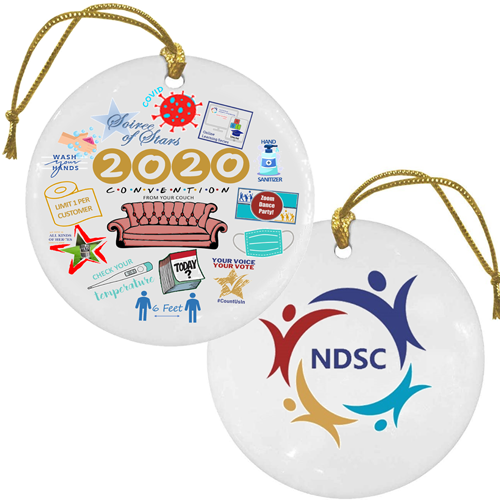 Holiday Ornaments
Holiday Ornaments have become an NDSC tradition collectible.  This year's ornament reflects what made 2020 such a unique year for all of us.  Our 3-inch, round ceramic ornaments come with a gold hanging cord, ready for your tree.  NDSC Holiday ornaments make wonderful holiday gifts for family, friends, and business associates!
We will be taking orders for the 2020 Holiday ornaments through midnight on November 30 EST.  Ornaments will be delivered in early December.  The prices below include shipping.
1 to 4 – $13.00 per ornament            5 to 9 – $11.50 per ornament
                        10 or more – $10.00 per ornament

Order Your 2020 Ornaments Today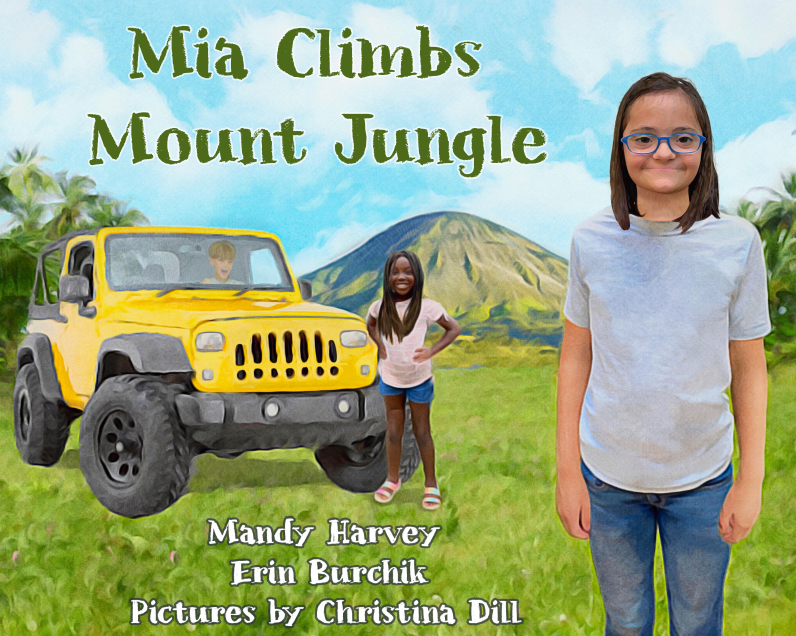 Keepsake Tales
We are proud to partner with Keepsake Tales and bring you unique books that show every child as a champion.  Keepsake Tales works every day to help children with Down Syndrome see themselves as the champions of their own stories and understand that everyone is unique and has value.
If you are looking for a one-of-a-kind gift idea, visit the Keepsake Tales website.
For a limited time, Keepsake Tales is offering NDSC families a special discount. When you order either the Mount Jungle story or the Animals of the Nativity story and use the code NDSC10, you will receive a 10% discount, and Keepsake Tales will donate 10% of the purchase price to NDSC! This offer is good for one book per customer.

It is pretty safe to say that many of us will be doing a lot of our holiday shopping online this year. Did you know that you can have a portion of your purchase price of items purchased through Amazon donated to help the NDSC – with no fees and no extra cost when you shop using your Amazone Prime account? Just choose National Down Syndrome Congress as your charity of choice, and every time you purchase through Amazon Smile, you are helping us bring more resources and programs to individuals and families touched by Down syndrome.
NEW Resources for Parents
GLOBAL Medical Care Guidelines for Adults with Down Syndrome
Recently released, the GLOBAL Medical Care Guidelines for Adults with Down Syndrome provide innovative, evidence-based medical recommendations to support clinicians in their care of adults with Down syndrome.  Published in JAMA, this life-changing resource addresses nine critically important topic areas of health and well-being for adults with Down syndrome.  Adults with Down syndrome and their caregivers should review the GLOBAL Guidelines with their clinicians to ensure they are receiving care meeting best-practice standards for adults with Down syndrome.  These guidelines also outline critical future research needs.
TIES Center Video Library  – Parent Video Series: Supporting the Learning of Children with Significant Cognitive Disabilities at Home.
This video series, created as a collaboration between the TIES Center and the National Center for Educational Outcomes, aims to show ways that families can teach their children with significant cognitive disabilities at home and support conversations with their children's teachers to link home and school supports.
MEET OUR NEW PARTNER!
NDSC is proud to announce our partnership with Glaukos, a pioneer in treating chronic eye diseases with a focus on developing and leading the global ophthalmic market with novel therapies for the treatment of glaucoma, corneal disorders, and retinal diseases that advance the existing standard of care and enrich patients' lives and treatment alternatives worldwide.
More than half of people with Down syndrome experience an eye disease at some point in their lives, so caregivers and doctors should closely monitor their vision. One condition that is often missed or misdiagnosed, but has a higher occurrence in this population, is keratoconus. Although it is considered a rare condition, research shows that 5-15% of people with Down syndrome are affected by keratoconus.
With a higher prevalence of keratoconus in people with Down syndrome, it's important to talk to an ophthalmologist about keratoconus and request that screenings become part of yearly exams, especially in the teen and early adult years.
Watch as Sylvia and her daughter Sarah share their thoughts on keratoconus's high incidence
in people with Down syndrome.