NDSC E-News ~ October 2021
Mission Moment
With Executive Director David Tolleson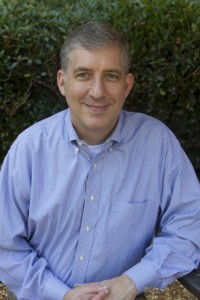 After 19 years of service, today marks my last day with the NDSC. What a privilege it has been to meet and work with so many of you over the years!
During my tenure as NDSC's longest-serving Executive Director, I'm proud of many things. Our convention has grown to be the largest of its kind in the world. We have expanded our outreach to many previously underserved communities. And, over the last year and a half, we've reached record net assets.  But, I'm most proud that we've always put people with Down syndrome and their families at the forefront of every decision we've made.
It has been a privilege to work with so many talented and caring colleagues, volunteers, and professionals over the years. I appreciate the support of the dozens of past board members I've had the honor to work with.  As our current board embarks on a new direction, I wish the staff, my successor – and most of all you and your family – nothing but the best. I hope our paths cross again soon.
With warm wishes,

David
David Tolleson has served as the NDSC Executive Director for nearly two decades.
The staff, board, and families of the NDSC wish David all the best in his new ventures.
David, you will truly be missed.
It's a Wrap
On Thursday, October 21, we held our 2nd Soiree of Stars Virtual Gala, where we celebrated and honored those making a difference in the Down syndrome community.
Congratulations to our 2021 Everyday Hero honorees Christopher Bennett, Marina Martinez, and Taylor Freeman.
We want to send a special thank you to the self-advocates who introduced the evening's honorees:
Jake Pratt – introducing UPS -Corporate Honoree;
David Saville – introducing Dabo Swinney- Individual honoree;
Martha Haythorn – introducing the GA Inclusive Postsecondary Consortium- Organization honoree;
and mom, Julianna Cebollero and her sweet son Diego – introducing Jack's Basket- our 2021 Non-profit Honoree.
Thank you also to the nearly 900 families who have tuned in to see the event.  If you missed it, you can watch the event by clicking below or searching NDSC Soiree of Stars on Youtube.
Thank you to everyone who watched and has supported us through the Soiree of Stars Virtual Gala. Your generosity is appreciated and much needed as we continue our mission to provide information and support for individuals and families touched by Down syndrome and advocate for the rights of individuals with Down syndrome as they pertain to all aspects of life. If you would like to show your support, donating is easy; text NDSC to 26989 or visit https://ndsc.harnessapp.com/wv2/campaign/4144.
Round-Up for Down syndrome!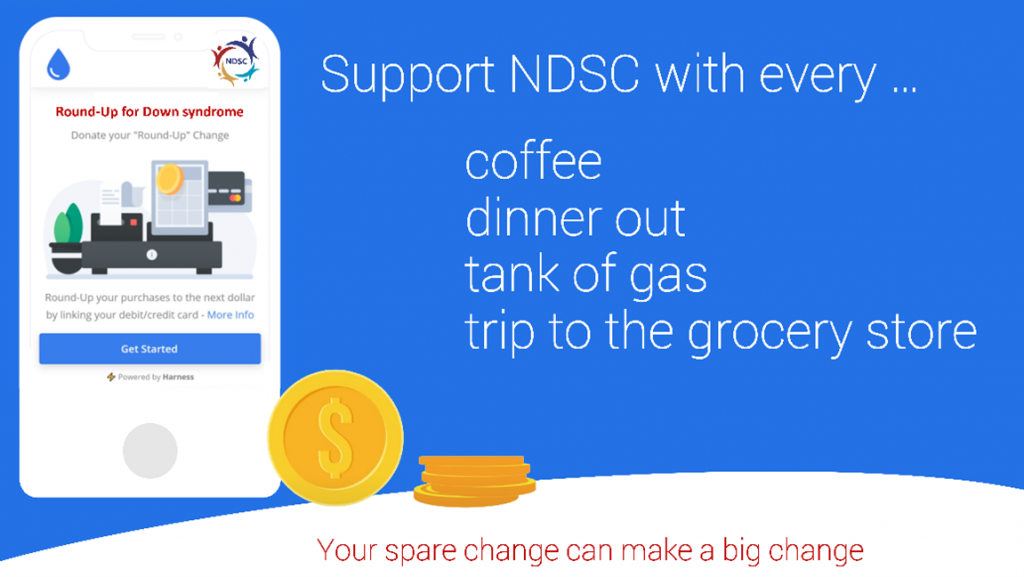 Starting November 1, you can support NDSC with every purchase as we Round-Up for Down syndrome!  Donate your spare change from everyday credit/debit card purchases when you Round-Up this holiday season.  Your spare change will support the NDSC in making a big change in the Down syndrome community. Participating is as easy as 1 -2-3!
Connect a Card – Choose a debit or credit card to link to your donor account
Start Making Purchases – Card purchases will "Round-Up" to the next dollar as change
Round-Up and Make Change for Down Syndrome – "Round-Up" change accumulates and is donated each month
NDSC 50th Annual Convention and Celebration!
The NDSC 50th Annual Convention and Celebration will be LIVE in New Orleans, LA, in 2022!  We look forward to seeing everyone at the Hyatt Regency New Orleans from June 23 – 26.
As we are busy planning for the event and are working closely with the Hyatt staff to follow CDC and local guidance around COVID-19 protocols to keep all of our families, vendors, speakers, volunteers, and staff safe.  We understand that a lot can change in 8 months and will keep you updated on what we are doing to provide a safe event.
The staff and Convention Planning Committee are already busy at work.  Our goal is always to provide our attendees the world-class expert programming.  We work to provide a balance of topics that you can only find at the NDSC Convention.  We are seeking dynamic presenters and experts on topics important to those with Down syndrome, their families, and those who care for them.  If you or someone you know is interested in presenting a 90-minute interactive workshop or panel discussion or a 3-hour Intensive Deep Dive session at the 2022 convention, please submit a proposal by November 15, 2021.  More information about each type of presentation and the proposal form can be found on our website.
The Convention Planning Committee will review all proposals in early December, and speakers will be notified in January 2022 of the selections.  To see the proposal review timeline and speaker deadlines, please visit our website.
Youth & Adults Conference Presenters!
The heart and soul of the NDSC Convention is the Youth & Adults Conference.  With the support of the NDSC Youth & Adults Conference Team, this conference is planned and presented by self-advocates for self-advocates. It is designed to be a fun, educational, empowering, and inspiring experience for individuals with Down syndrome ages 15 and older.  As with General Conference programming, we aim to provide a balance of workshop and spotlight topics.
The Y&A Conference Team is looking for individuals who would like to present a 45-minute workshop or a 5-minute spotlight presentation at the 2022 NDSC Convention. We are looking for presenters to provide an educational, empowering, and inspiring program for the more than 350 self-advocates attending the Y&A Conference.  Do you have a special skill that you could teach others?  Would you like to lead a group in a craft, activity, or game? Do you have an accomplishment that you could share that would be inspirational to your peers? If so, we encourage you to submit a proposal to present a workshop or spotlight.
Youth & Adult Speaker proposals are due by December 1, 2021.  If you have questions, you are encouraged to contact NDSC Convention Coordinator Emily Carswell at emily@ndsccenter.org.
Accepting 2022 NDSC Award Nominations
Each year we honor the individuals and organizations whose achievements, service, and contributions to the Down syndrome community are exemplary. Awards are presented in several categories. The complete list of categories can be found on our website under the Annual Convention tab at the top of our homepage.
If you know of an individual or organization that you feel is deserving of consideration for one of the 2022 NDSC awards, please nominate them.  The nomination portal is open now!  All nominations should be submitted by Friday, January 7, 2022. 
The NDSC Educators Conference is Back!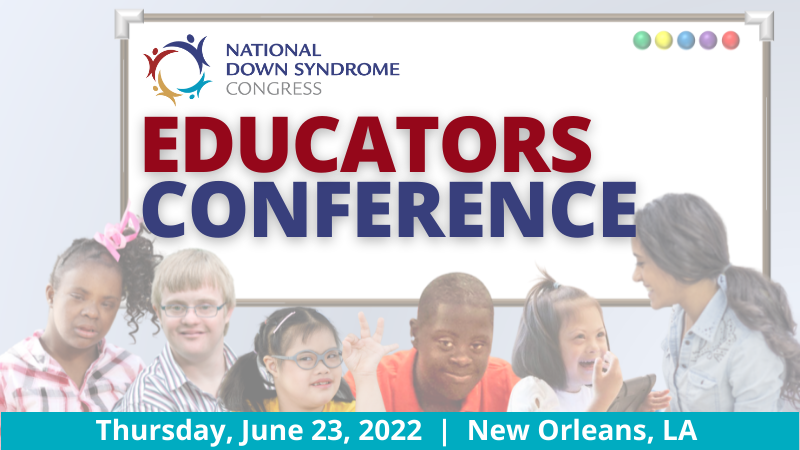 Calling all Educators!  Make plans to join us at the NDSC 50th Annual Convention in New Orleans, LA, for a one-day conference designed for educators working to enhance outcomes for their students with Down syndrome, autism, and intellectual and developmental disabilities.
Save the Date!
Thursday, June 23, 2022
8:15 AM – 3:30 PM
Registration Opens December 1, 2021
$ 150 – Will include materials, lunch, and certificate for CEU submission
Practical in nature, the Educators Conference will engage participants in identifying and implementing strategies applicable to K-12 classrooms. Discussions will provide:
strategies for educators to enhance instruction through effective reading interventions,
differentiated and universally designed curriculum,
technology solutions,
and practical behavioral practices.
Attendees will leave equipped with ideas, tips, strategies, tools, and solutions that they can implement in the classroom.
NDSC Supports Research Opportunities
One way experts learn more about Down syndrome is through research of individuals with the condition. Did you know that we have a list of research studies currently taking place on the NDSC website? These research opportunities are voluntary for families. Their purpose is to provide information that helps professionals set goals, objectives, and policies that impact the future of individuals with Down syndrome.
Families can also register for the National Institutes of Health-supported Down Syndrome Registry, DS-Connect™, which allows people with Down syndrome and their family members, researchers, and parent and support groups to share information and health history in a safe, confidential, online database through the NDSC website.
The UC Davis study is one way you and your child with Down syndrome can get involved in a research study and be compensated for your input.

The UC Davis MIND Institute is a collaborative international research center committed to the awareness, understanding, prevention, and care of neurodevelopmental disabilities. They are currently looking for children and teens 6 to 17 years old with Down syndrome and ADHD.
Participants will be compensated $200 and will agree to:
Cognitive and behavioral testing
Parent and Teacher Questionnaires
Medical exams
A clinical trial of an FDA-approved drug
Careful heart monitoring